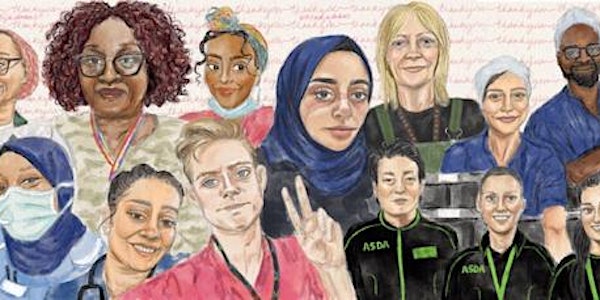 BRITISH MUSLIMS AND COVID-19: Impacts, Experiences and Responses
How are diverse British Muslims living through, and responding to the challenges of, Covid-19?
About this event
Research on Covid-19 has highlighted its disproportionate impact on Black and Asian Minority Ethnic groups (BAME) communities (Public Health England, 2020). However, these studies only offer a limited understanding of the particularity of experiences within the umbrella category BAME. For instance, there is only limited discussion around faith in relation to Covid-19, its impacts and the socio-economic fall-outs of lockdown. This MBRN symposium will redress this gap by taking an intersectional perspective in mapping and analysing the impact of Covid-19 on British Muslim communities. By bringing together practitioners and academics, we will examine how diverse British Muslim communities have experienced the pandemic, how their lives have been impacted during and after lockdown and how they responded.
During the lockdown, we have witnessed unprecedented impacts on British Muslims including the closing of mosques and madrassas, cancellation of Friday congregational prayers, Ramadan in lock-down and a significantly limited Hajj. Muslim faith and community leader have played important roles in translating theological rulings into practical guidance, which have largely been adhered to within Muslim communities. Similarly, children and young Muslims, like all young people have experienced the impact of Covid-19 in relation to their education (Children's Commissioner, 2020). High levels of socio-economic disadvantage amongst British Muslim households mean that we can expect a disproportionate effect of lockdown and CV-19 on British Muslims.
By focusing on the experiences of British Muslims, this online symposium will examine the interplay of ethnicity, religion and deprivation, in negotiating the particular challenges of living through Covid-19. It will explore the diversity of ways in which British Muslims have experienced and responded to Covid-19, and seek to understand its ongoing impacts.
The symposium includes presentations from academics and practitioners of a range of epistemological positions and disciplinary standpoints and will explore dimensions of Muslim identity / lived experiences in relation to the pandemic, lockdown and subsequent socio-economic implications of Covid-19 in Britain.
Programme
(Please see the conference page on the MBRN website for further details)
Welcome from the MBRN Organising Committee (1pm)
Panel Discussion 1
Shadim Hussain (My Foster Family): How British Muslims in Bradford responded to Covid-19
Fadi Itani (Muslim Charities Forum): Covid-19 and the Muslim charities sector
Parallel Sessions (2-3pm)
Parallel Session A - Living with Covid-19
Halima Rahman (University of Liverpool): Re-imagining Muslim identities in times of Covid-19
Mohammed Zakir (University of Huddersfield): Maktab Education: Life in a lockdown world
Sadiq Dorasat (Muslims Census): Financial impact of Covid-19 on the Muslim community
Parallel Session B - The Press, Muslims and Covid-19
Dunia El-Zobaidi (freelance reporter): Media representation of British Muslims during the Covid-19 pandemic in Arab-owned and English outlets
Dr Jennifer Eggert (Independent Researcher); Dr Behar Sadriu (Ramadan Tent Project); and Dr Ajmal Hussain (University of Manchester): Covid-19 Responses of British Islamic Faith-Based Organisations (FBOs) in the UK
Dr Joanne Britton (University of Sheffield): Muslims Families and Covid-19
Parallel Session C - Faith and religious practices during Covid-19
Laura Jones (University of Cardiff): Relocating Religion: The Public and the Private during Ramadan in Lockdown
Mohammed Mizan (University of Medina): Precautionary Health Measures to prevent the spread of Coronavirus in light of Islamic Legal Maxims
Dr Josh Edelman (Manchester Metropolitan University): Covid-19 ritual adaptation research project
Panel Discussion 2 (3.10-4.10pm)
Dr Hina Shahid (Muslim Doctors Association): The Muslim Gaze of the Covid-19 Syndemic
Prof Sean McLoughlin (University of Leeds): British Muslims, Covid-19 and Hajj/Umrah
Concluding remarks by the MBRN Organising Committee
Open Forum: Upcoming national and international research on Muslims in Britain (4:20-5.10pm)
Hassan Joudi, Deputy Secretary General of the Muslim Council of Britain. Forthcoming MCB report: How COVID19 has highlighted the need for effective regional Muslim representation.
Dr Joe Hall, Sheffield University. Ongoing Research: 'Negotiating difference: understanding how sexual and religious British values are being negotiated in providing LGBT-inclusive primary education'.
Dr Michelle M. King-Okoye. IGDORE and The Ethnicity and Covid-19 Research Consortium(ECRC). Ongoing Research: The lived experiences of Muslims who had COVID-19 or Muslim healthcare professionals who work with COVID-19 patients.
Dr Ayesha Khan. The impact of COVID-19 on British Muslim Communities: Assessment of key risk factors. Findings from APPG report and CMPR policy briefing.
Raheel Mohammed. Maslaha: How the experience of Muslims in prison remains invisible and entrenches institutional racism during a pandemic
*This image has been reproduced with the permission of the artist Khadija Said. Follow her work on Instagram: khadijadraws