About this Event
Join us on the first Thursday of every month at Bromsgrove Sporting FC for Coffee & Natter, free business networking from Pathway2Grow. Attendees are invited to mingle over complimentary drinks and snacks before a high-quality presentation from a monthly Guest Speaker presenting on a topic of interest to any business owner, freelancer or entrepreneur. Delegates are encouraged to introduce themselves to the group via a 60-second pitch (however there is absolutely no pressure to do so). 1:30pm to 3:00pm is the formal part of the event with open networking before and afterward to give those who need to leave for the school run or other meetings the opportunity to take part.

Agenda for Thursday 7th November 2019 will be:
13:00 – 13:30 Registration & Open Networking
13:30 – 14:00 Welcome & Delegate Introductions
14:00 – 14:40 Guest Speaker - Phil Darby "Branding as you've never thought of it before"
14:40 - 15:30 More open networking

Guest Speaker - Phil Darby, Founder of The Full Effect Company "Branding as you've never thought of it before"
As Founder and lead strategist of The Full Effect Company, Phil works with senior executive teams to help them align their businesses to the opportunities of the digital economy.
From a background in advertising where he occupied key roles at McCann Erickson, Grey Advertising and a number of independent marketing services firms, and sat on the board of Saatchi & Saatchi in London, he has travelled the world as a consultant helping marketing services firms tackle transformation and grow their businesses.
As an advisor to major brands across a wide range of sectors Phil has worked with senior executives in numerous countries unlocking hidden potential, developing and launching new products, creating new brands and reviving existing ones, building business units and helping smaller businesses tackle the challenges of IPO, raise finance and open up new territories.
Phil is also a public speaker and author of many articles and white papers on business marketing and transformation.

The Great Coffee & Natter Book Sale
At Pathway2Grow we're all about personal & self development and love to champion local talent and thought leaders. We encourage any delegates who are authors to bring copies of their book to the event to showcase them to the group.
About Pathway2Grow
Founded in 2012, Pathway2Grow is a networking organisation that hosts 100+ events across the Midlands annually. We provide an informal environment for delegates to come together to expand their professional network, to gain knowledge and ultimately grow their business. Our events are all ran by independent business owners who host regular networking events as a means of building a community around their business and positioning themselves as leaders in their local area. If you would be interested in running an event with Pathway2Grow please send an email to: kasim.choudhry@pathwaygroup.co.uk
We believe in building an online and offline community and there are plenty of ongoing opportunities to converse and share with a Facebook Group, WhatsApp group (send a message to 07583 044 624 to join) as well as our monthly meets.
So come and join us to Network, Learn & Grow!
Kind Regards
Ralph Watson - Regional Director for Coffee & Natter (@CoachingWolves)
#Pathway2Grow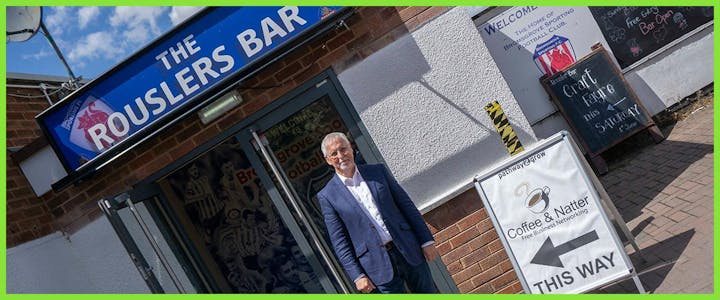 How to find us & parking information:
You will find us in The Rouslers Bar located at the side of the Victoria Ground. The easiest way to get to us is via the alleyway directly opposite the entrance to Bromsgrove Retail Park (& Linea CAD) leading through to the rear car park (not the Club Shop car park) where you will find plenty of parking. Please look out for the Coffee & Natter pavement sign.