Description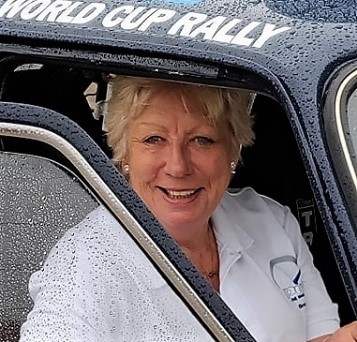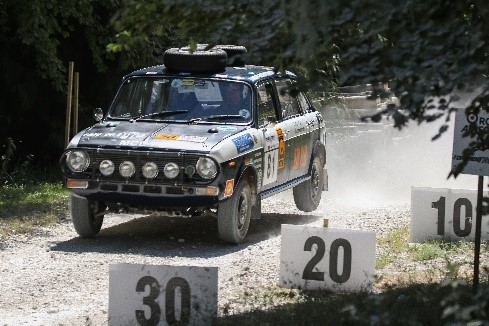 Photographed by Castrol in 1970 wearing the infamous white catsuit of the World Cup Rally, Bron became known as Miss Castrol. Puff, (now 49) and Bron (now 74) are planning one last big trip – in 2020, a drive into Mexico City to complete the marathon journey of 50 years ago.

Puff The Magic Wagon is the one surviving & still competing Austin Maxi that took part in the most arduous motor sporting event the world has ever seen - the 1970 Daily Mirror London to Mexico World Cup Rally. Launched in 1969, British Leyland introduced a significant new family car, the Austin Maxi. With 5 gears, 5 doors and 5 seats it was a relatively new concept. Puff was one of the 1st 500 cars built and selected from the Marshall showroom floor.

In 2013 Bron was reunited with the Maxi, known as Puff the Magic Wagon, and in 2016 she purchased the car. It took 6 months to prep the little car ready to run again and they have completed 10 historic rallies finishing 8 – ran on demo stage runs at both Race Retro and Goodwood Festival of Speed Forest Rally Stage, appeared at numerous static shows and has done many television appearances.
Come and hear Bron's inspiring story.....
1045 Coffee
1115 Talk by Bron Burrell

1230 Pre lunch drink

1300 Three course lunch
1500 Close
Non residential price £75 to include;
Arrival coffee, talk by Bron Burrell, pre lunch drink, three course lunch with a glass of wine, coffee and chocolates.
Set Lunch Menu

Gin Cured Hampshire Trout
saffron, vegetable escabeche (ce,f,sd)
*(v) Salad of Chicory
scorched corn, pear, corn bread, ranch dressing (ce,d,g,n,sd)
****

Confit of Duck
crushed potato, braised lentil, king cabbage (d,sd,g,ce,mu)
*(v) Roasted Aubergine
English feta cheese, olives, tomato vinaigrette [d,g,mu,sd]
****

Salted Caramel Tart
vanilla chantilly (d,g,n,sd)
****
Tea/coffee and chocoates
Allergy Key – [C] Crustaceans, [Ce] Celery, [D] Dairy, [E] Eggs, [F] Fish, [P] Peanuts,
[G] Gluten [L] Lupin, [N] Nuts, [Mo] Molluscs, [Mu] Mustard, [S] Soya, [SD] Sulphur Dioxide, [Se] Sesame Seeds
*Please confirm if you wish to pre-order the vegetarion option or have any other dietary requirements.
Dress Code: Smart/Casual (jackets preferred for gentlemen)
Guests will be seated at banqueting tables of 10/12 for the talk and lunch.