Bronston take to the stage for a headline/hometown show at Sneaky Pete's, Edinburgh.
About this Event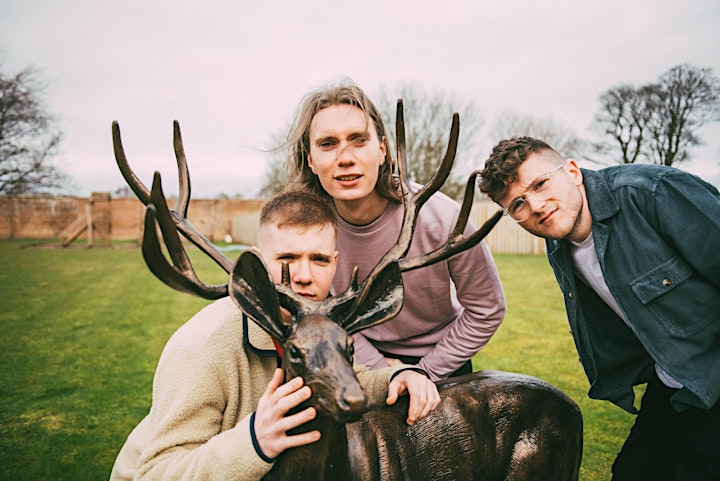 Listen to Bronston on Spotify, Apple Music.
Bronston is a Scottish rock band formed in 2015 in Edinburgh, Scotland. The band's line-up includes Adam Campbell (lead vocals, guitar), James Callaghan (bass guitar, backing vocals), and Mark Hennys (drums, percussion).
Bronston released their first single, I Feel Safe, in 2016, showcasing their riff-oriented, synth- augmented, alternative rock style to a sold out audience at an accompanying show at Sneaky Pete's, Edinburgh.
Their sound incorporates a variety of different styles and influences, taking inspiration from artists such as Arctic Monkeys, Tame Impala, Queens of the Stone Age, Foals, and Anderson .Paak.
Bronston's music explores themes of external oppression, alternative realities, and anxieties about the future. Their lyrics link internal conflicts with notions of a future shaped by philosophical and technological advances.
The band have been touring around the UK and have been featured at La Belle Angele, King Tut's, SoFar Sounds Aberdeen & St. Andrew's, The Islington, Surf Cafe Tynemouth, and the BBC Stage at the Edinburgh Fringe, amongst others.
Most recently, the band have collaborated with producer Rod Jones of Idlewild. The first single to come from this partnership, Leaving Utopia, was released in January 2019 alongside a psychedelic music video featuring the members of the band. In March, Bronston released Burnt Snakes - the second track to come from their work with Jones.
Photo by Rory Barnes
Support comes from A Sudden Burst of Colour and Deep Sea Creature.
A Sudden Burst of Colour
Hailing from Motherwell, Scotland, A Sudden Burst of COlour create atmospheric, semi-ambient, energetic rock music that hits hard live.
Deep Sea Creature
Deep Sea Creature is the Scottish alternative rock (somewhat dirtydarkindiefolkjazzpop) project of singer/songwriter, Liam Dempsey.