Description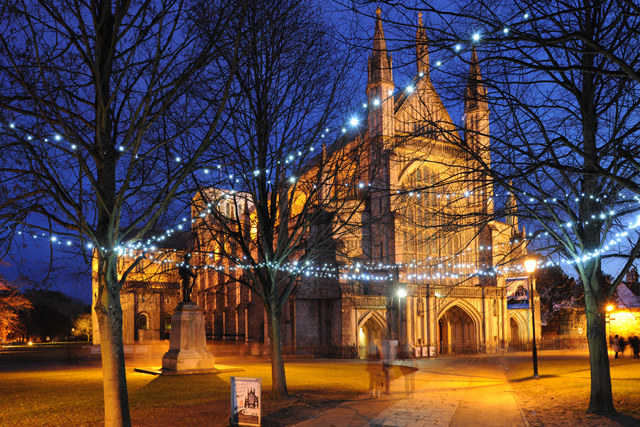 Winchester used to be the former capital of England and is famously known all over the world for it's magnificent cathedral.
In November and December, they hold a Christmas Market and this is recognised as one of the best in Europe for its unique location, high quality exhibitors and bustling atmosphere.
This is a free trip for currently enrolled Language Centre students, who are studying an English Course only.
The trip will include travel there and back (by coach) from Brunel University and entrance to the famous Winchester Cathedral. Meet outside the Eastern Gateway Building at 8.30am to board the coach.
If you would like to come on this trip, you must sign up as soon as possible.
Places will be allocated on a first come, first served basis.
If you sign up to this trip and do not attend (without notifying us at least 48 hours in advance), there will be a cancellation fee.
If you have any questions about this trip, please email languagecentre@brunel.ac.uk
Please ensure your bring your student ID card with you.
Winchester Cathedral (Free entry as part of the guided tour)
Explore more than 1000 years of history in Europe's longest medieval Cathedral. Cathedral Guides offer tours of the Cathedral each hour from 10am – 3pm and tours of the crypt at 10.30am, 12.30pm and 2.30pm.
The Great Hall and Round Table
Winchester is also famous for the legendary Arthurian Round Table. A striking sight, the table has been in The Great Hall for over 700 years - the only remaining part of Winchester Castle, one the centre of court and government life.
Wolvesey Castle
Standing next to Winchester Cathedral, the extensive surviving ruins of the palace date largely from the 12th-century work of Bishop Henry of Blois. This palace was the chief residence of the bishops of Winchester and its extensive ruins still reflect their importance and wealth. Free entry.
Winchester City Museum
Hampshire's oldest museum and tells the story of Winchester, an important Roman town, and through to modern times. Admission is free and the museum is located in Winchester's Square. Free entry.
The Westgate and Museum
This is a fortified medieval gateway. You can climb to the top and get great views. Free entry
Shopping (and Christmas Markets!)
There are lots of unique shops here and there will be a Christmas Market! There is the Brooks area and bustling market area (near the Brooks Shopping Centre, and along Middle Brook Street) the Kings Walk Antique Market, and a High Street. There are lots of boutiques along the Square. Behind Winchester Cathedral you will find some shopping secrets along Kingsgate Street.Parchment Street is a hotspot for unusual boutiques and galleries.