Brunel Writers Series - Greyfriars Reformatory / Robots, Rogues & Revenants
The Brunel Writers Series and the Hillingdon Literary Festival are proud to present ...
About this Event
Brunel Writers Series: Greyfriars Reformatory / Robots, Rogues & Revenants
In this special Halloween edition of the online Brunel Writers Series, we're thrilled to play host to some spectacular horror, SF, and fantasy flash fiction.
Frazer Lee, Senior Lecturer in Creative Writing at Brunel University London, will discuss his latest novel -- Greyfriars Reformatory -- published by Flame Tree Press/Simon & Schuster, 20 October 2020.
Chloe Perrin, Flynt Castle, Roua Oubira, and Riley Morriss will be treating us to readings from the new anthology of flash fiction by Creative Writing students -- Robots, Rogues & Revenants -- now available in Ebook and paperback.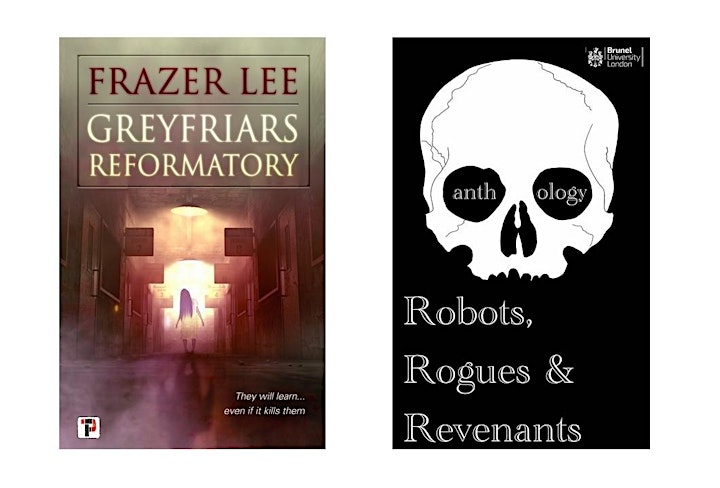 Robots, Rogues & Revenants - an anthology of flash fiction by Creative Writing students at Brunel
Created under lockdown conditions, this collection of 12 short tales offers everything from reimagined kitchen sink domestics to darkly magical faery realms, and from bizarre last meal requests to windswept excursions into folk horror. Because no matter how weird it gets out there, it is even weirder – in here, with us.
Supervising editor: Frazer Lee | Cover design: Amber Pickwick
Nove available in Ebook and Paperback: https://amzn.to/35aHXQY
***all proceeds from the sale of the book & e-book will be donated to NHS combined charities***
Greyfriars Reformatory by Frazer Lee
Nineteen year-old Emily's acute dissociative disorder causes her to be institutionalised - again - at Greyfriars Reformatory For Girls. Caught in the crossfire between brutal Principal Quick and cruel bully Saffron Chassay, Emily befriends fellow outcast Victoria. When the terrifying apparition of the mysterious 'Grey Girl' begins scaring the inmates to death, Emily's disorder may be the one thing that can save her.
Now available in hardback and paperback
FrazerLee.com | Simon & Schuster | Flame Tree Press
Frazer Lee is a novelist, screenwriter and director. His screen credits include the award-winning shorts 'On Edge' and 'Red Lines' and the feature film and movie novelisation 'Panic Button'. A Bram Stoker Award Finalist for his first novel 'The Lamplighters', Frazer's published works also include 'The Jack in the Green' and 'The Lucifer Glass' from Samhain Publishing. He has a number of creative writing and film projects optioned or in development.