The 'You Are Here' public programme is an opportunity to encounter the works of Artist-in-Residence, Phil Coy, on our public campus .
About this Event
Phil Coy is the inaugural Artist-in-Residence (2018 - 2019) at Brunel University London, initiated by Professor Will Self and Professor Akram Khan. Coy's residency has delivered a series of interrelated temporary and permanent works that include video, sound and sculptural installations, and a series of freely distributed publications.
This Public Programme is an opportunity to experience the works currently installed on campus in a walking-tour guided by the Artist-in-Residence. Phil Coy will deliver a lecture describing his research in Lecture Theatre E of the iconic brutalist Lecture Centre, used for the infamous 'Luduvico therapy scene' in Stanley Kubrick's Clockwork Orange (1971). He will describe the research behind a new permanent sculptural commission, Conical forms [three listening devices], which will be installed at Brunel University in 2020. This will be followed by a conversation between the artist and Brunel's Professor in Experimental Particle Physics, Akram Khan.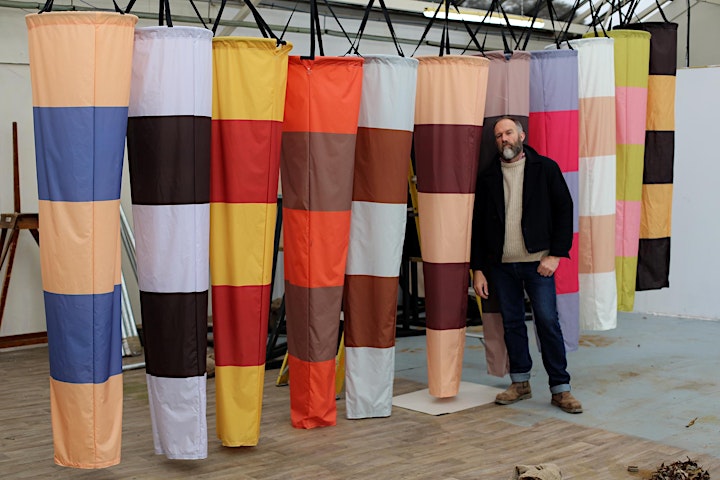 Phil Coy with his work 'Eleven windsocks for Brunel' prior to installation on buildings across campus
A buffet lunch will be provided at 13:00, on the mezzanine level of the iconic Brunel Lecture Centre, followed by Phil Coy's lunchtime talk in Lecture Theatre E at 13:20
At 14:30 the walking tour will depart from outside the Lecture Centre, for those keen to experience the Public Programme on campus through the eyes of our artist.
The residency and Public Programme is accompanied by a poster edition and commissioned text by artist, curator and writer, Richard Grayson.
For more information about Phil Coy's residency - see YouAreHere.work