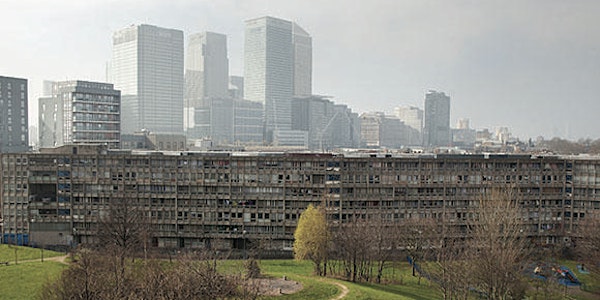 Brutalism Redux: Resuscitating the urban politics of brutalist architecture
Event Information
Location
Science Museum Dana Research Centre & Library
165 Queens Gate
London
SW7 5HD
United Kingdom
Description
That brutalism is experiencing a revival is old news; it's very much 'back in vogue'. In a rush to capitalise on this trend, brutalist housing estates such as the Balfron Tower, Trellick Tower and the Park Hill Estate have been (or are being) redeveloped in line with more contemporary living demands of new urban dwellers. Yet critics point to how these redevelopments are pushing out existing residents in a thinly-veiled process of gentrification. But just what is being revived? Brutalist architecture has an important ethical component around social living, totalising imagery and a deliberate 'anti-beauty'.
Brutalism's current revival, it would therefore seem, is largely a stylistic one. Its ethics are being confined to the past, precisely when they are needed more than ever to combat growing a crippling housing crisis in London and across the UK, rampant inequality and rising precariousness in city living. So what can be done to resuscitate brutalism's political components? How can use this narrative we strengthen the preservationist campaigns? What role does art play in catalysing brutalism's political ethics? What does brutalism's future look like in our rapidly gentrifying cities?
This event brings together academics, artists and campaigners working on brutalism to discuss whether there is space for a brutalist politics, as well as brutalist style in our contemporary cities. The panelists are:
Jessie Brennan (Artist and author of 'Regeneration!')
Chris Beanland (Writer, author of 'Concrete Concept')
Catherine Croft (Director of the Twentieth Century Society)
Oliver Carpenter (Associate Curator of Infrastructure and Built Environment, Science Museum)
Oli Mould (Lecturer in Human Geography, Royal Holloway, University of London)
It will be followed by a drinks reception, where some of the art work of the panellists will be on display.
Following the drinks reception, a related keynote lecture as part of Royal Holloway's Centre for the GeoHumanities series of events will be given by Professor Christoph Lindner of the University of Oregon, entitled "Brutalism in Ruins". Details and booking for that event can be found here.
Date and time
Location
Science Museum Dana Research Centre & Library
165 Queens Gate
London
SW7 5HD
United Kingdom