BSC Postgraduate Seminar Day: thinking differently about harm
Event Information
Location
Room CCU 014 Churchill House
University of Chester
Queens Park Campus
Chester
CH4 7AD
United Kingdom
Description
British Society of Criminology Postgraduate Seminar Day: Thinking differently about harm
Date: Tuesday 16th July 2019
Time : 10am – 4pm
Venue: Room CCU 014 Churchill House, University of Chester, Queens Park Campus, Chester, CH4 7AD.
This British Society of Criminology Postgraduate thinking differently about harm seminar day is part of the 'Thinking Differently' series which seeks to bring together academics and practitioners to critically explore contemporary issues in criminology. The seminars are a space for postgraduates to contribute to challenging taken-for-granted thinking in criminology and criminal justice.
This BSC Postgraduate seminar day will provide a safe space for discussion around the philosophical position of harm as well as the very real consequences that marginalised groups face. The ambiguous nature of social harm as a concept within the social sciences supports that contributions to the seminar day can openly interpret this theme in relation to any specific criminological areas of interest. Through consideration of various topics inside the theme of social harm it is hoped that the day will empower developmental discussions surrounding social harm in both a theoretical and practical context.
The seminar day will include Dr Victoria Canning as a keynote speaker who is a Senior Lecturer in the School for Policy Studies at the University of Bristol. Her research interests link to the concept of harm in various ways, with her key focus being related to gendered harms, state power and structural violence specifically with respect to trajectories of violence in the lives of women seeking asylum. More information about Dr Canning's work can be found here: http://www.bristol.ac.uk/sps/people/vicky-canning/about.html
Dr Holly White who is a Lecturer in Criminology at the University of Chester will also be a keynote speaker on the seminar day. Her research interests relate to harm in various ways such as, harms of the powerful, harm and injustice, narratives of crisis, and resistance to harm. More information about Dr White's work can be found here: https://www1.chester.ac.uk/departments/social-and-political-science/staff/holly-white
The finalised programme for the event can be found below.
Places are limited and based on a first come first serve basis, so booking is essential.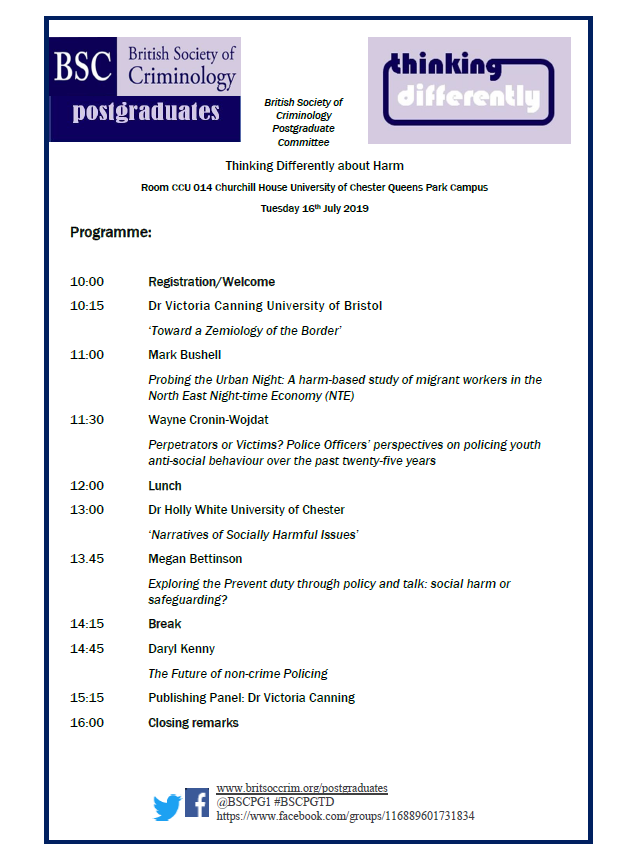 Date and time
Location
Room CCU 014 Churchill House
University of Chester
Queens Park Campus
Chester
CH4 7AD
United Kingdom
Organiser of BSC Postgraduate Seminar Day: thinking differently about harm