BSCB GenSoc UK Cilia Network e-Symposia Series
About this event
In light of the ongoing pandemic, many important cilia and cell biology meetings have been postponed. In response to the overwhelming demand from members of our cilia community, to keep us connected we will be running an entirely virtual online mini-symposia series every month where our PIs, students and postdocs can share their exciting stories that cannot wait until later. Even with social distancing, we can have great science, deep discussions and support our peers!

Open to all, from now a ONE-OFF registration for this free series in advance will be required- once you are on our list, you will be sent a recurring link to each event for the Zoom webinar and link to the cloud recording once processed after the event. YOU DO NOT NEED TO REGISTER FOR EACH EVENT- I will transfer your registration for you for each subsequent event. If you wish to be removed from these events, please email pleasantine.millATigmm.ed.ac.uk to be taken off the list.
We will run the series under the ethos of the UK Cilia Network, sharing unpublished data from emerging talent favouring talks from students, post-docs and early career researchers. Talks will only be recorded with permission of the speaker and will be available on-demand for 96hrs after the event to registrants only. We realize there are many competing pressures for attention- we hope this change helps staying connected be easier for all.
Our goal with this online event is to provide an opportunity to support our young researchers during social distancing, to stimulate the discussion and feedback among our community they need and to foster collaboration and sharing of expertise across all things cilia.
We are thrilled to this event continues grow in popularity! As long as you all keep volunteering to speak, we will keep running the series! Submit your talk abstract and title here or by emailing the organizer.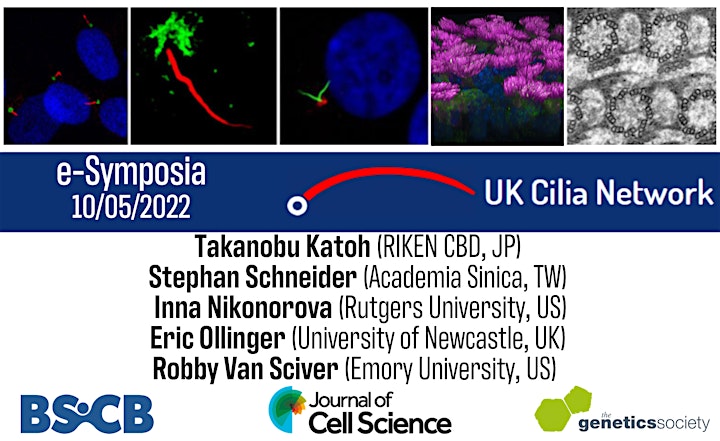 40th BSCB GenSoc UK Cilia Network e-symposium
Date: May 10th 2022 Time: 15:00 - 17:30 BST
3:00 -3:05 Pleasantine Mill Opening Remarks
3:05 -3:25 Takanobu Katoh, postdoc, Hamada lab, RIKEN Center for Biosystems Dynamics Research, Japan. "Immotile cilia of the mouse node sense a fluid flow–induced mechanical force for left-right symmetry breaking".
3:25 - 3:45 Stephan Schneider, Academia Sinica, Taiwan. "Organization and development of multi-ciliated arrays in a marine larva".
3:45 - 4:05 Inna Nikonorova, postdoc, Barr lab, Rutgers Universtiy, USS . "Isolation, profiling, and tracking of ciliary extracellular vesicle cargo in Caenorhabditis elegans".
4:05 - 4:25 Eric Ollinger, postdoc, Sayer lab, University of Newcastle, UK. "Progressive liver, kidney, and heart degeneration in children and adults affected by TULP3 mutations".
4:25 - 4:45 Robby Van Sciver, postdoc, Caspary lab, Emory University, US. "The critical ciliary role of ARL13B in kidney cystogenesis".
We are very grateful to Journal of Cell Science, BSCB and GenSoc for their continued generous sponsorship and flexibility in light of COVID19 to keep it free and open to all!