Sales Have Ended
Registrations are closed
Thank you for registering for the BSCB GenSoc UK Cilia Network e-Symposia series- we look forward to seeing you online soon! Remember as a registrant, you will get a link to watch on-demand for 48 hours following the event in case you missed some or all of this great line-up. The other change is that once you have registered for the series, you will be 'on the list' for all future events... a one-off! We ask that you do not share your registration or recording links with anyone else- we track metrics this skews otherwise. Thank you for your support.
BSCB GenSoc UK Cilia Network e-Symposia Series
About this event
In light of the ongoing pandemic, many important cilia and cell biology meetings have been postponed. In response to the overwhelming demand from members of our cilia community, to keep us connected we will be running an entirely virtual online mini-symposia series every month where our PIs, students and postdocs can share their exciting stories that cannot wait until later. Even with social distancing, we can have great science, deep discussions and support our peers!

Open to all, from now a ONE-OFF registration for this free series in advance will be required- once you are on our list, you will be sent a recurring link to each event for the Zoom webinar and link to the cloud recording once processed after the event. YOU DO NOT NEED TO REGISTER FOR EACH EVENT- I will transfer your registration for you for each subsequent event. If you wish to be removed from these events, please email pleasantine.millATigmm.ed.ac.uk to be taken off the list.
We will run the series under the ethos of the UK Cilia Network, sharing unpublished data from emerging talent favouring talks from students, post-docs and early career researchers. Talks will only be recorded with permission of the speaker and will be available on-demand for 96hrs after the event to registrants only. We realize there are many competing pressures for attention- we hope this change helps staying connected be easier for all.
Our goal with this online event is to provide an opportunity to support our young researchers during social distancing, to stimulate the discussion and feedback among our community they need and to foster collaboration and sharing of expertise across all things cilia.
We are thrilled to this event continues grow in popularity! As long as you all keep volunteering to speak, we will keep running the series! Submit your talk abstract and title here or by emailing the organizer.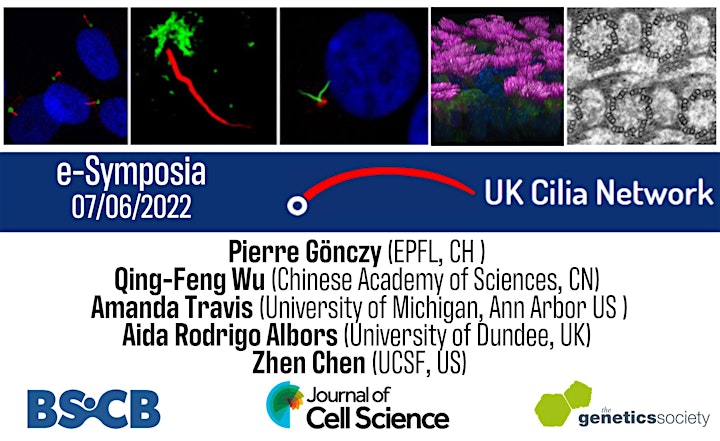 41st BSCB GenSoc UK Cilia Network e-symposium
Date: June 7th 2022 Time: 15:00 - 17:00 BST
3:00 -3:05 Pleasantine Mill Opening Remarks
3:05 -3:25 Pierre Gonczy, Swiss Federal Institute of Technology Lausanne (EPFL), Switzerland. "Molecular architecture of the C. elegans centriole".
3:25 - 3:45 Qing-Feng Wu, Institute of Genetics and Developmental Biology, Chinese Academy of Sciences, China. "Centrosomes in Neocortex Development".
3:45 - 4:05 Amanda Travis, postdoc, Pearring lab, University of Michigan, Ann Arbor, US. "Disrupting the ciliary gradient of active Arl3 affects rod photoreceptor nuclear migration".
4:05 - 4:25 Zhen Chen, postdoc, Vale lab, University of California San Francisco, US. "Asymmetric architectures of mammalian sperm revealed by in situ cryoET."
4:25 - 4:45 Aida Rodrigo Albors, postdoc, Storey lab, University of Dundee, UK. "Making sense of spinal cord ependymal cell diversity"
We are very grateful to Journal of Cell Science, BSCB and GenSoc for their continued generous sponsorship and flexibility in light of COVID19 to keep it free and open to all!