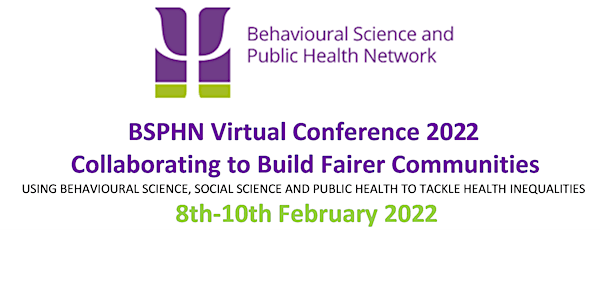 BSPHN Annual Conference 2022: Collaborating to Build Fairer Communities
Please join us for the BSPHN Annual 2022 Conference "Collaborating to Build Fairer Communities" from Tuesday 8th Feb-Thursday 10th Feb 2022
About this event
Tuesday 8th February 2022 1.00pm-2.15pm (AGM 2.15pm-3pm)
Showcasing Case Studies Addressing Health Inequalities in Public Health
We will showcase four examples of behavioural science, social science and public health in addressing and tackling health inequalities.
The deadline for abstract submissions has now passed.
Chaired by Dr Michelle Constable (Chair of BSPHN)
The BSPHN AGM will follow this event at 2.15-3pm.
Wednesday 9th February 2022 1.30pm-2.30pm
BSPHN Discussion - Using Behavioural Science to Address Health Inequalities
Speakers: Professor Jim McManus (Director of Public Health at Hertfordshire County Council) , Professor Falko Sniehotta (Professor of Health Psychology & Behavioural Medicine at the Universities of Newcastle and Twente and Director of the NIHR Policy Research Unit Behavioural Science) and Professor Mike Kelly (Senior Visiting Fellow in the Department of Public Health and Primary Care at the University of Cambridge).
Chaired by Professor Vivien Swanson
A networking event will follow this session on wonder.me at 2.30-3.30pm.
Thursday 10th February 2022 1.30-2.30pm
Changing Behaviour: Increasing and Decreasing Health Inequalities (Professor Dame Theresa Marteau) and Understanding the Contributions of Social Science to Public Health in Harnessing the Power of Diversity and Inclusion (Dr Joanna Semlyen)
We are thrilled to announce Professor Dame Theresa Marteau (Director of the Behaviour and Health Research Unit in the Clinical School at the University of Cambridge, and Bye-Fellow in Psychological and Behavioural Sciences at Christ's College, Cambridge) will be our keynote speaker with Dr Joanna Semlyen (Associate Professor in Psychology/Medical Education, Norwich Medical School) as our second keynote speaker for this session.
Chaired by Dr Anjan Ghosh
Please tweet about the conference using #BSPHN2022.