Description
Are you ready to dash through the colour clouds and have the bubbliest summer ever?
Here's your chance to enjoy summer, with an extra twist of bubbles!
WHAT HAPPENS?
- Everyone, after registration, will take part in a quick fun warm up.
- Then there will be a bubble megablast to celebrate the set off and get into the party atmosphere.
- Take the 5KM course as you like, run it. walk it. dance it.
- Then collect your medal and show off to your family and friends.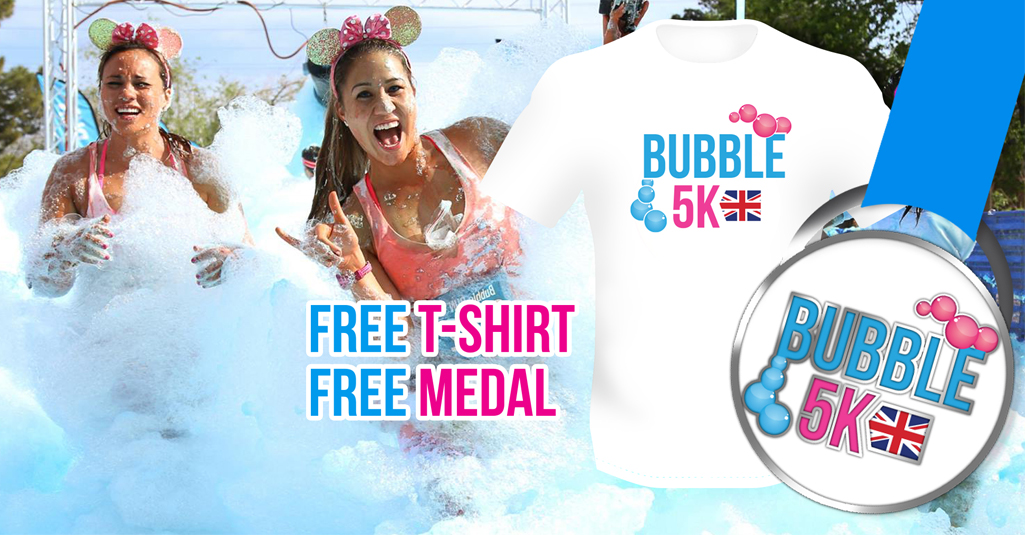 WHAT YOU RECEIVE?
White t-shirt Make sure you keep an eye on our Facebook page for your chance to choose the t-shirt design!
Medal
5KM of bubbles
Water

TIMINGS
Event Registration Opens - 09:30
Pink Wave - 10:00am - SOLD OUT
Blue Wave - 10:15am - SOLD OUT
Orange Wave - 10:30am - SOLD OUT
Red Wave - 10:45am - SOLD OUT

Green Wave - 11:00am - LIMITED TICKETS

Purple Wave - 11:15am - LIMITED TICKETS
Silver Wave - 11:30am
Finish - 1:00pm (approx)
Wave Times: Everyone will go around the same course, we use waves to break up the mass of participants for safety reasons. Please arrive at registration 20-30mins before your wave time.


TICKET PRICES

*prices subject to change
Adult £22
Child £10
Team £20 (+4 Team Members) Price Per Person
Family £50 (2 Adults, 2 Children)


FAQS
Parking
Event Parking is available at the venue. When at the National Water Sports Centre, there will be marshals to guide you to the correct car park.
T-shirts
T-shirts will be available to collect from registration on the day of the event. When registering online, you will be asked what size t-shirt you would like. (These sizes vary from Child XS to Adult XXL)
Changing facilities
We recommend arriving in clothes that you will take part in, and that the Bubble 5K t-shirts can go over. However, if you would like to change, there will be port-a-loos available for you to use.
Toilet facilities
There will be port-a-loos available.
The Route
The route is 5KM and will include a water station and 4 bubble stations.
Lost people
In the event of a person becoming lost, they should be taken to the Registration tent in the Event Village where they will be looked after by a member of staff who has been security cleared and removed to a safe and warm area. Please note that lost person will not be released to a member of the public until the member of staff is satisfied that their identity is genuine.
At the finish
At the finish you will be rewarded with an exclusive Bubble 5K medal.
Photography
With the event being held in a public place, you are welcome to take videos and photos of the day. When uploading to social media, make sure to use the hashtag #Bubble5K. Professional photos well put uploaded to our Facebook page .