Bubble Bath | Candy Mas #CarnivalCrasherZ @ Notting Hill Carnival 2017
Description
Our theme for 2017 is 'Bubble Bath'
We Doing it Wet
Bubble Bath #CleaningUpTheAct
Registration starts 08 May 2017. This will allow you more than enough time to put your deposit down and pay down for the remaining months.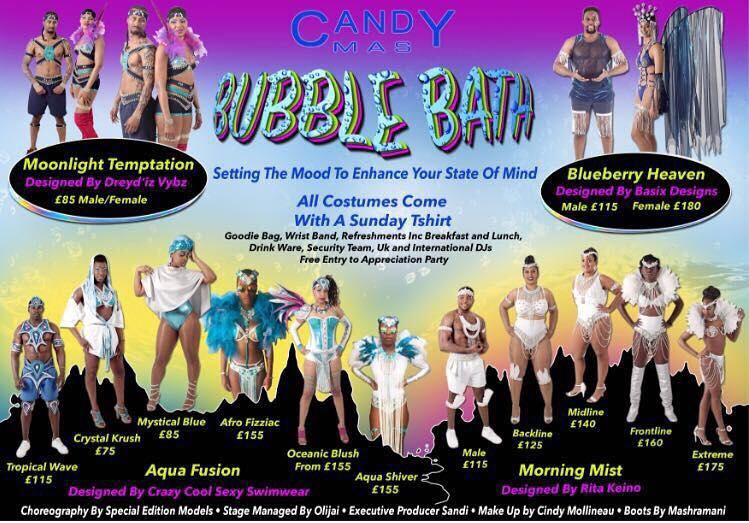 Packages include:
- Your chosen t-shirt or costume
- Wristband
- Goody bag
- Refreshments (soft drinks only for under 18's)
- Breakfast (Monday only)
- Security Team
- UK and International DJ's
- Free entry to Thank You party
---


Options
Children/Teenager Sunday T-shirt/costume packages from £20
Adult Sunday T-shirt packages from £30
Adult Monday T-shirt packages from £45
Adult Monday costume packages from £75 (all costume packages include a standard Sunday t-shirt package - look for the code against your selected costume option).
Please scroll down for the forms if you'd like to make a deposit. Email all completed forms to carnivalcrasherz@gmail.com
---


Payment Plans
T-shirt deposit £15 per person
Costume deposit: £50 per person.
** Full payment required by 31 July 2017 **
Please email us on carnivalcrasherz@gmail.com to secure your spot by paying a deposit.
Ready? #LetsGo
---
Forms
Email all completed forms to carnivalcrasherz@gmail.com
Sunday
Monday
Blueberry Heaven (also Read Me)