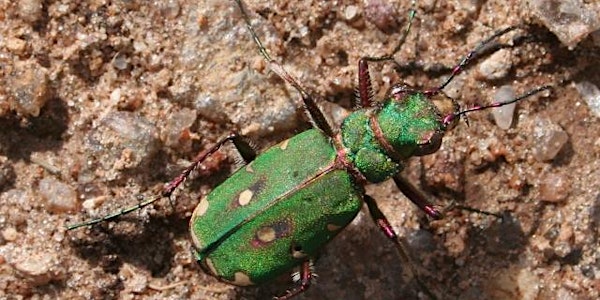 Bug Sorting Marathon - no.3 (Norwich weekdays)
Location
Dragonfly house
2 Gilders Way
Norwich
NR3 1UB
United Kingdom
Description
Back by popular demand (again) we will be running another Bug Sorting Marathon; this time over 5 weekday sessions in Norwich and 2 weekend sessions (one in Norwich and the other in the Brecks)!
Following on from 2 weekends of Bug Sorting Marathons in early 2016 and 2017, as part of the Wildlife Recorders of Tomorrow project (project within the "Breaking New Ground Landscape Partnership Scheme" supported by the Heritage Lottery Fund), we continue to set ourselves a unique wildlife challenge of sorting and grouping batches of invertebrates into different families (e.g. beetles, ants, spiders). The invertebrates were caught in late summer 2017, and are sitting in storage waiting for these sessions. Each participant will take on at least two batches per day, and with the help of our on hand experienced mentors, they will split the specimens into different families. At the end of the sessions the sorted material will be sent to experts for identification, and will contribute to forwarding the findings of an ongoing research project which is looking into the effects of different management techniques on Brecks biodiversity.

This event is a fantastic opportunity to get to grips with different invertebrate groups and to contribute to an important piece of scientific research. By the end of each session participants will be able to recognise key invertebrate families. We are also hoping to host a few taxonomic experts over the course of the sessions to offer participants a further insight into the key invertebrate families.

No previous experience of invertebrate work is required, but a desire to learn more about natural history is important. Participants can sign up for as many sessions as they wish - introductions and training presentation will be provided to those that are doing this for the first time, at each session; those that have been involved in the previous sessions may carry on sorting without the training (although a recap is encouraged for those who were involved in Bug Sorting Marathons 1 and 2).

---
A good number of participants who signed up for the one session last time, asked to come to the second session too as they had enjoyed it so much!! So to avoid disappointment, do sign up to as many days as you wish
---
Please note:

This event is not suitable for young children.
These sessions are not recommended for under 16s, although they are welcome to attend, as long as accompanied by an adult.
This event is not suitable for people with invertebrate/insect phobias or people who are not happy working with dead invertebrates
This event involve long periods sitting and working with a tray of specimens - so it is recommended to take breaks when you need them and move around to rest your eyes and avoid stiff backs etc

---
MEET: Meet for a 09.30am start at the ground floor of the Natural England offices within the Dragonfly House building, by going to the reception and signing in. You will be met by one of the organisers here.

PARKING: No parking is available at Dragonfly House but ample parking is available in the Bishopgate Church Car Park (next to the Adam and Eve pub). You then simply need to cross the Jarrold bridge to Dragonfly House.

BRING: Other than in health and safety below it would be useful to your learning to bring a notebook and pen. If you have a hand lens this would be useful to bring along. Please bring your own lunch, tea/coffee and biscuits will be provided.
HEALTH AND SAFETY: This is a completely indoors workshop. Any chemicals that you are required to use are safe and you will be given instructions on how to use them - plastic gloves will be available.

Photo: Green Tiger Beetle (Cicindela campestris). © Copyright Anne Burgess and licensed for reuse under this Creative Commons Licence.
------------------------------------------------------------------------------------------------------------------------------------------------------------------------------------------------------------------------------------------------
***Data protection: Please note we only hold your contact details for the purposes of contacting you about simliar recording/wildlife monitoring events or activities. Feel free to opt-out of receiving further emails by emailing us to this effect***