Event Information
Refund policy
Refunds up to 7 days before event
Eventbrite's fee is nonrefundable.
Join us for the 16th Annual BUILA Conference 2021: 7 July - 8 July 2021
About this event
Remerging from Brexit and COVID-19 uncertainty to a proposed period of realignment and rebirth, the UK is now in a position to push the next stage of the UK International Education Strategy. Can the UK regain its position as a leading international education provider? Can universities innovate their way to success post COVID-19?
This year's two day virtual BUILA Conference, Reimagining our Reach, Reputation and Recruitment looks to the future as the UK reasserts itself on the world stage.
Full event information can be found on our Conference Page.
Under the theme we will be considering issues such as:
How our competitors from USA, Australia & New Zealand are planning to reimagine their internationalisation strategies, plus recover and grow their international recruitment markets post pandemic.
How the government's new 'Global Britain' ambitions can help expand our reach through an evolving model of TNE & Partnerships.
What recruitment and the International Office will look like during the next phase of the pandemic and beyond.
How to manage reputation and risk with branch offices/campuses overseas.
How to beat the online event fatigue and crack conversion.
How we enhance the UK's reputation and increase our global reach by truly considering inclusivity in our internationalisation strategy, using the past to create a better future.
Networking is at the forefront of this year's conference
It's important to us that members have ample opportunity to re-connect with their peers in an engaging format. Apart from 1-1 meetings, here are some of the exciting events we have planned for you:
Start your day off with PE with BUILA and Morning Meditation
Attend live events and interact via live chat
Reconnect with peers from around the world in the virtual BUILA Members Lounge
Book 1-on-1 meetings with delegates, speakers and sponsors
Visit the sponsor area and start meaningful discussions with exhibitors
Share a toast with peers by attending our annual drinks reception virtually!

Pricing
2 day Virtual Conference Price: £295
1 day Virtual Conference Price: £175
25% group discount off full conference fee only for 3 or more attendees from the same institution. Use discount code 'BUILAGROUP2021' at checkout.
Virtual Goody Bag
All attendees will receive a virtual goody bag from our sponsors. If you book by 25th June, UK based attendees will also receive a cocktail or mocktail of choice to toast at the Virtual Networking Reception.
Pre - Conference Directors' Forum
Directors are invited to attend the pre-Conference Directors' Forum on Tuesday 29th June; an opportunity to discuss the latest sector trends and policy updates with your peers, raise key issues impacting on international student recruitment and inform future lobbying priorities.
Introduction to International Recruitment: 101 bitesize workshop
Book the full Conference package and attend our Introduction to International Recruitment: 101 bitesize workshop for free on Monday 28th June. This popular workshop is designed to give an overview of the key principles of international student recruitment and is suitable for staff who are new to the sector, with less than one year's experience of working for a university International Office.
We encourage members to purchase tickets using a debit or credit card or PayPal. In exceptional circumstances, it is possible to pay by invoice. If you select this option, please email Nanna Pedley at members@buila.ac.uk with details of who to send the invoice to.
In case of cancellation, we encourage members wherever possible to provide an alternative member to attend the conference. If the cancellation is due to circumstances outside of your control, the cancellation deadline is 28th June 2021. Please contact Nanna Pedley at members@buila.ac.uk.
How To Register?
Step 1: Complete the registration form and payment.
Please specify your drink preference and provide a shipping address.
If you plan to attend the Director's Forum or the 101 Training, please add these to your registration.
Note you are able to edit your registration details after submitting.
Step 2: You will receive your personalised invitation and login details to our Virtual Platform and Event App via email two weeks before the start of the conference on June 23, 2021.
Step 3: All further conference information will be shared via email as well as our event landing page.

Day 1, Wednesday 7 July 2021
08.30 – 09.00 Virtual PE with BUILA
10.00 – 11 Break Out Sessions
11.00 – 11.45 Plenary
11.45 – 12.15 Networking – BUILA Members Lounge
12.15 – 13.00 Lunch
13.00 – 14.45 Break Out Sessions
14.45 – 17.00 1-1 Networking
17.00 – 18.00 BUILA Drinks Reception
Day 2, Thursday 8 July 2021
08.30 – 09.00 Virtual Morning Mindfulness Meditation
10.00 – 11:00 Break Out Sessions
11.00 – 11.45 Plenary
11.45 – 12.15 Networking – BUILA Members Lounge
12.15 – 13.00 Lunch
13.00 – 14.45 Break Out Sessions and Plenary
14.45 – 15.15 Closing Session
15.15 – 17.00 1-1 Networking

Programme highlights include:
Reimagining our Reach, Reputation and Recruitment – where do we go from here?
If COVID-19 has taught us anything it is that we must be ready for accelerated and constant change. Whether this is the change concerns our market reach, how the on-going response affects reputation, or the development of our recruitment practices and outcomes, it is our collective imagination and innovation which will drive success. Our expert speakers from the world of politics, economics and international education lay out the challenges ahead so we can consider - Where do we go from here?
Competitor Watch - What's next for our favourite foes?
Our UK International Education Strategy is clear - an increase of 600,000 international students, £35bn in TNE exports, a successful Turing scheme and delivering to our commitment to a first-class international student experience and employability. All to be delivered as we emerge from the shadows of the pandemic. How does that compare to our competitors, how are they responding, what can we learn from each other? Our panel of experts from Australia, New Zealand, the United States discuss their Government-led internationalisation strategies, and how competitor institutions are delivering against the objectives in the post-COVID future.
Research launch: Recruiting the international post-COVID cohort:
Responding to feedback from members, BUILA & BC undertook a brief temperature test to understand international student behaviour in the recruitment cycle post-COVID to aid you in your planning and recruitment activity. Compiled through focus groups with students from fifteen markets, the results provide insights into applicant decision-making, effective recruitment channels, and target messaging. This session is designed to help you build successful recruitment approaches, marketing communications and digital engagement strategies for the post-COVID times.
The Future Shape of the International Office
Remote working, the need for self-motivation, and being able to quickly problem solve could describe the everyday life of an international officer on the road. However COVID-19 has accelerated new ways of working involving more distributed teams, goal-based projects, data-centric technologies, well-being concerns and the need to relate more specifically to prospective students and stakeholders. Wherever you are based, as we look to the new normal and the skill sets needed, join us to gather insights on how to deal with what is next.
Global Britain & UK International Education Strategy: How can we engage with the UK government's priorities for trade?
In the new Global Britain, what are the government priorities and where are the emerging countries international UK HE should be focusing on? How can the sector engage with these priority countries through partnerships and wider trade missions?
International Branch Campus: What are the Challenges & Solutions to Managing Operations Remotely
An increasing number of UK universities have or are considering setting up international branch offices, especially in light of the COVID-19 pandemic. Staff based overseas have been invaluable in the past year but they and their host universities face unique challenges, and there are significant financial and repetitional risks for the university should these offices fail. Join us to gain insights and advice on what the future holds for the international office and how to support and manage overseas staff and performance monitoring.
Collaboration India UK Opportunities and Challenges
With India's new Education Policy opening up access, recognising online learning and focusing on equality and inclusivity, what are the opportunities and challenges for UK universities? This session will include speakers from private and public Indian institutions to highlight the issues members should be considering.
Generating high quality leads in a digital world, case study
It's no secret that this generation of prospective students is the most marketed-to group in history. With more outreach options than ever before, how do you know which channels or methods will resonate best with tomorrow's international students? In this session, presenters will share two university case studies of how data is being sourced and applied to strategic and tactical decision making in order to advance institutional success.
Delivering on Our Promise: Supporting the future employability of our international students workshop
We fought hard to get it, and the Graduate Immigration Route is already providing the UK with an attractive proposition for career-driven, ambitious international students; expectations from the first applicants will be high. The success of the scheme will rely on universities supporting their international students to secure employment opportunities. Initiatives include degrees with job-ready curricula, mentoring and coaching, placement options, and practical soft skill development. This session looks at what has been done so far to deliver on the GIR promise and what you can do to ensure this vital offering is not withdrawn.
ASEAN, Strategic Roundtable
Rising incomes and a corresponding expanding pool of international students in the region has increased the opportunities but increased the pressure to compete for the brightest and best. This roundtable discussion will explore the changing educational environment, and considerable opportunities and challenges for UK universities in these 5 markets.
Integrating International Students with the Local Community: International Roundtable with NZ, Canada, Australia & UK
There has been an ongoing conversation in Australia and New Zealand on how to sell international education (particularly the recruitment of international students) and integrate international students into ANZ communities. More needs to be done to promote the benefits (not just financial) to the community and find ways of integrating international students. With their announcement of a direct route into Canada, the launch of the GIR in the UK too, Australia, New Zealand, UK & Canada share ideas, experiences and best practice during this roundtable discussion on how institutions, government departments and sector bodies can better engage communities around international students.
A partnership for quality: A route to a UK quality framework with Education Agents, Launching the tools
A workshop for members and agents on implementing the three initial strands & tools that will underpin a Quality Framework with Agents, Code of Practice, Good Practice Guide, Training.

We would like to thank all our sponsors for making this year's BUILA Conference possible.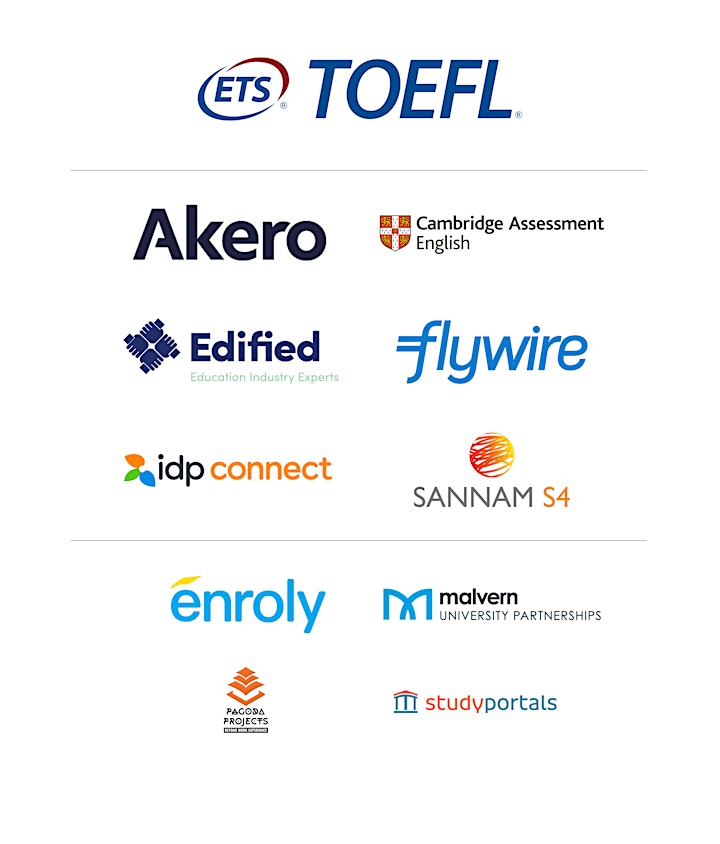 We look forward to seeing you at the conference!
If you have any questions about the event, please contact Paulina Day, Paulina@buila.ac.uk
Date and time
Location
Refund policy
Refunds up to 7 days before event
Eventbrite's fee is nonrefundable.
Organiser of BUILA 2021 Virtual Conference