Description
Build a Website for your Business
No coding skills required
23 October and 6 November 5.30 - 8.30 pm
Do you need to build a website for your business but not sure where to start? Would you rather do it yourself than paying someone else? Do you want the tools to be able update your own website as often as you like, and when you like? We can help!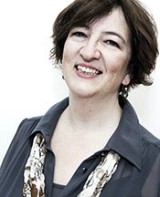 Liz is a Senior Lecturer in Digital and Social Media at Leeds Trinity University. She is also a strategic social business consultant, helping clients articulate and deliver practical strategies for adopting and embedding technology in working and learning practices. She spends a lot of time creating and managing online communities, and her expertise is in engagement strategies to bring people together online to share, to work and to learn.
She founded Reach Further, the UK's first social media consultancy in 2006, and has helped thousands of businesses understand and realise the potential of social media through workshops, seminars and consultancy.
Previous delegates quotes:
'Brilliant! Please run these hugely popular sessions again.' 'Liz is so knowledgeable on this massive topic, clear, very helpful.'
What's happening?
The 'Build a website for your business' workshop – delivered by Senior Lecturer in Digital and Social Media Liz Cable – will give you the practical tools and skills to build your own website and get yourself noticed online.
Using a WordPress blog, you'll create a site that:
Has as many pages as you want it to;

Can be updated as often as you like, when you like;

Uses photos, video, music and slideshows all really easily;

Displays live Twitter, Facebook and other social media channels;

Has a news feed that can be updated online, on your phone or by text;

Works across all platforms and devices; and

Can integrate an online shop.
In addition, you'll learn how to kick-start your marketing so you can start driving traffic to your site – with some great tips and tricks from Liz for spreading the word about your website.
What skills do I need?
Attendees should be familiar with browsing online and using any word-processing software at a basic level. You should be able to type at a reasonable speed.
What should I bring?
If you have your own laptop, please bring it. Otherwise, just let us know and we can provide you with a computer.
Please also bring a written document (electronically) which explains more about your business and the services you offer. We can add this to the website straight away.
Cost?
Free – this workshop is funded through Ad:Venture; a business support programme helping businesses in the Leeds City Region with real growth potential to achieve their ambitions.
Who should attend?
Please register for a place if you are a business under three years old with a desire to grow and to employ people. Ad:Venture is focussed on supporting new and high-growth businesses. You will be asked to complete a Company Record form before you attend to check your eligibility. If you are eligible for these workshops we will contact you to confirm your attendance.
How do I book?
Please register for a ticket via the Eventbrite page.
When?
Tuesday 23 October and Tuesday 6 November, 5.30 – 9.00pm. You will need to attend both workshops.
Where?
Leeds Trinity University, Brownberrie Lane, Horsforth, Leeds LS18 5HD. Please register at the main reception area on the evening.
More information
If you have any questions, or would like any further information, please contact Louise Miller, Ad:Venture Project Manager at Leeds Trinity University.
Ad:Venture is supported by the 2014 to 2020 European Regional Development Fund (ERDF) programme.