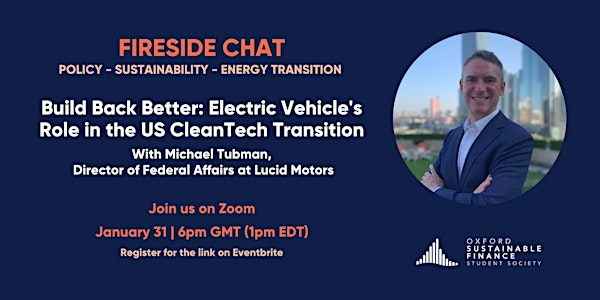 Build Back Better: Electric Vehicle's Role in the US CleanTech Transition
The OSFSS invites for a sneak peek into the EV market & its potential to lead the way of the transition to CleanTech in the US!
About this event
Come join OSFSS and Michael Tubman, Director of Federal Affairs of Lucid Motors. Michael has spent many years in the energy sector, working for the Center for Climate and Energy Solutions, Electrify America and the Office of the Governor for the State of Alaska. Lucid Motors is a producer of luxury electric vehicles, with new cars produced in late 2021. Hear how companies such as Lucid will be part of the transition to a clean economy.
About Michael Tubman:
https://www.linkedin.com/in/michaeltubman/
About Lucid Motors:
https://www.lucidmotors.com/