Event Information
Refund Policy
Refunds up to 7 days before event
Eventbrite's fee is nonrefundable.
Join us for a panel discussion looking at Building Back Better in relation to tech and retrofit, kindly sponsored by Bevan Brittan.
About this Event
We are keeping a close eye on all updates in relation to COVID-19. Our November events are now online, and include the same opportunities to network, take part in live discussion and the option to do a 60 second pitch!
"Build Back Better" has been a popular phrase in 2020, but what does it actually mean? How can businesses, authorities and sustainable individuals be at the forefront of a green recovery?
The Future Economy Network are running a panel discussion with sponsors Bevan Brittan to discuss Build Back Better in relation to tech and retrofit.
We will welcome speakers from Bevan Brittan, Interface, Adaptavate, Green Register, Department for Business Energy & Industrial Strategy, Vattenfall and Darren Evans Ltd.
This panel discussion will take place online, but please do pop by our former venue Future Leap, our own Bristol based sustainable business hub with a mission to build a green post-pandemic future.
Agenda
09:00 - 09:10 - Registration
09:10 - 09:25 - Facilitated Networking
09:25 - 09:35 - Introduction
09:35 - 09:50 - Discussion 1 - Will Government funding create a "boom and bust" in the retrofit sector, and how can we prevent this?
09:50 - 10:00 - Q&A
10:00 - 10:10 - Break
10:10 - 10:25 - Discussion 2 - Sustainability in tech and retrofit relies on better upskilling and education. How can we all support this?
10:25 - 10:35 - Q&A
10:35 - 10:50 - Discussion 3 - Net zero targets have seen a surge in popularity, including scope 3. How can tech and retrofit lead the way in this?
10:50 - 11:00 - Q&A
11:00 - 11:05 - 60 Second Pitches
11:05 - 11:10 - Close & Upcoming Events
11:10 - 11:20 - Optional Facilitated Networking Group 1
11:20 - 11:30 - Optional Facilitated Networking Group 2
This event is sponsored by Bevan Brittan.
Meet The Speakers!
Nathan Bradberry, Partner Infrastructure (Energy and Construction), Bevan Brittan LLP
Nathan specialises in energy efficiency and energy performance contracting, working on projects ranging from more straight-forward installation of energy generation equipment, operation and maintenance agreements, through to more substantial procurements of heat networks and district energy schemes.
Selene Molina Blanco, Engineering Manager, Vattenfall Heat UK
As an Engineering Manager at Vattenfall Heat UK, Selene helps deliver the next generation of district heating networks in the UK, with innovation, customer services and, most importantly, decarbonisation as key drivers.
She has spent almost four years in the District Heating industry in London, having worked in various roles from assessing potential projects for adoptions, developing concept designs and models for new projects to helping deliver them now.
Selene is passionate about addressing the climate crisis and about renewable energy and sustainability in general. More specifically, she has recently found that she is really interested in Energy Systems Integration, looking at how different vectors - heat, power generation, transport - can work together to achieve our climate goals.
Becky Gordon, Sustainability Manager (UK & Ire), Interface
Becky is Sustainability Manager UK & Ireland for Interface, a world leading manufacturer of sustainable flooring.
As a key advocate for Interface's Climate Take Back mission, and member of the Interface global sustainability team, Becky focuses on the commercialisation of sustainability in the built environment.
Becky has over 10 years of experience at Interface in the customer service and sales roles. As an Account Manager, Becky trained as a Sustainability Ambassador and developed a specialism helping architects and designers understand sustainability issues and identify strategy and solutions. She also acted as a spokesperson and internal trainer on sustainable design.
As sustainability became a specialism for Becky, she chose to further her understanding across sectors, completing a Post-Graduate Certificate in Sustainable Value Chains at the University of Cambridge in 2018.
Thomas Robinson, Managing Director, Adaptavate
Tom is a former builder and about 8 years ago went to study an MSc is Sustainable Architecture at a progressive university at the western edge of Wales: Centre for Alternative Technology. During his masters he developed a bio-composite that would become known as Breathaboard.
Following this, he has built an awesome, award winning team that is focussed on building a business that is a force for good. A business that licences bio-technology for construction materials all over the world using locally available bio-feedstocks on scalable industrial processes. Adaptavate develop totally innovate building materials, and deliver them with game changing business models to enable the global uptake of scalable bio-building materials of the future.
Raja Hanna, Policy Lead for Clean Heat Grants, Department for Business, Energy & Industrial Strategy
Raja is leading policy development to deliver a framework for supporting low carbon heating technologies in the Department of Business, Energy & Industrial Strategy. He has also led legislation to provide covid-19 support to the Renewable Heating sector. He has also held policy roles at the Department for Environment, Food and Rural Affairs and the Ministry of Justice, working on EU Exit, international trade and internal market regulation. He has experience in government, parliament, international research institutions and policy consultancies. Raja read International Relations at the University of St Andrews.
Lucy Pedler, Director, The Green Register
Lucy is an architect with over 30 years of professional experience in the UK and USA and has particular expertise in sustainable building practices.
Lucy worked as a Product Specialist at Construction Resources, the UK's first Ecological Building Centre, for five years. She spent the first two years researching the environmental impact of ecologically sound building materials and systems and the subsequent three years advising architects, other professionals and visitors on the appropriate selection of building materials. She was also responsible for running the seminar programme at Construction Resources and still makes regular presentations to architects and other organisations as part of The Green Register team.
Lucy created The Green Register in 2000 as part of her lifelong commitment to the promotion of sustainable buildings.
Darren Evans, Founder, Darren Evans
Darren is the founder of Darren Evans, which supports the construction sector to create low carbon and net-zero buildings. Darren Evans imagine a world where the built environment enables people and planet to thrive. Creating more energy-efficient and sustainable buildings does not need to cost the earth. By changing how we think about building specifications, they see time and time again how it's possible to exceed energy and sustainability targets without excessive costs.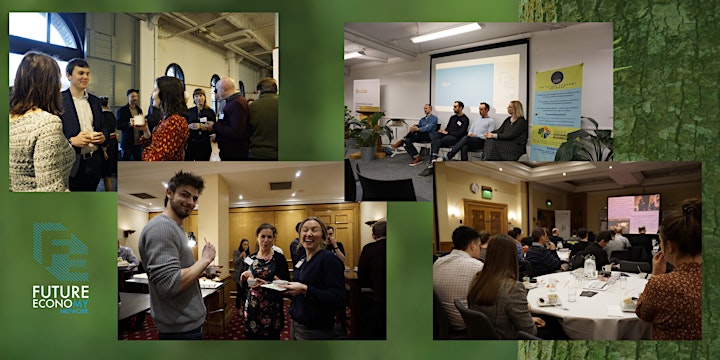 If you would like to join the Network please get in touch via: info@TheFutureEconomyGroup.co.uk
Follow us on Facebook, Twitter & Instagram
Sign up to our newsletter HERE
Event videos will be available on demand here, however these will not include live opportunities or networking.
We will share your Name, Job Title & Company with the other delegates & speakers to this event only. If you don't want this information to be shared please let us know when you have purchased your ticket.
We take photos at our events for marketing purposes, if you don't want your picture taken please let us know in advance.
We record our events for marketing purposes, if you do not want to be in the recording please let us know in advance.
We have included a mandatory £1 carbon offsetting fee to all event tickets in our commitment to being carbon neutral in our operations. You can find out about our chosen charity here.
If you require a complimentary carers/assistant ticket, please email events@thefutureeconomygroup.co.uk at least one week in advance and we will be happy to support you.
#wegrowthhub #business #seminar #sustainable #sme #bristol #businesswithpurpose #climateemergency #betterbusiness #climatechange #retrofit #tech #buildbackbette #builtenvironment
Date and Time
Location
Refund Policy
Refunds up to 7 days before event
Eventbrite's fee is nonrefundable.