Sales Have Ended
Ticket sales have ended
Many thanks for your interest in Build It Live. Unfortunately Build It Live Bicester ticket bookings are now closed. The next Build It Live shows are as follows. Ticket bookings for the February 2017 shows will open in November 2016. 4 – 5 February 2017 at Kent Event Centre, Kent 18 – 19 February 2017 at EventCity, Manchester 10 – 11 June 2017 at Bicester, Oxfordshire
Sales Have Ended
Ticket sales have ended
Many thanks for your interest in Build It Live. Unfortunately Build It Live Bicester ticket bookings are now closed. The next Build It Live shows are as follows. Ticket bookings for the February 2017 shows will open in November 2016. 4 – 5 February 2017 at Kent Event Centre, Kent 18 – 19 February 2017 at EventCity, Manchester 10 – 11 June 2017 at Bicester, Oxfordshire
Description
Planning a self build? Renovating a property? Or looking to add more space to your current home?
Make sure you visit Build It Live – Build It magazine's dedicated exhibition for self builders and home renovators. A day at Build It Live will fill you with inspiration and practical tips to ensure you get the home you want – finished on time and on budget. The stress-free route to creating a truly individual home.
There's so much under one roof! From new and cutting-edge to classic and traditional…there's plenty at the show to suit your style (and your budget!)
Please note, the event is taking place in a dedicated area on the site of an active airfield and parking and attendance is at visitor's and exhibitor's own risk.
All animals are prohibited, apart from registered assistance dogs.
Watch our visitor video to see what self builders and renovators who attended previous Build It Live events thought: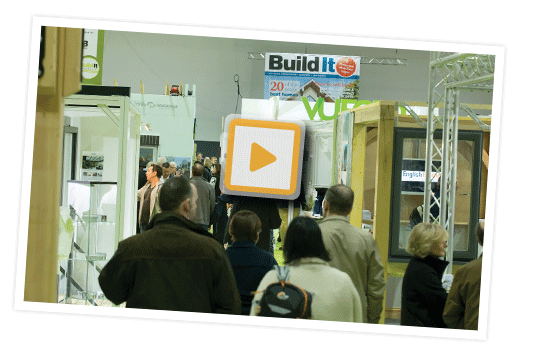 FAQs
I can't print off my tickets, can I still get into the show?
If you are unable to print your tickets, you can simply show your e-tickets on your mobile phone. We will scan the barcode to allow you entry into the exhibition.
I can't find my e-ticket/ I accidentally deleted the email containing my e-ticket.
If you accidentally misplace your e-tickets, please contact us directly by emailing builditlive@castlemedia.co.uk. We will resend all confirmation emails before the event, as a reminder to our customers.
I haven't received my order confirmation email. How do I check I'm definitely booked?
If you haven't received your order confirmation email, please contact us on builditlive@castlemedia.co.uk and we will check your order. We resend all confirmation emails closer to the time, as a reminder to our customers.
I'm thinking of attending your event. What can I see at the show?
Our events are specifically tailored to help self-builders and renovators find the advice and inspiration they need to make their project possible. Our free workshops, seminars and Ask Our Experts areas will provide you with the information you need to make sure your project is completed on time and on budget. Our impressive list of exhibitors means all aspects of the self build market are covered. For our full programme, please visit our "What's On" pages
I'm looking for something in particular, how can I find out who is exhibiting at the show?
For the full list of Build It Live, Bicester exhibitors, please visit www.builditlive.co.uk/bicester-exhibitors/
How long do the seminars and workshops run for? Are they held in the same location and is it possible to attend all of them?
Build It Live Bicester will feature 10 FREE daily seminars and 18 FREE daily workshops. Our seminars take place in the Seminar Theatre and take between 20 and 40 minutes each, including question time. The workshops take place in the Workshop Theatre, and take between 20 and 40 minutes, including question time. As the times of the workshops and seminars overlap in some instances, it is only possible to attend all sessions if you visit the show on both days (see below for details). You are welcome to attend as many of these sessions as you like!
Do I need extra tickets if I want to attend the show on both days?
No, when you arrive on the first day, simply mention to the door staff that you wish to attend on both days, and your ticket will be validated to allow free entry on the second day.
If I leave the exhibition, can I return later on?
Yes, when you arrive or leave, simply mention to the door staff that you wish to re-enter and your ticket will be validated to allow this.
Do I need to book a seat for the seminars & workshops?
Our seminar and workshop sessions cannot be booked and are first-come-first-served, so turn up early to ensure you get a seat!
Do I need to book a slot for the Ask Our Expert area?
Yes, the Ask Our Experts area requires booking, as it is extremely popular with visitors. To book your time slot, head to the Ask Our Experts area early, where one of our staff members will be on hand to book you in!
How long does a trip to Build It Live take?
Our exhibitions are designed to allow for a full day of activities. From browsing stalls, talking to experts and listening to specialists talk, Build It Live offers enough to keep you occupied. Our café also allows for regular refreshment breaks! However, for those in a hurry, it is possibly to plan your visit ahead of time, to ensure you make full use of the exhibition in a shorter space of time.
What time do the exhibitions open?
Our Bluewater and Manchester shows open between 10am and 5pm and our Bicester show will open from 9.30am until 5pm daily.
Are children allowed at the shows?
Yes, children under the age of 16 can attend the show Free of Charge, with a paying adult.
Are dogs allowed at the shows?
Only registered Assistance Dogs will be admitted.
Are the shows wheelchair friendly?
Yes, we pride ourselves on making sure our exhibitions are accessible for all our visitors. Wheelchair access is therefore available at all three of our shows.
How do I find you?
For information regarding making your way to Build It Live, please visit our "Where and When" page.
Can I park at Build It Live?
Yes, all our exhibitions offer free parking. Simply follow signage when you get closer to the shows. For Bicester, please use the following postcode for Satellite Navigation purposes: OX26 5HA
Can I get refreshments at Build It Live?
Yes, all our exhibitions have an on-site café for light snacks and refreshments. Our shows are also conveniently located close to shopping centres, containing further food outlets. For more information on this, please visit bluewater.co.uk (for Bluewater),www.intu.co.uk/traffordcentre (for Manchester) and www.bicestervillage.com (for Bicester)
How can I plan my visit?
To make the most of your visit to Build It Live, head to our "What's On" pages
How can I subscribe to Build It Magazine?
To subscribe to Build It, either visit self-build.co.uk/subscribe-to-build-it or www.builditlive.co.uk/booknow/ and select the subscription offer from the available options
Still have questions?
Please email builditlive@castlemedia.co.uk or call 0203 553 2376.