Sales Have Ended
Registrations are closed
Select "Add to my calendar" to see the event in your time zone. Please note time is in GMT+1 BRITISH TIME: If you're not a UK resident, please check the time carefully.
Sales Have Ended
Registrations are closed
Select "Add to my calendar" to see the event in your time zone. Please note time is in GMT+1 BRITISH TIME: If you're not a UK resident, please check the time carefully.
We are building a world where you have the confidence to share your ideas without being afraid of other people's judgment.
About this Event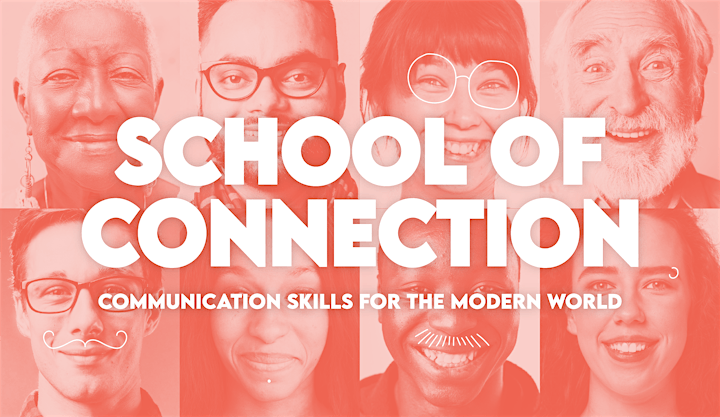 We all know that having good communication skills is important in today's world. But it can be hard to learn how to communicate well when you're an introvert or have social anxiety.
Most public speaking courses are taught by experienced extroverts who don't understand what it's like for someone with social anxiety, and they often end up making people more nervous than when they started the course!
The School of Connection was founded by Michael Sokolin who has suffered from severe social anxiety. He wanted a place where people could learn how to speak in public without feeling judged or anxious about their performance. Our school uses techniques that work for introverts and those with social phobia so you'll feel at ease while learning these valuable skills.
Learn how not to be afraid of talking to anyone.
Masterclass overview:
The workshop will help you improve your public speaking skills by focusing on voice, breathing exercises, improvising speeches and delivering off-the-cuff speeches.
Group discussion will be held to highlight the existing strengths of speakers with discussions about how they can further develop these areas.
We believe in authenticity as our guiding principle for helping people overcome their fears, which is why group sessions are always facilitated in a safe space where open dialogue is encouraged.
The Session will include:
Technique training according to the '8 fundamentals of a confident public speaker':
- Breath and pace
- Voice projection
- Physicality (body language and eye contact)
- Content (structure)
- Intention
- Emotions and tone variety
About our teachers:
We have been running workshops since 2014. We have trained 10,000+ people. Our teachers compete in public speaking tournaments, have a mixture of traditional and improv acting training, studied various meditation and mindfulness techniques and are passionate about human psychology and behaviour.
Logistics:
In order to join you will need:
Access to Zoom with camera (can be from a computer, laptop or any device)
A decent WIFI connection
A quiet room somewhere in your house
A little bit of space to move around
Your session will be taking place via this link: https://zoom.us/j/5785358178
Please try joining 5 minutes prior to class starting time to ensure your microphone and camera are working :)
Testimonials from past students:
Definitely the best public speaking workshop I have been on! It's much more than just improving your public speaking skills, it takes a deeper look into the subject, in terms of fears, and humanity. Mike's approach and techniques is really about to gain a deep understanding to unlock your authentic self. It was transformative! Highly recommended! - Kristīne Šica
Highly recommend this course! The teaching and approach is incredible and it works! I come so far in so many ways during the course of these workshops and been an incredible investment. Cheers Mike & Team - Jezz Williams
More on Our Philosophy:
Our mission is bigger than just helping people become better at public speaking, our mission is to help create a more transparent and connected society.
Our society celebrates extrinsic success; confidence is presented to be smooth, slick, suave and charismatic. Because of this we neglect parts of our personality, our feelings, our idiosyncrasies, our uniqueness, our quirkiness and ultimately our vulnerability in pursuit of becoming confident, according to what society deems as confidence. However, we risk becoming 'well-rehearsed robots' and not sincere individuals, who aren't afraid of expressing their humanness. Our approach offers a very non-conventional way of become an empowering and inspiring communicator.
Email: hello@schoolofconnection.org
Mobile: +447515377896