During the past decade, self-publishing has become a popular way for budding authors to get their work out in the public domain.
About this event
What many people have found is that writing a book is the easy part.  It's the journey to getting a book published and  successfully promoting and marketing one's book is the difficult part.
This special Masterclass will give YOU the opportunity to learn first-hand, from experts,  publisher Marcia Spence and PR specialist Marcia Dixon, the journey you will go on as a self published author and how you can successfully promote your book.
MARCIA SPENCE is CEO of the Author's Midwife, a company that provides strategic coaching and practical support to enable you to write a book that will reach and grip your chosen audience, which in turn will help you raise your public and professional profile.  If you are an author, or if you have a book inside you dying to come out, the Author's Midwife will help you from start to finish, support you through the writing process, support you in getting your book publish and provide support with marketing and promotion.
Marcia will be sharing details of her own journey publishing her autobiography, as well as give insight to her work coaching and supporting numerous authors through their own individual self publishing experience.  Marcia will also give details on the steps authors need to undergo to get their books published, explaining the process of self publishing from writing the book to getting it published and the marketing and promotion of self published books.
MARCIA DIXON MBE is a specialist PR professional who has run PR campaigns for numerous organisations and individuals including the NHS, Angie Le Mar and the Metropolitan Police.  She also has experience of working alongside individuals who have self published their books.
She will share how authors can publicise their work.  She will share the importance of authors devising a PR and marketing strategy, how to utilise social media, and how to get stories about their books in the media.
By the end of this masterclass budding authors will have a greater understanding of the self publishing journey and have information on how to devise and implement a promotional strategy.
Linked In profile links for Marcia M Spence and Marcia Dixon MBE:
https://www.linkedin.com/in/marciamspence/ 
https://www.linkedin.com/in/marcia-dixon-mbe-145b2a8/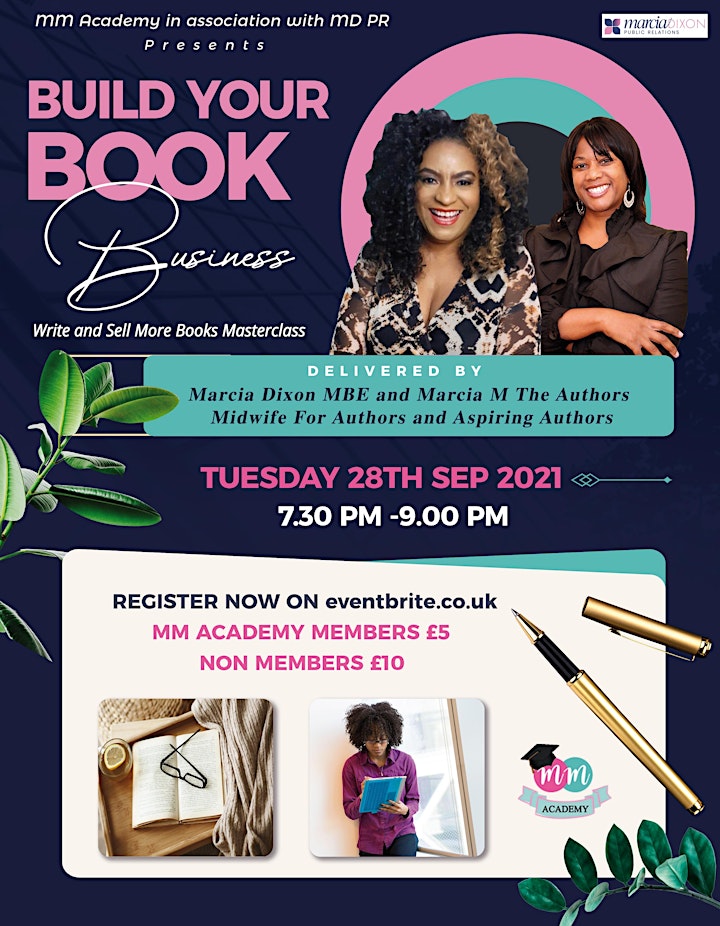 Organiser of Build Your Book Business. Write and sell more books Masterclass