Location
Oceanário de Lisboa - sala Sophia de Mello Breyner
s/nº Esplanada Dom Carlos I
1990-005 Lisboa
Portugal
Are you a developer interested in Web3? Perfeito! Join us in Lisboa to build your first smart contract with Scrypto and win prizes!
About this event
This Radix workshop is like no other! In only a few hours, not only will you get everything you need to build your first smart contract with asset-oriented programming language Scrypto, but you'll also get to meet like-minded devs in a relaxed atmosphere. Fun guaranteed! And there are many prizes to win! Register now, tickets are free!
Why get into web3 now - the market is crashing??
Yeah, we know! We've seen this before, the market goes in cycles and, in crypto, bear markets are full of opportunities for developers! It's the BEST TIME to BUILD!
→ Be amongst the first movers!
Only about 18,000 of the total 27+ million developers in the world have web3 skills - that is only 0.07%. And yet the potential market for DeFi is over 400 trillion dollars. The opportunities are huge for those who can build!
→ Not just another app, build truly innovative tech!
We're here to help people like you build a radically better financial system for everyone! We've just scratched the surface of decentralized finance apps and yet the world has seen its power! Money is transferred instantaneously around the world without fees, millions raised for charities in full transparency, and NFTs bringing true digital ownership are just a few examples of what the future will be thanks to decentralization!
After signing up, you will receive an email from us prompting you to manually confirm your attendance. Please note that this is necessary in order to attend the event. If you do not confirm, we are not able to reserve a seat for you.
DeFi the right way = using the right tools!
Crypto, DeFi and Web3 have experienced some bad press around lack of security, scams and problems linked to scalability. Well, at Radix, we've addressed all that!
(If you want to know more, we have a full series on Rekt retweets: explaining hacks and scams and why they couldn't have happened on Radix.)
Introducing Radix and asset-oriented programming language Scrypto:
Scrypto is a Rust based programming language built for Decentralized Finance (DeFi). It is the open source smart contract language of the Radix public network. Scrypto rethinks how smart contracts are built, finally enabling developers to create secure, reliable and powerful DeFi applications.
Developers can save time and money using Scrypto, by utilizing its vast library of useful Blueprints, built by the community. Here's how: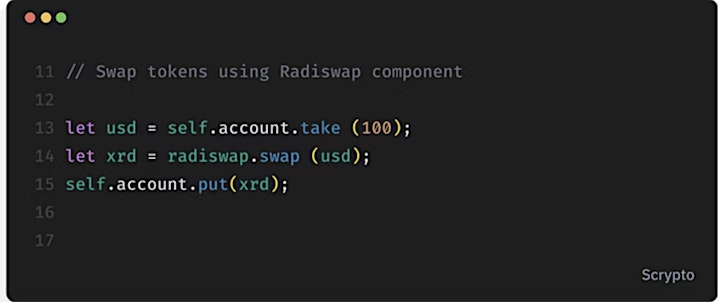 Agenda:
1st part - Learning & sharing
09:00 - 10:00 Registration + Complimentary Breakfast
10:00 - 10:40 "Opportunities of Web 3.0" with our CSO, Adam Simmons
10:45 - 12:15 Introduction to asset-oriented programming with Scrypto
12:15 - 13:15 Lunch + Networking
2nd part - Workshop, get your hands dirty with code!
13:15 - 15:00 Scrypto Workshop - Build your first decentralized Application on Radix!
15:00 - 15:15 Giveaway for Attendees
15:15 - 17:00 Networking + Drinks
Prizes:
For successful participation in our workshop in the afternoon there are:
If the code is submitted as:
A single submission is worth $25 in $XRD per person.
Group of 2: $30 in $XRD per person.
Group of 3: $35 in $XRD per person.
Group of 4: $40 in $XRD per person.
One Lego Lamborghini worth $500 will also be given away between all participants per city.
You can expect:
A friendly community of developers, ready to build.
• Informative educational programming around Web 3.0, DeFi, NFTs, and how to get started on Radix, as well as presentations and a crypto Q&A session.
• Plenty of time to learn about how to write smart contracts and meet new people.
• Advice and support from core RDX Works engineers.
• A venue with strong Wi-Fi, as well as all-day food and a relaxing atmosphere.
• The main part of the day will feature Scrypto workshops run by the RDX Works Builders Team, taking you through the basics of Scrypto, and taking part in a coding challenge to win exciting prizes.
This Workshop Day is open to all builders who register ahead of time, but it's first-come, first-served on-site!
Please note that the seminar will be held in English by the RDX Works Builders team.
If you cannot attend the In-Person Workshop - you can attend our Webinar!