About this Event
For each of the four classes that make up this year's BUILD YOUR MESA programme, £100 of your training fee per class is a NON-REFUNDABLE deposit. Details of the full costs are below.
++++
This is the first of four classes. We begin in the SOUTH and the Way of the Serpent.
The South direction is the beginning of the healers journey to wholeness. Here we release ourselves from the grip of our personal stories, unbinding them from our DNA. The work of scientists like Bruce Lipton and Greg Braden have helped us become aware of the fact that our DNA is not fixed - that we can indeed change it, and download a new version of ourselves that heals spontaneously, releasing us from the place of victim that we have inherited.
The principle of the South is the Binding principle; here we unbind from our luminous energy field the wounds that keep us stuck, and in doing so transform our first three stones into khuyas, the first medicine stones that will become our Mesa.
In the South we receive the foundation rites that prepare our luminous energy field for the rites of the lineage - the Healers Rites; the Bands of Power and Protection; the Seers Rites; and the Harmony Rites.
COSTS
Training fee per module: £270
The balance of your tuition fee is payable direct to Spirit of the Inca.
Accommodation fee per module: £180 + VAT (full board accommodation at Penny Brohn UK, payable direct to Penny Brohn UK);
Or:
£30 + VAT per day payable direct to Penny Brohn UK if you are staying offsite. This is payable to Penny Brohn direct.
Once made, all payments are non-refundable.
CONTACT DETAILS
Chris Waters (chris@spiritoftheinca.com) or +44 7765 258614.
www.spiritoftheinca.com
https://www.spiritoftheinca.com/shamanic-training
https://www.spiritoftheinca.com/peru-journey
Here's what Liz has discovered as she made her way around the medicine wheel:
Liz Brown will be assisting. She has been a member of the teaching team for many years , her clarity of vision and wealth of understanding of this medicine is what brings her alive and she's been instrumental in making sure that this medicine path reaches out into the world to be shared and grown with those who know they want to make a difference in our world.
Chris Waters
will be the lead facilitator for this training in Bristol. Teaching the Medicine Wheel for nearly 2 decades now, both in UK and Europe, she has a wealth of experience to share, which she does with artistry, humour and a deep passion for this medicine path.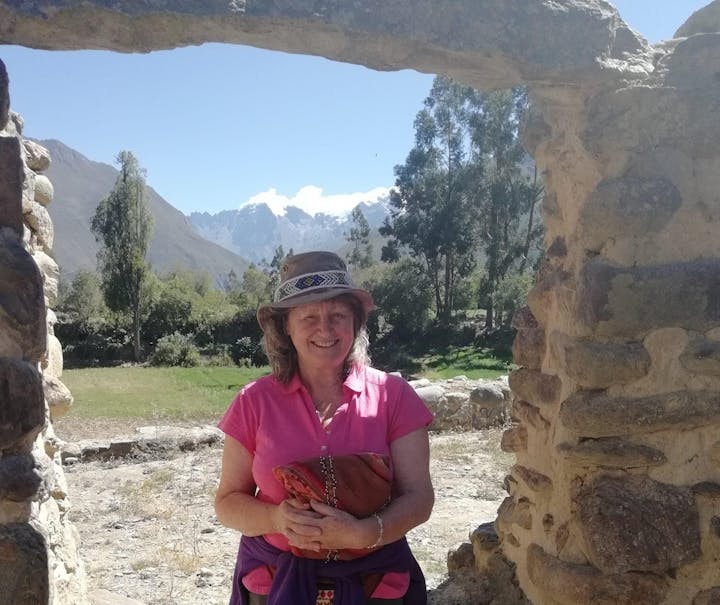 As you make your way around this medicine wheel with us, along with other members of our teaching team, you will be held in safe and caring hands... so that your own souls journey will reveal itself.. and you will find meaning and purpose in your life, and a group of like minded individuals who are ready and willing to make this journey with you.