Build Your Online Profits

Saturday, May 7, 2011 from 10:00 AM to 4:00 PM (BST)
Event Details
Not sure how to take your business forward online ? Is your website not working as hard as you do ? Not sure what all this Twitter & Facebook is all about ? Are you totally confused as to where to start with online marketing?
If so, this is a one-day hands on workshop you can't afford to miss. A practical workshop where you will build up your blocks for online profits. You'll be doing all the work to get your online marketing activities turbo-charged and not just make loads of notes all day long only to go home and get more confused!
Here's everything you need to know on how to generate FREE TARGETED TRAFFIC to your website. You'll learn some cutting edge tips & tricks to get your website or blog optimised for higher rankings. You'll also learn how to build relationships with your prospect and how to build a profitable database of subscribers.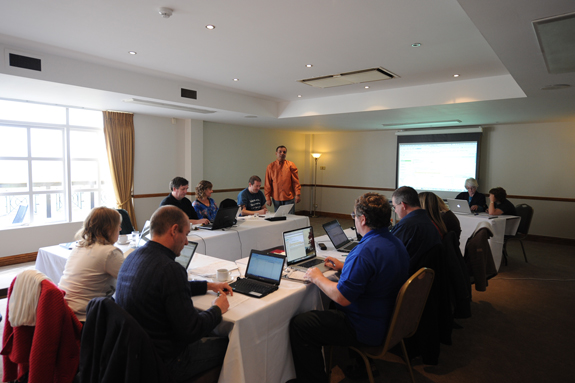 Best of all, what you will learn throughout the day does not require you to have any technical knowledge, geeky programming languages or any kind of expertise. Everything will be taught in simple language which is easy to follow.
Content
The day is divided into 4 different sessions where you will learn how to:
Session 1 - Keyword Research
This is one of the most important process you MUST understand before you get your website online. Most small business owners leave it to their website designers to optimise their website with certain keywords. However,  your web designer does not understand your business the way you do.
You'll learn how to research what kind of online competition you have and the amount of competing websites in your market / niche. Plus, you will learn how to research what people are searching for and how many people searched for your product or service in Google recently.
With these statistics, you will be miles ahead of the competition and on the way to being indexed in search engine result pages and being found by people looking for your product or service.
No keyword research = losing money.
Effective keyword research = more traffic + more money.
Session 2 - Website / Blogs
A website or a blog should work hard for you 24/7 365 days a year. You will learn good 'house keeping' for your site so it ticks all the boxes for the search engines resulting in higher page rankings.
You'll learn why a blog is so so important for your business and how to keep it updated with relevant and fresh content. Did you know that search engines penalise sites which are static and reward sites which are dynamic and updated with fresh content on a regular basis?
Using the correct keywords & phrases are vital for any site to be indexed, once you've done the keyword research, you won't be wasting time & energy over less profitable keywords.
Session 3 - Marketing Your Website
With the explosion in social media sites like Facebook, Twitter, Stumble Upon, Digg to name a few, you'll discover how easy it is to get free and targeted traffic to your website.
Most business owners don't use the power of  You Tube to market their product or services. Did you know that You Tube is the 2nd largest search engine and the 3rd largest website in the world!  Using some amazing video marketing techniques you'll generate perpetual free traffic to your site forever as long as the video is online!
I promise you won't have to spend hours and hours on end on Facebook, Twitter, You Tube, etc to generate traffic to your site. In fact, I'll share with you my '1-click' process which will create your online presence on some of the world's top ranking websites.
Session 4 - Email Marketing
When it comes to business, time really is money. Email marketing can be extremely effective; however, do you really have the time to make contact with every single potential client or previous client to offer new deals and services? Most busy business owners don't have the time to do this, and this is where  email marketing comes into play.
Email marketing effectively & automatically sends out marketing emails, auto-replies and follow-up sales letters on your behalf. This is pretty much a miracle in modern marketing techniques because it can effectively bring in sales on auto pilot, as well as make sure your clients don't forget you.  What are you waiting for? Set your sales machine on auto-pilot and start seeing results.
This is a practical hands-on training day where you'll follow the process by using your laptop and working away all day long. This is not a boring & techie workshop and you won't be bamboozled by industry jargons & language. This is exciting stuff and something which, once learnt, you will apply in your business to always be a couple of steps ahead of your competitors.
Help will be at hand on each and every step and you will understand how to market yourself on the net.
I've achieved page 1 rankings for my various websites. It is not due to sheer luck that I end up on page 1 Google time after time after time. There is a process to it.
If you are struggling to get higher rankings for your site, then this is a workshop which you must attend to improve & enhance your online presence. Whether you have an existing business or are thinking about starting a new business or a website, I invite you to attend this workshop to clear all the myths of internet marketing.
What's included:
- Tea / Coffee
- Hot Lunch
- Wifi
- Ample free parking
What you need to bring along:
- Laptop
When
  07 May 2011
Where
Mentmore Golf Club, Mentmore Near Leighton Buzzard, Beds LU7 0UA
Times
10.00am to 4.00pm
(Registration at 9.30am)
Price:
£95 + VAT per person
I look forward to seeing you soon.
To Your Success
Oz
When & Where

Mentmore Golf Club

LU7 0UA


Saturday, May 7, 2011 from 10:00 AM to 4:00 PM (BST)
Add to my calendar
Organizer
SF Photo School
A photo school to help you improve your photographic skills & techniques. Dedicated to free & very low cost photography training for photographers of all levels.