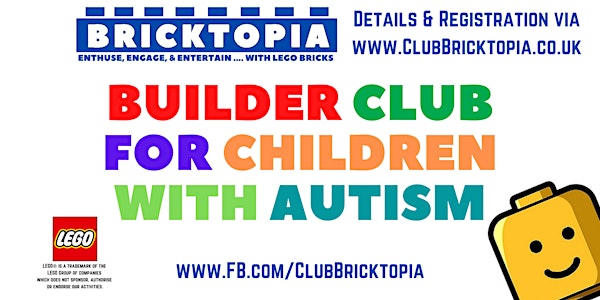 BUILDER CLUB FOR CHILDREN WITH AUTISM sessions (September-November)
Location
Square Chapel Arts Centre (Cornerstones Room downstairs)
10 Square Road
Halifax
HX1 1QG
United Kingdom
A chance for autistic children to join others to be part of a building session using LEGO bricks with an experienced instructor.
About this event
With over 7 years of experience providing fun and engaging activities with LEGO bricks, the Bricktopia Team are providing a range of building sessions to support children in the exploration of their imagination.
These are intended to be a family-friendly activity and aimed at being accessible to children (aged 6+) of all abilities.
The instructors are focused on the individual needs of each child to support their wellbeing and to enthuse, engage, and entertain.
With support from the Short Breaks initiative (part of Calderdale Council) we're running some LEGO brick BUILDER CLUB sessions that are specifically aimed to support children with additional needs.
The sessions are delivered by experienced staff who are DBS checked and who understand how to provide a comfortable and calming atmosphere.
A variety of building opportunities will be available and there will be no pressure for children to undertake anything that they aren't happy with.
In-Person Sessions
For ages 6+
90-minute sessions but participants and their grown-ups can leave when they wish during the activity
All the required resources are provided at the venue.
One registration is required per child attending and grown-ups need to register a free "ticket" for themselves too.
Please note:
Grown-ups need to stay for the entire session and we will try to provide some refreshments for self service.
All grown-ups need to register for a free "ticket" when booking for a child/children.
All sessions are intended to have a theme that is accessible to all interests and no existing knowledge of a theme is required.....it's about using their imagination and having great fun with LEGO bricks!!
Please note that these sessions have been discounted through the kind support of the Short Breaks initiative (Calderdale Council).
Details and registration via www.clubbricktopia.co.uk
Also, please visit and like our FB page - www.facebook.com/clubbricktopia