Building a Future for Our Maritime Past Conference 2018
Description
The Nautical Archaeology Society and the Friends of the Newport Ship are excited to to be organising a joint conference taking place in Wales on the 17th -18th November 2018.
The conference will present research in nautical and maritime archaeology, specifically exploring the theme of how current projects exploring our maritime past are helping to secure it for the future. The weekend will also include the Adopt A Wreck Award, the MSDS Marine Awards , a wonderful dinner and as aways - the raffle !!


The venue: The Riverfront is at the heart of the arts and entertainment scene in Newport.
A lively theatre and arts centre based in the centre of Newport City centre that brings as many people as possible into contact with the arts and creativity, with professional performances, film screenings and workshops. The Riverfront is Newport's only professional presenting theatre and arts centre and has two theatre spaces, visual art gallery spaces, dance studio, recording studio, workshop rooms, conference room and licensed cafe. Directions and parking information can be found below.


The Programme: The final programme for the 2018 conference can be downloaded and printed here.
Day 1 Programme - Doors Open at 09.00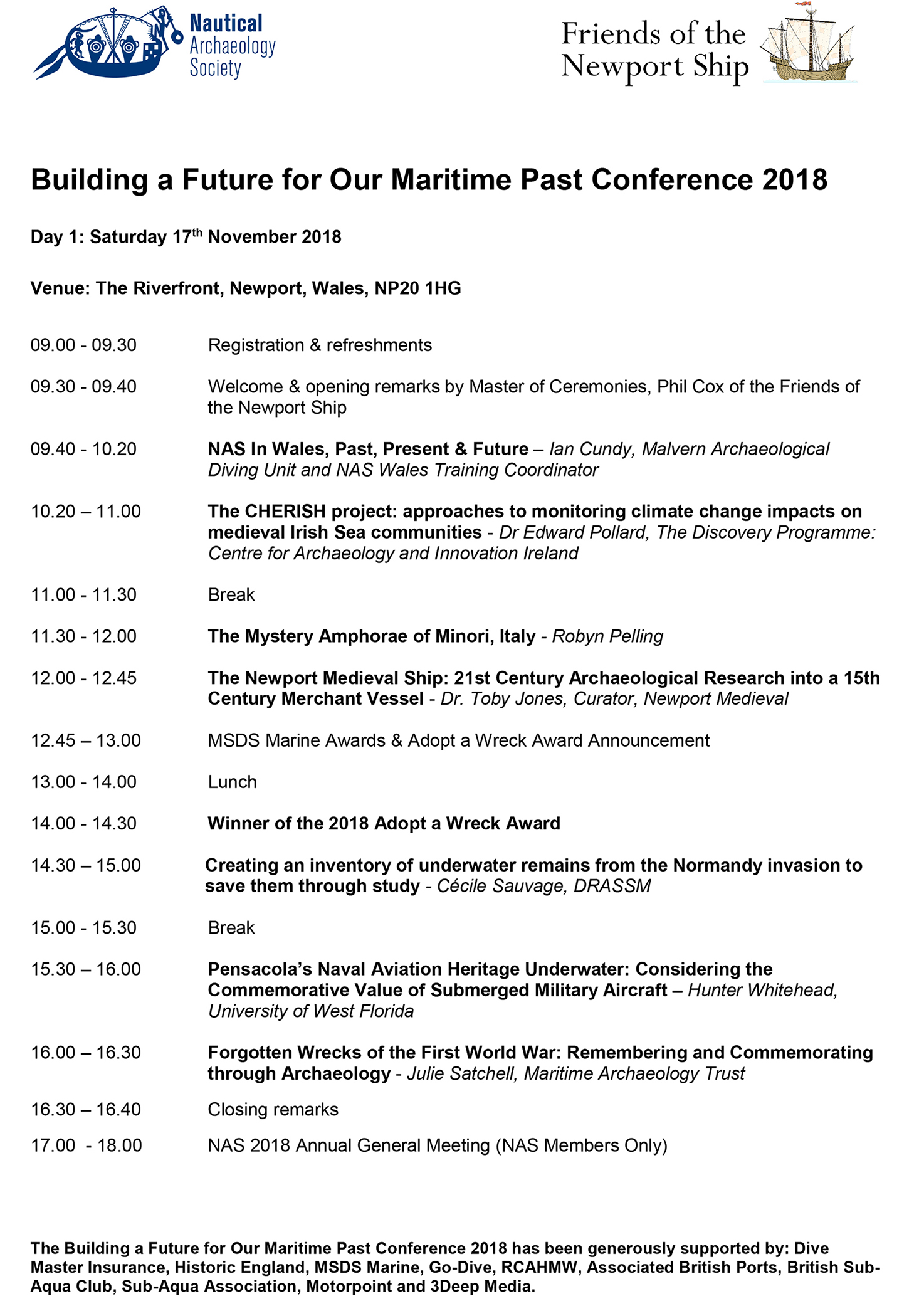 Day 2 Programme - Doors Open at 09.00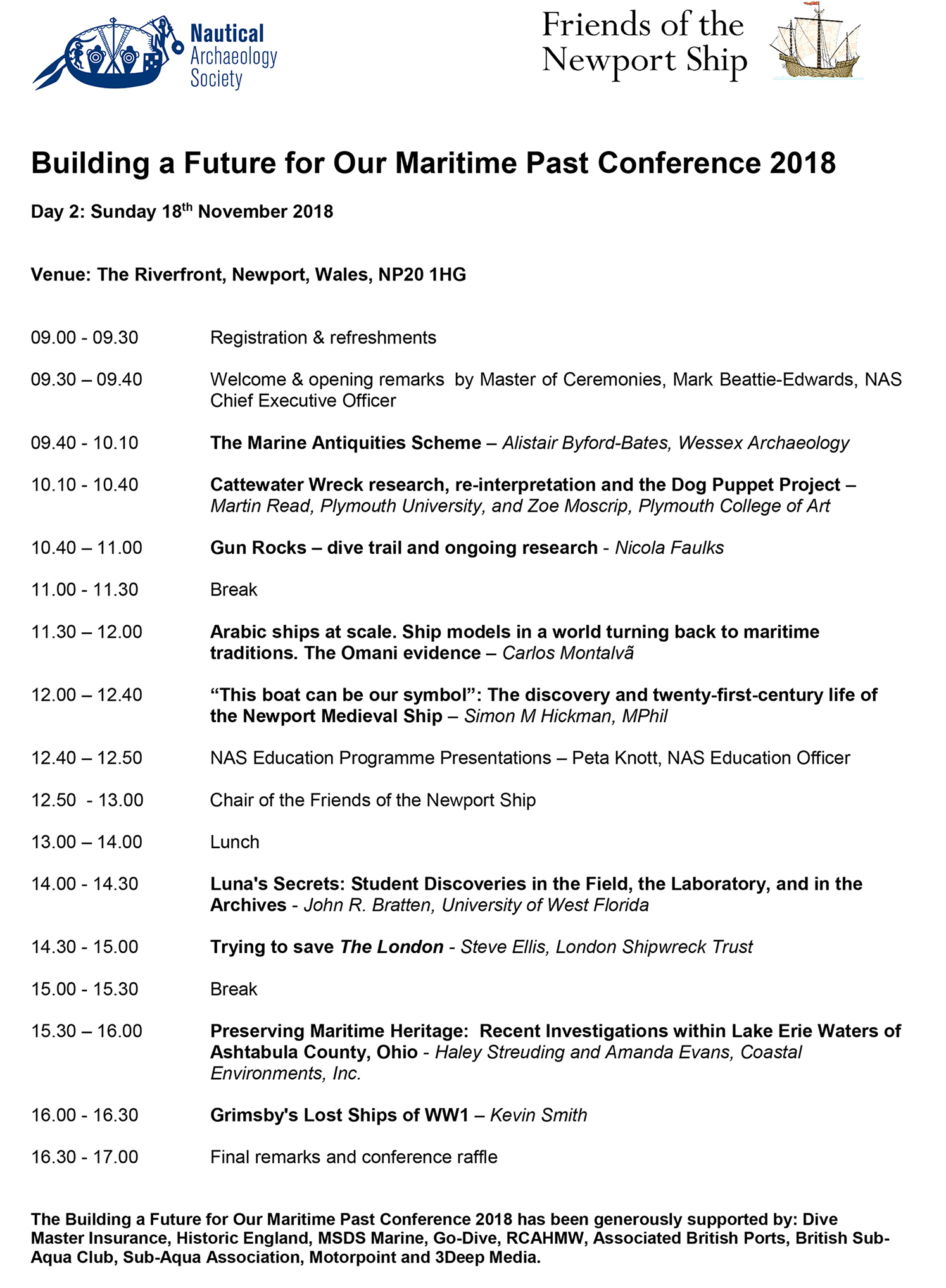 Our Sponsors

FAQs
What are my transport/parking options for getting to and from the event?
The Riverfront Theatre and Arts Centre is located in the centre of the city, alongside the Friars Walk shopping Centre, very close to the main bus station and a 10-15 minute walk from the Train Station. The closest and preferred parking for both venues is at Friars Walk and the Kingsway shopping centre. More detailed directions and parking information for The Riverfront can be found here.
You can download parking information and print a map here: http://www.newportlive.co.uk/images/pdf/The_Riverfront_Directions.pdf
The most cost effective parking for the Riverfront Theatre is just across the bridge, on the east side of the River Usk, on Clarence Place (NP19 7AB). It is a long stay, multi-storey car park, but it closes at 7pm. It is five minutes' walk from the theatre. The charge is £2 a day and there are usually plenty of spaces on a weekend.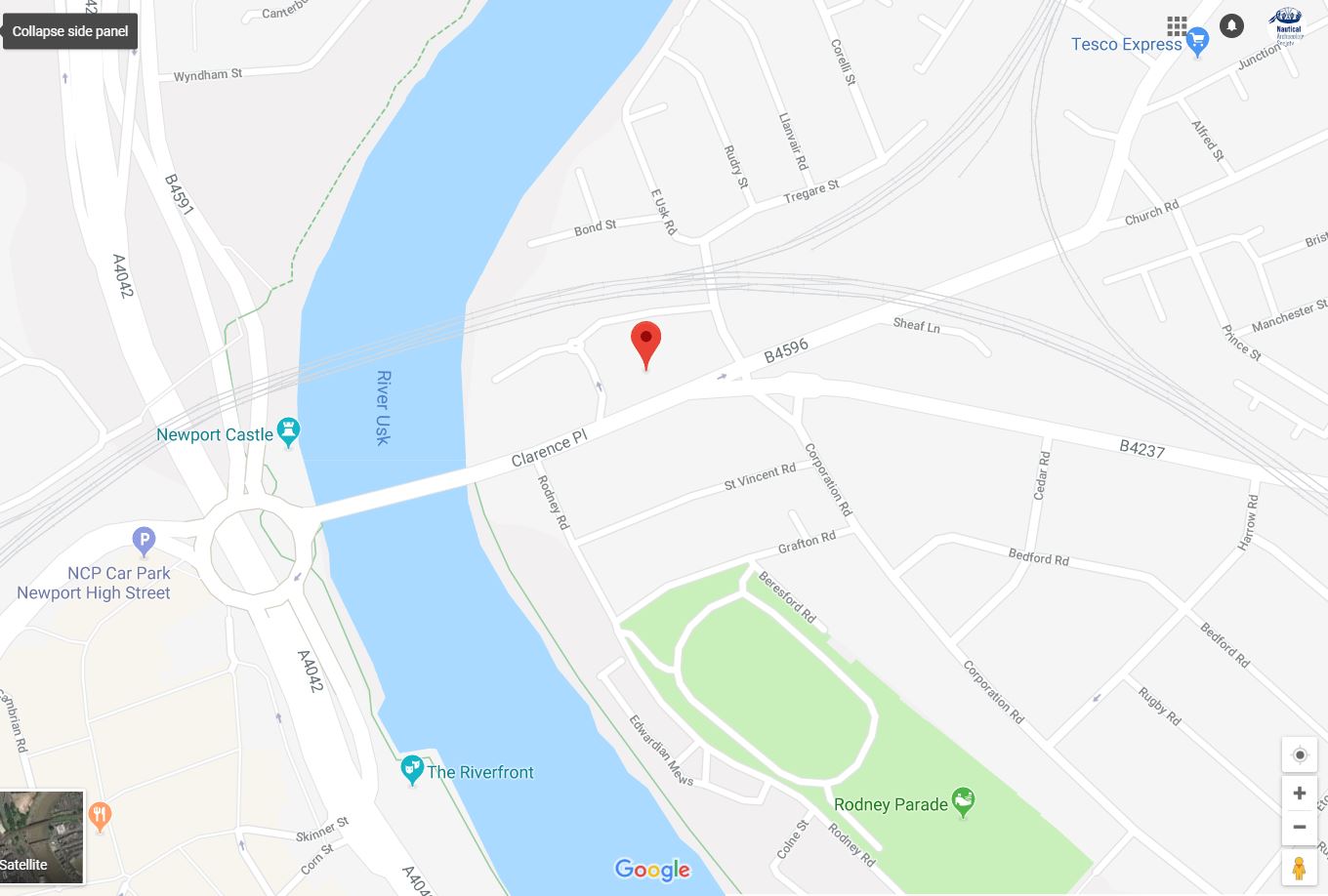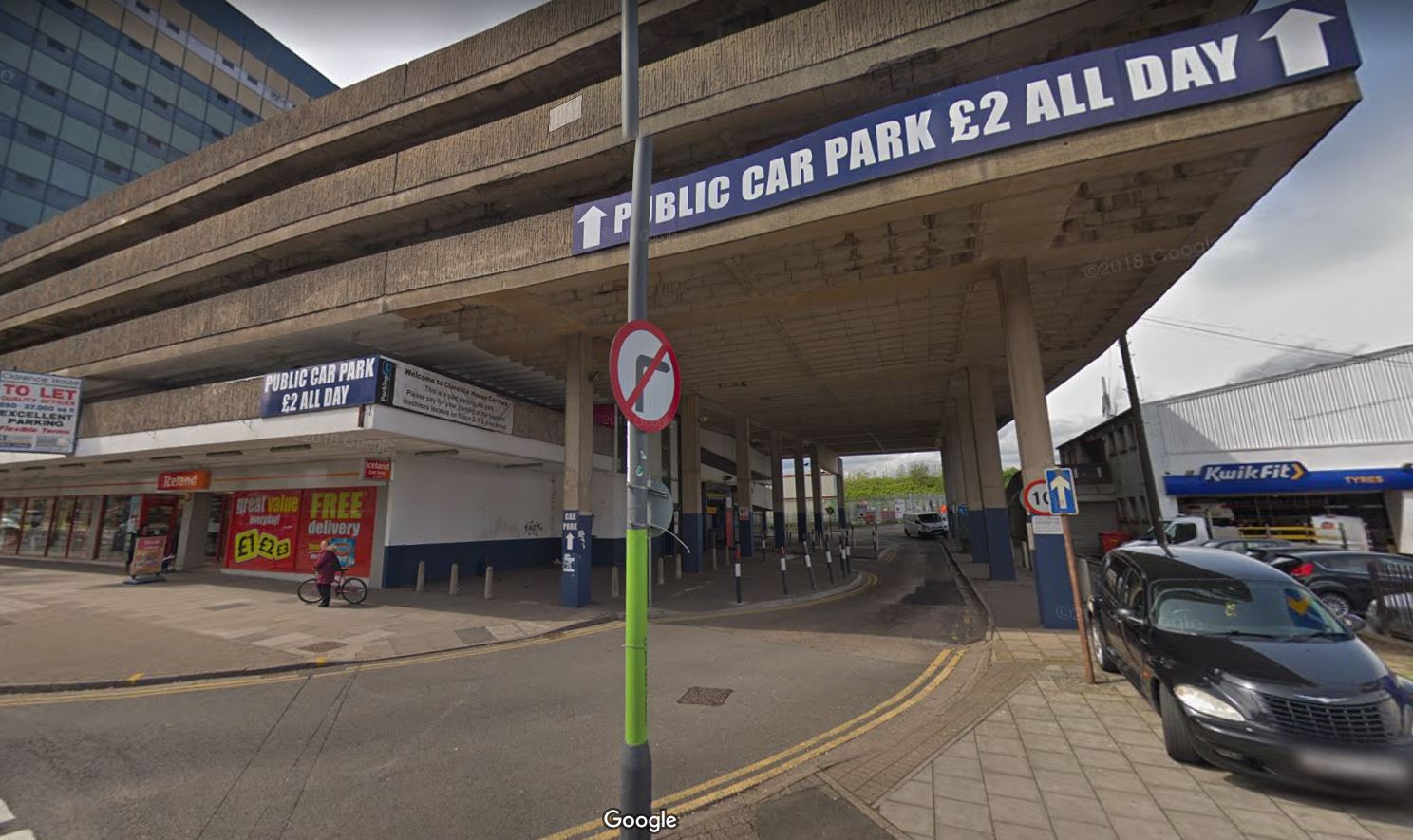 There is a limited outside pay and display car park a bit further along the riverfront, past the Alacrity building, parking under the Friars Walk Shopping Centre and the indoor multi-storey Kingsway Centre Car Park. The Riverfront Car Park (just past the Alacrity building) is free after 6.30pm Mondays to Saturdays, all day Sundays and all disabled badge holders.
Monday to Saturday from 8am until 6.30pm, it is £1 for up to 3 hours, £3.50 for 3-5 hours and £4.50 for over 5 hours. Friars Walk Car Park is free for up to 1 hour, 1-2 hours £1.20, 2-3 hours £2.40, 3-4 hours £3.60 Monday to Sunday. The Kingsway Car Park is free for up to 1 hour Monday to Saturday (7am-6pm), then £1 for 1-2 hours, £2 for 2-3 hours, £3 for 3-5 hours and £5 for over 5 hours. It is only £1 all evening between 6pm-midnight, Monday to Sundays.
How can I contact the organiser with any questions?
Please feel free to email the conference organisers at nas@nauticalarchaeologysociety.org or give us a call on +44(0)2392 818419
Do I have to bring my printed ticket to the event?
Please do bring your tickets as we will be able to scan it on your arrival to confirm your attendance.
Where should I stay in Newport?
There are a number of options for staying in Newport near to the dinner venue, including the Premier Inn Newport, Holiday Inn Newport and the Coldra Court Hotel itself (which is where the conference dinner if being held). We have also been made aware of Newport Student Village which has 5 and 6 bedroom flats available from Thursday 15th November - either Sunday or Monday. Double rooms £45 per room per night. Extra large double room £47 per room per night. Single room, POA and depends on availability.
In the centre of town, nearest to the conference venue there is the Newport Central Travelodge.
There are many other Bed and Breakfast options for staying in the centre of Newport.
Where is the pre-conference social taking place?
We will be happy to welcome you to Dutchy's Jamacian Jerk Inn for drinks and dinner from 7.00pm on the Friday evening - http://www.dutchys.co.uk/ - Please book a ticket along side your conference tickets. We have booked seats so please do let us know if you later decide not to attend. Costs for drinks/food to be paid separately.
Dutchy's, 15 North Street, Newport, NP20 1JZ.
Where is the conference dinner on the Saturday evening?
The Conference dinner will be held at the Coldra Court Hotel from 7pm. Directions to the hotel can be found here. The Sat-Nav post code for the hotel is NP18 2LX.

We are very excited to announce that Dr Mark Redknap from the National Museum of Wales will be joining us and our co-hosts, the Friends of the Newport Ship, as our after dinner speaker at the 2018 conference
He will be speaking about 'Nautical Archaeology in Wales and the West – some reflections'
Dr Mark Redknap, FSA, is Head of Collections & Research in the Department of History & Archaeology, Amgueddfa Cymru – National Museum Wales. His fieldwork, research and publications cover aspects of terrestrial and maritime archaeology, with a recent focus on early medieval and medieval material culture, including crannogs, Vikings, metalwork and ivories.
He provides reports on possible post-Roman treasure to coroners in Wales, and was appointed a Commissioner for the Royal Commission on the Ancient & Historical Monuments of Wales in 2008. Mark co-directed excavation of the sixteenth-century Cattewater wreck, and has published material from the Magor Pill wreck, Mary Rose (1545), Ann Francis (1583) and East Indiamen Albion (1765) and Hindostan (1803).
The 2018 Conference has been supported by