TLA Black Women in tech network event every 2nd Thursday of the month, full of creativity, inspiration, and passionate conversations.
About this event
TLA Black Women in Tech hosts monthly events to bring together business professionals, and entrepreneurs and companies. The networking event is a great opportunity to meet other like-minded technology and digital businesses/individuals.
Please save those dates. Our events, virtual or in-house, are on the 2nd Thursday of the month from 18:00 to 20:00. Within our amazing community, we are fortunate to have many professionals willing to speak or host the events.
Click here to visit our website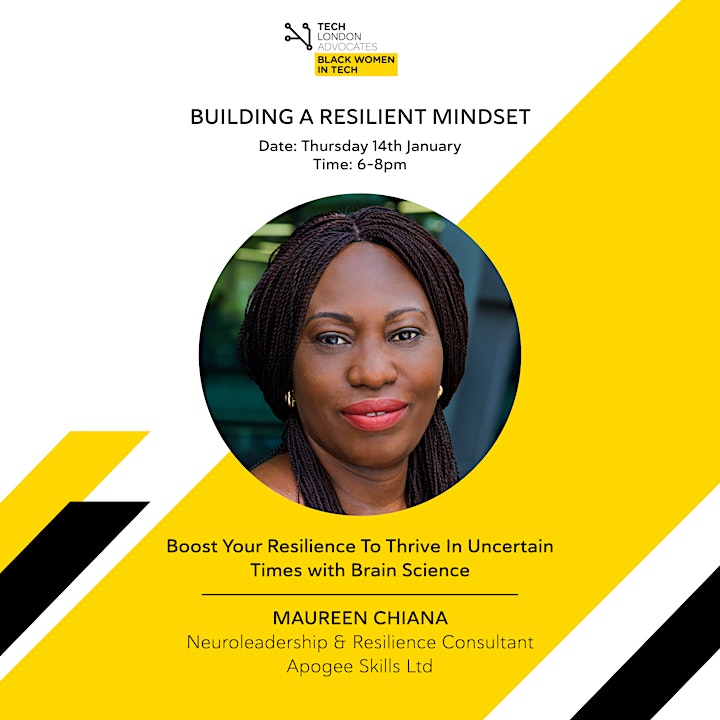 Boost Your Resilience To Thrive In Uncertain Times with Brain Science
She leverages on brain-science insights of how the brain works to help individuals, leaders, entrepreneurs and female leaders that have low confidence or self-worth and are struggling to execute their vision or goals, to increase their resilience, confidence, improve mental, emotional and physical wellbeing.
She does this by equipping you to become limitless with high emotional intelligence that gives you greater ability to adapt your behaviour appropriately for any situation and transform the way you think about what is possible, feasible and attainable. Here is a link to my Podcast - https://www.maureenchiana.com/products/podcast. Here is a link to my Blogs (I don't do many Blogs) - https://www.maureenchiana.com/blog
Here is my Website - https://www.maureenchiana.com. Here is my Academy - https://www.themindsightacademy.com/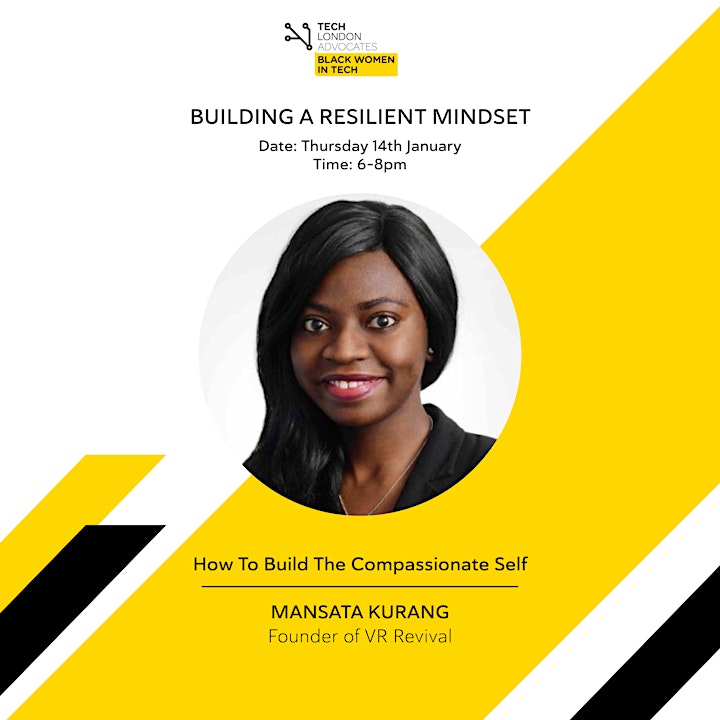 How to build the compassionate self, using internal dialog and visualisation. We will go through a 5-minute practise to build your compassionate inner space using the power of imagery.
Mansata is the founder of VR Revival, a health technology start-up helping underrepresented in Mental Health. She was a Nesta and Story Futures Immersive Mental Health Fellow at Royal Holloway University of London, where she graduated with a First-Class Honours in Mathematics. She works alongside Psychology Academics to develop immersive solutions for Adults in the UK Mental Health industry. She a Creative Technologist, passionate about using innovative strategies to fill gaps in the care of vulnerable underrepresented populations and promoting health inclusivity in Adults. As the Founder of Health Tech Start-up VR Revival, she spent the last year building a virtual reality 360 software application for BAME dementia patients so they can experience love and joy through wellness and education. For this, she won 10 Awards including WeAreTheCity Rising Star in HealthCare, Future Star in Tech For Good, TechWomen100, Sunday Times Top 10 People's Champion, Top 100 Innovators in the UK and Entrepreneur of the Year Women in Technology World Series. She was featured in the BBC and The Times and recently named Top 10 Digital Leaders in the UK and listed on the Maker's Women in Software PowerList. VR Revival offers compassion training using the power of storytelling, psychology and virtual reality, to empower women of colour so they can succeed in the workplace and address the mental health challenges facing them in the corporate environment particularly as a result of Covid 19. This will make it possible for Black women to address feelings of distress, guilt, inadequacy and failure, through self-compassion. She loves personal development and is very enthusiastic about leading by example to inspire and motivate young Black women to unlock their full potential and do what they love while impacting the world positively. Prior to this, she spent 5 years working as an Actuarial Consultant in the City.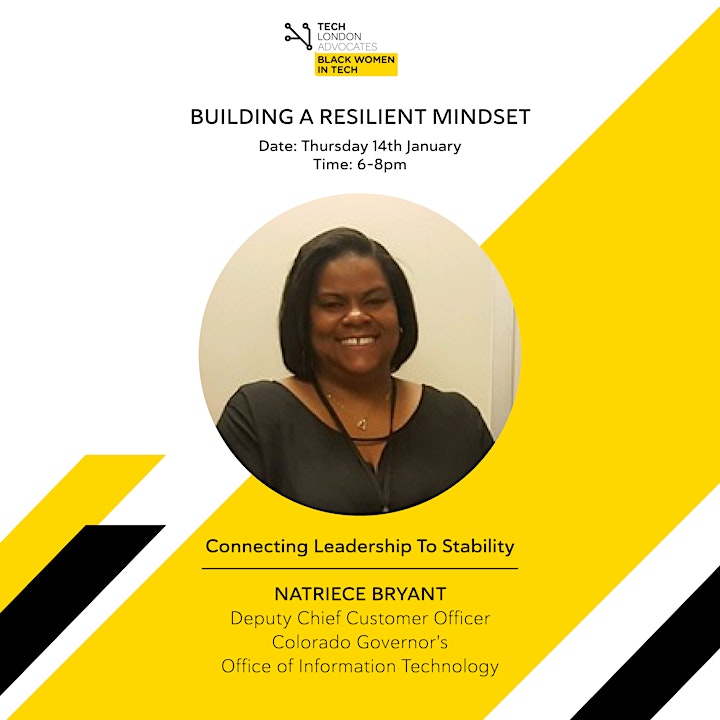 Connecting leadership to stability and the importance of mental health, stability and how someone can attain both in a leadership role in the technology field.
Natriece Bryant is the Deputy Chief Customer Officer for the State of Colorado's Governor's Office of Information Technology. In her role she works to empower the State of Colorado with flexible technology that will drive sustainable and intelligent business decisions. As a member of the Customer Office Leadership Team, she is responsible for delivering an overall planning structure integrating specific IT needs for each agency into a Statewide strategic IT plan. Natriece directs and executes the State's IT programs, and defines statewide IT strategies, policies and projects. In her role, she guides the service level management; aligns new business intent with existing roadmaps, standards and patterns; manage, approve and oversee project related design activities; identifies agency needs; and leads collaboration efforts across OIT to deliver IT services. Natriece, collaborates with the IT Directors, the Chief Technology Office and the Chief Financial Office to develop initial IT Spending Plans based upon IT Strategy, agency requests and IT initiatives. She also works on the IT Director Transformation to lead strategic planning for team and customer technology changes and supports the evolution of business processes.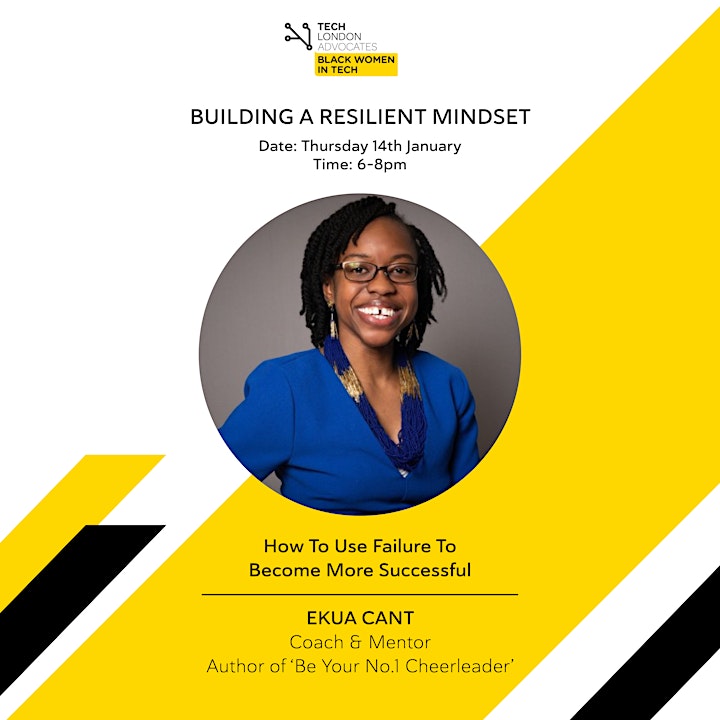 How to use failure to become more successful
Ekua lives to make women be their own cheerleader! She is the author of a motivational self-help book called, Be Your No.1 Cheerleader, which uses the entrepreneurial journey to encourage active positive self-development. Ekua started her career as a personal assistant to a Director working in the UK Civil Service, working with numerous Government Departments the Cabinet Office, Home Office and left as an IT Project Manager. Whilst working in the Civil Service she founded 2 startups, Layover Adventure and the Hackathon Queen. She has led multi-million pound public sector digital transformations. She was also awarded a ticket to Barack Obama's acceptance for the nomination to the Democratic party for her campaigning work for the civic voluntary organisation DCVote. She always has a listening ear to advise and provide guidance on start-ups and putting yourself out there. She formerly ran DrinksBot, an on-demand drinks delivery service enabled by a Slack Chatbot. She's currently coaching women to shift to a positive mindset, adopt a Growth Mindset, producing self-development content, and mentoring.