For anyone wanting to launch their own passion project or side hustle.
About this event
Side Hustle School is an interactive workshop that will guide you on how to grow, market and launch your own side hustle. During the session we will cover how to identify a unique idea, how to showcase your best skills, how to build your concept into something scalable and how to launch it to the world. Whether it's something you've always wanted to do, a side money maker or an idea that will help you stand out for future employment, Stef will be sharing all her knowledge of growing a side hustle turned business, book, and online global community.
What will you get from the workshop?
* How to pick a unique idea
* How to utilise your best skills
* How to build your idea out
* How to market /advertise
* How to launch / PR
About the speaker...
Stefanie Sword Williams is the founder and author of F*ck Being Humble. She created the business to encourage individuals to be unapologetically proud of their achievements and overcome the fear of self-promotion. Named as Forbes 30 Under 30 in Europe, she has delivered workshops for global brands including Unilever, Warner Music, Google, Puma, Microsoft, Vodafone, The Guardian and spoken at conferences such as Cannes Lions Festival and D&AD New Blood. In 2020 Stef released her first book 'F*ck Being Humble: Why self-promotion isn't a dirty word' and also delivered a TEDx Talk on why the world needs to be a little less humble. This year she became a Fellow of the Royal Society of Arts following the significant contribution to social impact she has made since building F*ck Being Humble.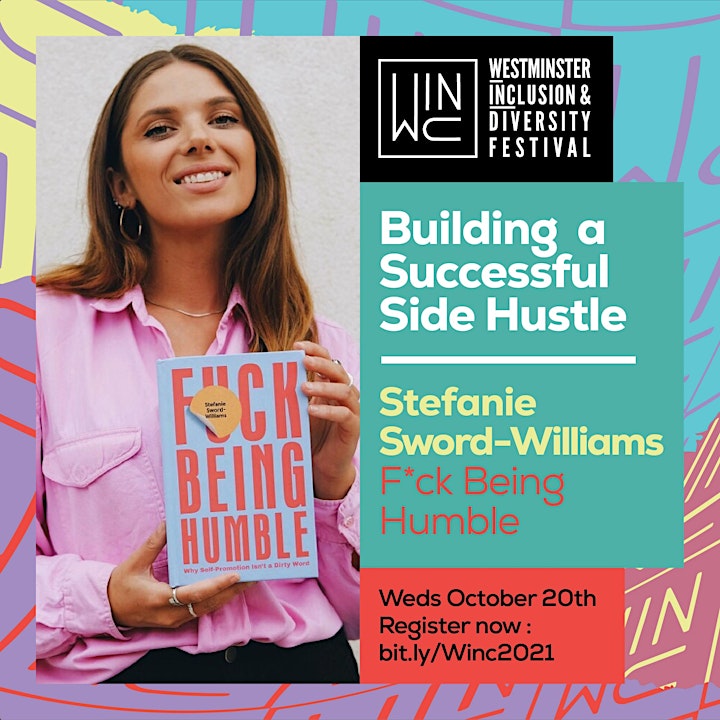 Organiser of Building A Successful Side Hustle
Westminster Enterprise Network is a student and graduate enterprise and innovation hub at the University of Westminster. The University is an exempt charity and company limited by guarantee. Registered in England 977818. Registered address: 309 Regent Street, London, W1B 2UW.
Our mailing address is: cec-info@westminster.ac.uk