Building a sustainable food system and a sustainable future through innovation
About this Event
A global shift in diets is urgently needed in order to ensure a sustainable food system and a sustainable future – and innovation is key to ensuring both.
In this webinar, Shirley Lu, Managing Director of Asia for ProVeg International, will be talking to Deputy Director of the Food and Agriculture Organization of the United Nations (FAO), and Raphael Podselver of ProVeg International on the future of food. She will also speak to food industry professionals from Nestlé, Charoen Pokphand Foods, Unilever, and Haofood, to invite them to share their visions and strategies for plant-based innovation. The webinar will include a Q&A session with all participants, providing a unique opportunity for the audience to have their questions answered by experts.
Participants will come away with an in-depth understanding of food innovation and future market trends.
Timings
5:30-6:30 PM for India
6:30-7:30 PM for Myanmar
7:00-8:00 PM for Indonesia, Thailand, Vietnam, Lao and Cambodia
8:00-9:00 PM for Singapore, Malaysia, and the Philippines
Speakers
Dr Zitouni Ould Dada: Deputy Director, Office of Climate Change, Biodiversity and Environment, FAO
Raphael Podselver: International Policy and Public Affairs Specialist, ProVeg International
Andrea Olden: Research & Development Nutritionist, Nestlé
Onanuch Tuppasarndumrong: Vice President of Research and Development Center, Charoen Pokphand Foods
Didier Chanove: Head of Marketing & Digital, Unilever Food Solutions
Astrid Prajogo: CEO and founder, Haofood
Chaired by Shirley Lu: Managing Director Asia, ProVeg International
If you are interested in learning more about food innovation and shifting to a sustainable lifestyle, don't miss this opportunity! The webinar is free to attend but registration is required. Please register for the event here. We look forward to your attendance.
About ProVeg International
ProVeg is an international food awareness organisation working to transform the global food system by replacing conventional animal-based products with plant-based and cultured alternatives.
ProVeg works with international decision-making bodies, governments, food producers, investors, the media, and the general public to help the world transition to a society and economy that are less dependent on animal agriculture and more sustainable for humans, animals, and the planet.
ProVeg has permanent-observer status with the United Nations Framework Convention on Climate Change, is accredited for the United Nations Environment Assembly, and has received the United Nations' Momentum for Change Award.
Our previous plant-based student initiatives, 'Plant Powered Pupils' and 'Climate Efficient School Cafeterias' in Germany received the United Nations' Momentum for Change Award.
About the ProVeg Food Innovation Challenge
The ProVeg Food Innovation Challenge is a multi-company and multi-category challenge that explores and encourages product innovation, application innovation, and advocacy innovation. Seven leading food organisations and more than 20 major universities across the ASEAN region are involved in the event. Students are invited to submit concepts (no prototypes are required at this stage) and market assessments by 13 March 2021. Participants will have the opportunity to win mentorships and cash awards of up to 5,000 USD.
If you are passionate about promoting a sustainable lifestyle, creating delicious and healthy food, and reducing the consumption of animal-based products, please submit your application though this link: https://proveg.com/asean-innovation-challenge/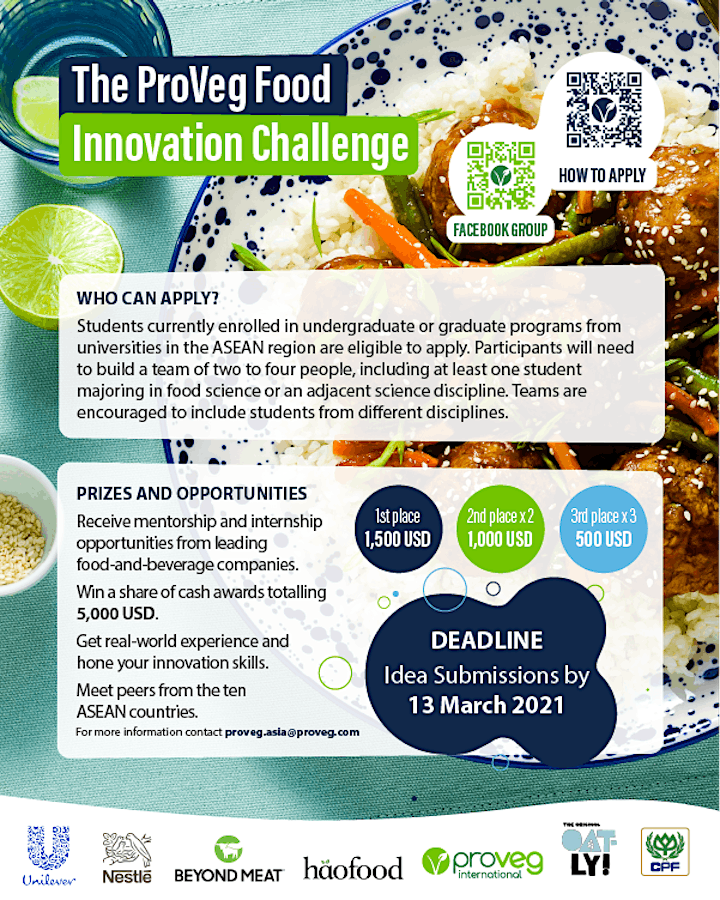 Submit your application to the ProVeg Innovation Challenge here!