Event Information
Refund Policy
Contact the organiser to request a refund.
Eventbrite's fee is nonrefundable.
About this Event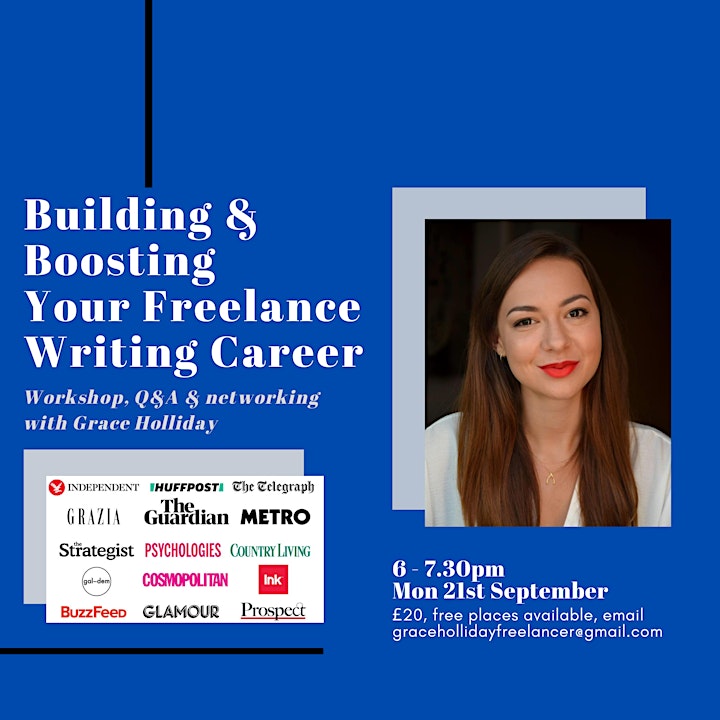 Journalism has never been a particularly secure field of work. Throw in doing it freelance and pile a global pandemic on top and well… things are looking pretty hairy.
While we're all feeling the strain of this new situation, there are various way we can make this period of our careers more productive, more financially rewarding and even more enjoyable.
In this 90-minute, three-part Zoom session, we'll explore how freelance journalists and writers can build and boost their writing careers, even in this 'new normal', including:
An effective pitching system for the current void of deafening silence
Five alternative income streams for writers, and how to transition into them
Building healthy, long-lasting relationships with editors
Effectively working from home as winter approaches
A 10-part 'Freelance Manifesto' to live by
Proactive steps to take in preparation for 2021
This three-part session will include
Workshop: proactive, motivational and realistic guidance on building and boosting your freelance career (50 mins)
Q&A: ping me any questions - or send them in advance -and I'll answer them live. If I don't have the answer right away, I'll email you afterwards (20 mins)
Networking: finally, if you're feeling brave, stick around to meet other attendees and fellow freelancers in smaller Zoom groups. We'll switch everyone around a few times too (20 mins)
Testimonials
Grace is generous with her knowledge, and there's no sense of gatekeeping the world of journalism. She is very much of the 'there's room for everyone' school of thought, and she practices this by offering, through her sessions, a valuable leg-up to everyone and anyone who attends – whether they're at the beginning of their career, or years in- Emma Winterschladen
I've been to both of Grace's workshops (features & travel) and they were incredible. She's so open and honest about her experiences as a journalist and the industry in general. I'm just starting out and I've already learnt so much from Grace, I couldn't recommend her workshops more! - Catriona Mactaggart
I LOVED Grace's fun, informative and engaging workshop on pitching. She's a fantastic speaker, the time went by so quick and I made pages upon pages of notes. As a journalist just starting out in the field, this has been one of the best workshops I've attended yet- Millie Shoebridge
With such an impressive career under her belt, I knew Grace would have many insights into the murky world of freelance writing. I wasn't disappointed: her workshop was full of actionable, un-intimidating advice delivered in Grace's friendly, approachable way- Iris Goldsztajn
Features Writing and Pitching was a thoroughly enjoyable, useful and insightful workshop! Above all just a highly relatable, lovely person- Chloe Timperley
I attended your Feature Writing and Pitching Zoom workshop the other week and I just wanted to say it was the most helpful and inspiring masterclass I've listened to over this lockdown period, so thank you SO much- Maddie Bourne
Signing up to your features writing workshop was one of the best decisions I've made all lockdown!! It's so great to see a successful freelancer wanting to help other people so much- Kat Smith
Your travel writing webinar genuinely put some direction in my life, and that was hard to find after graduating uni in the middle of a pandemic. I'm excited to put her advice to practice- Jasmina Matulewicz
About me
Five years ago, I registered as self-employed and launched Grace Holliday Freelance from my spare bedroom in Yorkshire. Today, I am a features, travel and opinion writer for magazines including Glamour, Grazia, Cosmo, Psychologies and Country Living; newspapers such as the Guardian, Independent, Telegraph, Metro; and digital publications including HuffPost, Gal-dem, Dazed, Prospect, The Strategist and Buzzfeed.
Credentials
Absolute transparency about who I am and what I can (and can't) offer is really important to me. You can find my credentials here.
Tickets
-If you can't afford the fee, please get in touch to join the waitlist for a sponsored or free place. P.s you're amazing.
-If you'd like to buy a place for yourself and sponsor a place, please buy two tickets via Eventbrite and then get in touch to say one is sponsored. P.s you're amazing.
-If you'd like to sponsor a place, please buy a ticket via Eventbrite and then get in touch to say it's for someone on the waitlist. P.s you're amazing too.
Date and Time
Location
Refund Policy
Contact the organiser to request a refund.
Eventbrite's fee is nonrefundable.