The Proud Trust Presents… Building Better, Sustainable and Empowered LGBT+ Staff Networks
About this event
'23% of survey respondents have experienced a negative reaction due to LGBTphobia in their workplace' (National Research by UK Government Equality Office, 2018)
'54% of people in construction are not comfortable being out at work' (Building Equality, 2019)
'Seven out of ten LGBT+ workers experience sexual harassment at work and almost one in eight LGBT+ women (12 per cent) reported being seriously sexually assaulted or raped at work. Two thirds of these were never reported.' (TUC, 2019)
LGBT+ staff networks can help people:
- Feel happier in the workplace and challenge discrimination
- Bring their whole selves to work and feel safe to do so
- Connect with other LGBT+ people in the workplace
- Make a changes within a company for colleagues and customers
- Support the wider LGBT+ community through workplace fundraising
- Help foster understanding within the wider workforce and cultivate more allies
- Support the development of corporate diversity and inclusion policy and practice
Join us for a one-day conference with guest speakers from a number of different LGBT+ staff networks across different sectors, for a chance to network with others who are setting up LGBT+ staff networks and for those who have established networks in place who want to develop these further.
Key note speakers include:
- Professor Emeritus Sue Sanders (Founder of LGBT History Month in the UK)
- Sally Carr MBE (Director and Founder of The Proud Trust)
- Representatives from Building Equality, Irwin Mitchell, Freshfields Bruckhaus Deringer and from the Greater Manchester Combined Authority and Government.
Pricing
£35 for 1 person
£60 for 2 people
£75 for 3 or more people
You can also sponsor a place so that a smaller organisation can attend for free (£35)
Contact us directly to training@theproudtrust.org if you are enquiring about a bursary place.
In partnership with Out of Office, Irwin Mitchell, Building Equality and Freshfields Bruckhaus Deringer
To find out more about The Proud Trust and corporate partnerships with us, please contact Bonnie Clayton on bonnie.clayton@theproudtrust.org.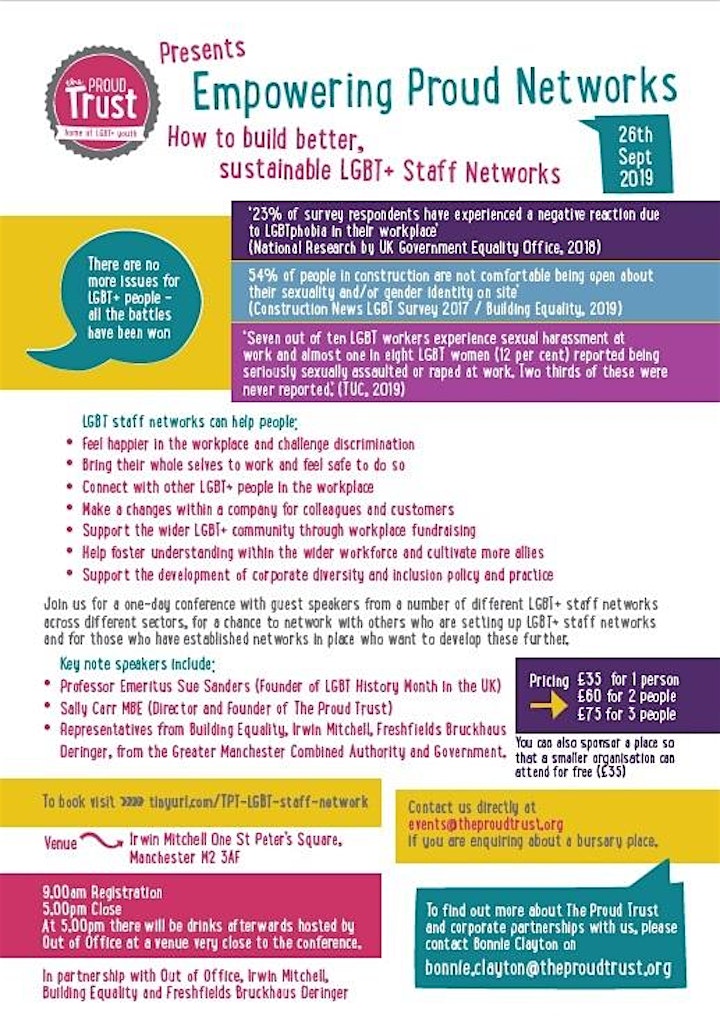 Organiser of Building Better, Sustainable and Empowered LGBT+ Staff Networks
The Proud Trust is a life saving and life enhancing organisation that helps LGBT+ young poeple, (lesbian, gay, bisexual, trans, plus other related identities), empower themselves to make a positive change for themselves and their communities. We do this through youth groups and peer support, managing the LGBT+ Centre or Manchester, delivering of LGBT+ awareness training, events, campaigns, undertaking research and creating educational resources.