Description
The Innovation Forum Euskadi will host its first event in the Euskalduna Palace in Bilbao (Basque Country, Spain) on 8th November 2018. This event aims to attract more than 200 attendees from academia, private sector companies, investors and key opinion leaders from the health and technology area of the Basque Country. The British Embassy in Bilbao is supporting the event and will organise a closure networking cocktail.
The event will be divided into three main blocks that will be conducted in English, Spanish or Basque:
1) Keynote speakers and panel discussions
2) A challenge contest
3) A start-up contest
---
1) Keynote speakers and panel discussions
Discussions at the event will revolve around the main topics "Building bridges between the Clinical and Technological worlds" and "Success Cases of Innovation and Technology".
Participants in the panels of discussions:
1) "Success Cases of Innovation and Technology":
Eduardo W. Jorgensen, BMSc and CEO at MedicSen.

Jorge R. López, Co-founder and CEO at CreativiTIC Innova.

Dr. Arrate Jaureguibeitia, Strategic Innovation Manager at Biolan Microbiosensores, S.L. & OSASEN Sensores S.L.

Gonzalo Martín, Business Development Manager at Cikautxo.

Jesús Miguel Pérez, co-founder of TedCas.
Chairperson: Raquel Blanco, Commercialization Specialist – Health Sector at Tecnalia Ventures.
2) "Building Bridges between the Clinical and the Technological Worlds":
Prof. Alan Barrell, Professor at Cambridge Worldwide Associates and Entrepreneur in Residence, Centre for Entrepreneurial Learning, Judge Business School, University of Cambridge, UK.

Prof. Chris Lowe, Director of Cambridge Academy of Therapeutic Sciences at the University of Cambridge, UK.

Prof. Chas Bountra, Professor of Translational Medicine in the Nuffield Department of Clinical Medicine and Associate Member of the Department of Pharmacology at the University of Oxford, UK.

Dr. Fred Kemp, Deputy Head of Licensing and Ventures at Oxford University Innovation.

Dr. Ander Urruticoechea, Scientific Director of Onkologikoa Donostia-San Sebastian.
Chairperson: Professor Ipsita Roy: Professor at the Department of Biochemical Engineering and Biotechnology at the University of Westminster, London.
---
2) Challenge contest
Who presents at the challenge contest? Up to 3 international companies and 3 Basque companies.
What type of challenge will be presented? A real challenge that a company is facing, preferably clinically-oriented that could benefit from a technological solution.
Who solves the challenge? Groups of mixed medical, engineering, physiotherapy, innovation and entrepreneurship university students from the main four universities of the Basque Country are invited to attend: UPV/EHU (https://www.ehu.eus/en/en-home), Deusto University (https://www.deusto.es/cs/Satellite/deusto/en/university-deusto), Mondragon University (https://www.mondragon.edu/en/home) and Tecnun (http://www.tecnun.es/). The profile of the students will be selected according to the needs of the challenges.
When? The challenges will be presented in the morning session at the event (8th of November) in front of the audience. Then the challenges will be solved throughout the day. Groups of students will give a final pitch outlining their solution at the end of the event.
What for?
The objectives of the challenge contest are two-fold. Innovation Forum Euskadi aims:
1) to promote entrepreneurship in the field of health and technology among students: the challenge contest will be the perfect environment to plant seeds for new projects.
2) to bring the clinical and technological worlds closer: the groups of students will be multidisciplinary and will work towards solving a clinical challenge. This way we expect to close the gap between the real clinical needs and the technical solutions.
What comes next?
Innovation Forum Euskadi aims to provide a way of facilitating entrepreneurship in the field of health and technology. As such, our intention is not only to host this event but also to provide continuous support throughout the year. We are currently building a model to make this happen.
Business opportunity
If the challenge is oriented towards neurotechnology, both the company and the team will have a chance to transform the solution into a product through the Newro Initiative led by Tecnalia which will be presented during the event. Companies that are interested in this opportunity can contact lara.diazdegrenu@tecnalia.com directly.
---
3) Start-up contest
The IMAGINE IF! is the annual start-up competition organised by Innovation Forum branches around the globe. At the Innovation Forum Euskadi event, we will hold our local finals. 10 start-ups will each present a 3-minute-pitch and the winner will directly attend the IMAGINE IF! finals in June 2019 in Cambridge, UK.
4) Sponsors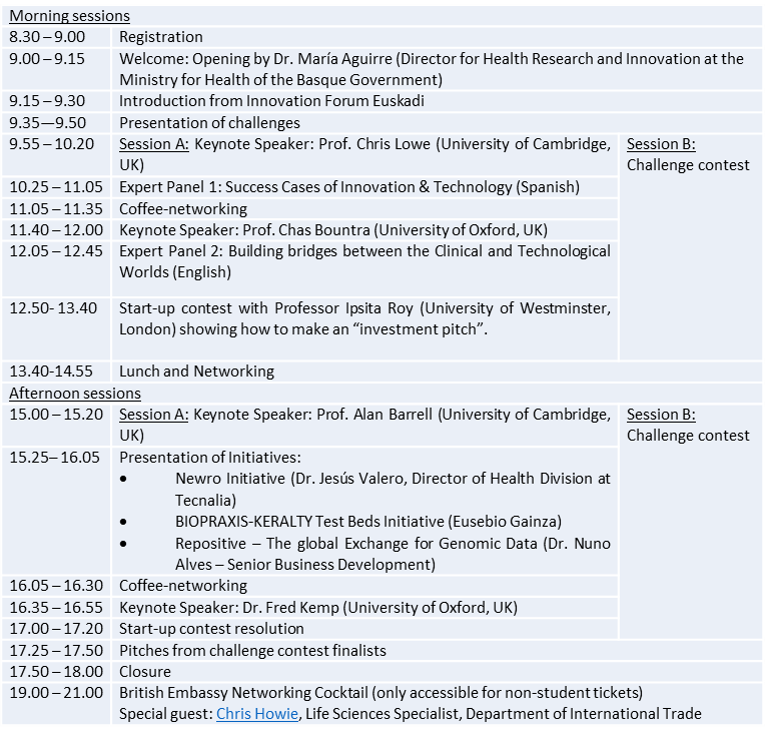 5) Local Partners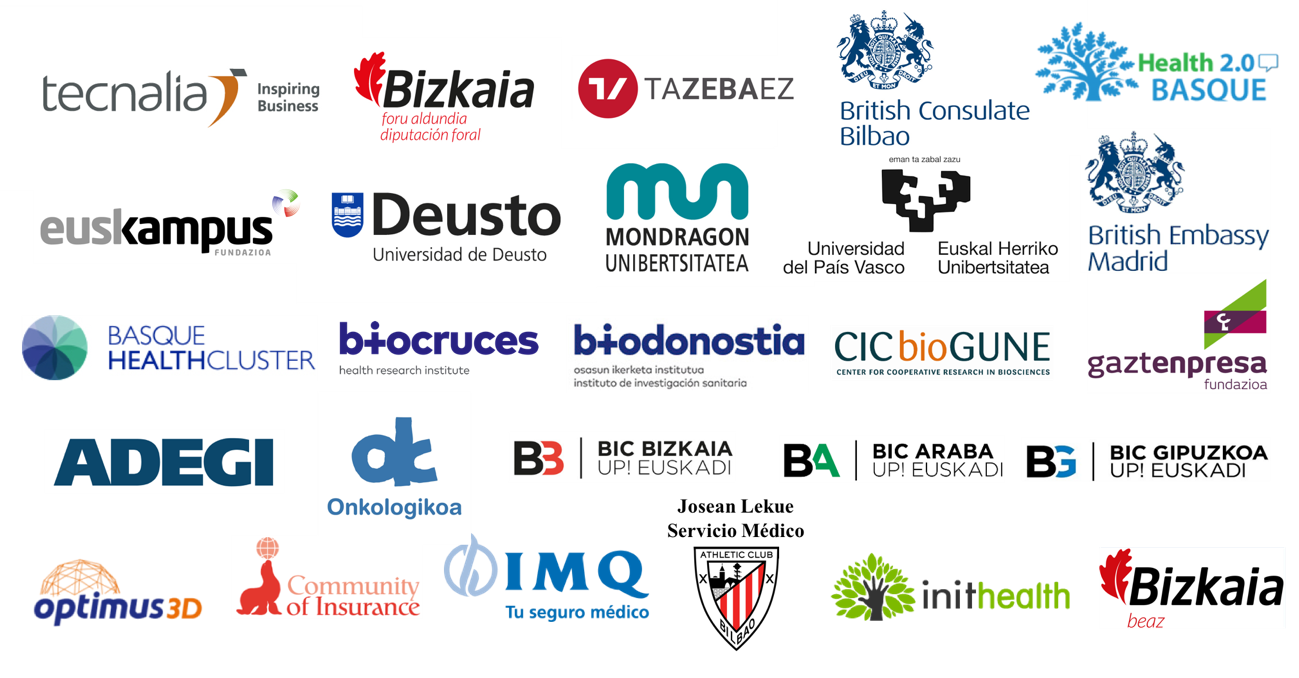 6) Further information
If you would like further information in Spanish, you can also access it here: https://www.tecnalia.com/es/innovationforum/presentacion/presentacion.htm
If you are interested in becoming a sponsor for this first event, do not hesitate to contact us at andrea.sarasola@inno-forum.org.