Join us for an online panel discussion and Q&A with Mobility industry leaders & executives from both the UAE and Israel.
About this Event
Register in advance for this webinar:
https://us02web.zoom.us/webinar/register/WN_dpEtWUOAS32yiuA75ECXqA
Building bridges in Mobility between Israel and the UAE: ON YOUR MARK, GET SET, GO
Join us for an online panel discussion and Q&A with Mobility industry leaders & executives from both the UAE and Israel. Gain insights in the UAE & IL autotech and mobility ecosystems, listen to a fireside chat with UAE & IL leading industry executives and accompany us in the joint efforts to build bridges and help navigate friends on both sides in collaborations, investments and business development opportunities.
Co-organised by Drake Star Partners, a leading TMT-focused investment bank, and Roland Berger, a leading global consultancy firm.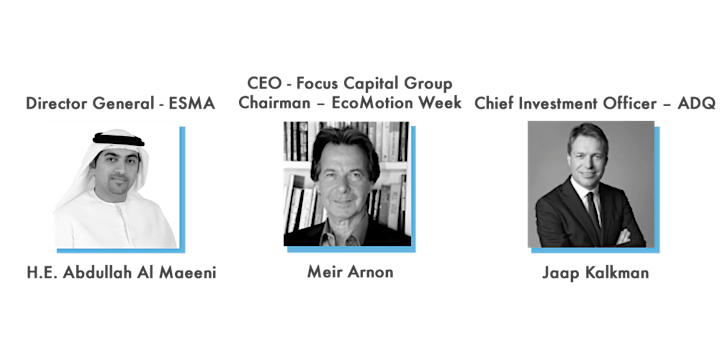 Meir Arnon is an Israeli serial Entrepreneur and Investor focusing on the Smart Mobility and Automotive space. Meir founded Focus Capital Group (www.focuscap.com) in 1988, he is also the co-founder and chairman of several companies as well as of EcoMotion (www.ecomotion.org.il) an NGO that has helped build the Automotive and Mobility Industry in Israel and is the largest global ecosystem for Smart Mobility startups.
Meir had invested and led a dozen companies and completed various transactions, primarily by bringing Fortune 100 companies such as EDS, Frito Lay, P&G, Kimberly Clark, BMC Software and others to operate in Israel.
Currently, Arnon is an investor and BOD/advisory board member of several companies like AeroMobil.com , www.LeddarTech.com and others. Meir is an active member of the YPO organization, founder of several chapters and the founder of the YPO Automotive Network, and a BOD member of the Israel Innovation Institute (https://www.israelinnovation.org.il)
Meir Arnon served 6 years in the IDF Special Forces, retired Major. He is a father of 3 + 2 stepchildren, holds a B.Sc. from the Technion, Israel Institute of Technology, an MBA from INSEAD, and is a PPL alum from HBS.
Jaap Kalkman has over 20 years of experience in the energy and utility sector, with a proven track record at global, industry-leading companies. Jaap holds a PhD in Theoretical Physics, Mathematics from the University Of Utrecht. Jaap has worked extensively in the strategy consulting and private equity space across companies such as McKinsey, Roland Berger, Arcapita and Arthur D. Little. For the last 1.5 years, Jaap has been the Chief Investment Officer for Abu Dhabi development holding company (ADQ) where he manages a portfolio of companies including the mobility space.
Established in 2018, ADQ is one of the region's largest holding companies and a new engine of growth to drive Abu Dhabi's economic diversity and prosperity. Their broad portfolio of major enterprises spans vital sectors such as utilities, healthcare, food and agriculture, and logistics, and includes direct and indirect investments in more than 90 companies.
H.E. Abdulla Al Maeeni has more than 14 years' of experience in the field of quality, certification, laboratories, gemstones, precious metals and management. He has worked with Dubai Municipality, Nakheel and currently ESMA's Director General.
H.E. Abdulla Al Maeeni is a member of many national and international committees such as the IEC and Energy Efficiency Committee. Abdulla was also an organizer and speaker of the 5th international Future Mobility Conference in Dubai last year. During the Future Mobility Conference, ESMA announced the draft regulations for autonomous driving in UAE and expects vehicles to be launched as early as 2021.
He has participated in setting energy efficiency policies for the UAE and the Middle East region in coordination with relevant government entities in the UAE and across the world such as Masdar, UNEP, UNDP, UNIDO, GSO, ASHRAE, and WWF.
He has also executed products and services that help monitor projects by developing national regulations and programs, which are aligned with international systems and standards such as Emirates Conformity Assessment Scheme, Emirates Quality Scheme and Energy Efficiency Labelling Regulation.
Drake Star Partners is a global investment banking firm serving the technology, media and communications sectors. All securities in the USA, are transacted through Drake Star Securities LLC. In the USA, Drake Star Securities LLC is regulated by FINRA and is a member of SIPC.