Description
Building Brum: Digbeth in Colour
Hosted by BM3 Architecture Ltd
As part of the Building Brum events series organised by RIBA West Midlands in partnership with Birmingham's built environment membership organisations we are delighted to announce 'Digbeth in Colour.'
This is a unique event which will be hosted by BM3 Architecture Ltd in their open air courtyard, located in Digbeth.This essential part of the City is only set to grow in coming years into an alternative hub of sustainable and creative energy and we want to you to become a part of it.
Guests will be encouraged to 'colour a canvas' outlining a Digbeth landmark and/or try their hand at Graffiting.In order to immerse ourselves in the vernacular 'hipster lifestyle' and encourage sustainable transport we are asking travel to the event is by foot or pedal bike. You'll be rewarded with a cool beverage, hot food and a 'bike health check' carried out Urban Cycles, who'll be around for any other 2 wheeled queries.
So come, make a mess, create a masterpiece and leave an artistic legacy for Birmingham's fringe. Masks, gloves and aprons provided! Drinks, and great food from Birmingham's own Wood Fired Pizza company will help us get in the mood to daub that canvas and paint the town red.
The Building Brum event series is proudly sponsored by Interface, EH Smith, Orangebox, Johnson Tiles and Schluter Systems.
Building Brum is a cross institute built environment networking series for members of RIBA, RICS, ICE, RTPI, BIID, SBID, Landscape Institute and CIOB.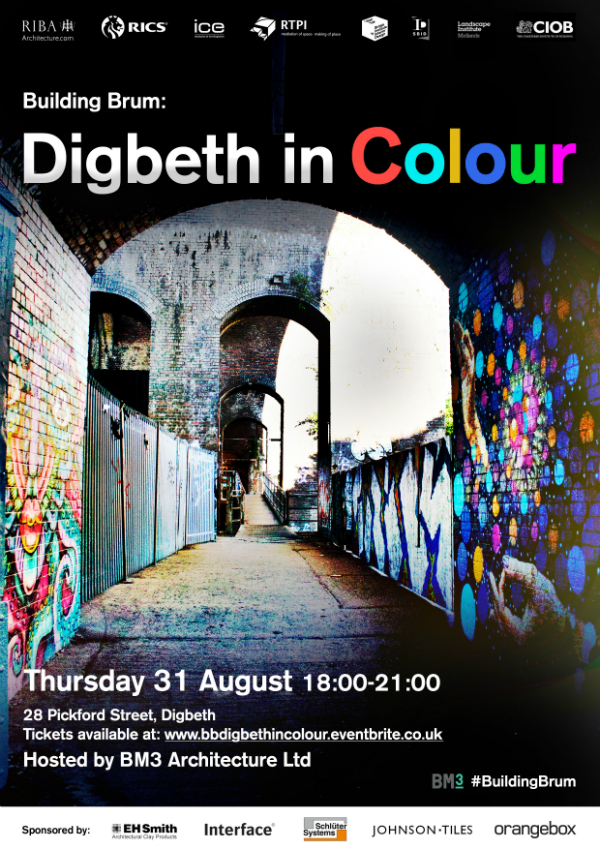 Due to sponsorship agreements, BDM's and product specifiers will not be admitted into Building Brum events.