Description
Building Brum: Westside meets Eastside
Hosted by Associated Architects
Building Brum Hosts Associated Architects invite you to an evening celebrating the dramatic transformation of the western and eastern sides of Birmingham city centre. Featuring an exhibition of photographic work from some of Birmingham's top up & coming and award-winning photographers; with a look back on how these two sides of the city have evolved over the years and look set to continue to in the future.
Special Guest Speakers:
Professor Julian Beer, Deputy Vice-Chancellor, Birmingham City University
Ross Fittall, Project Director, Argent
Photographers & Instagram Handle
Kris Askey @krisaskey
Ross Jukes @rossjukes
Tim Cornbill @timcornbill
Ben McPhee @benmcphee
Fay Loewy @Faylouiseloewy
Fraser McGee @frasermcgeefoto
Beth Astington @bethastington
Martin O'Callaghan @ocuk
Jon Crampton @joncrampton
Rachel Mason @heyrachelmason
Matt Beach @matt_beach_photography
Verity Milligan @veritymilligan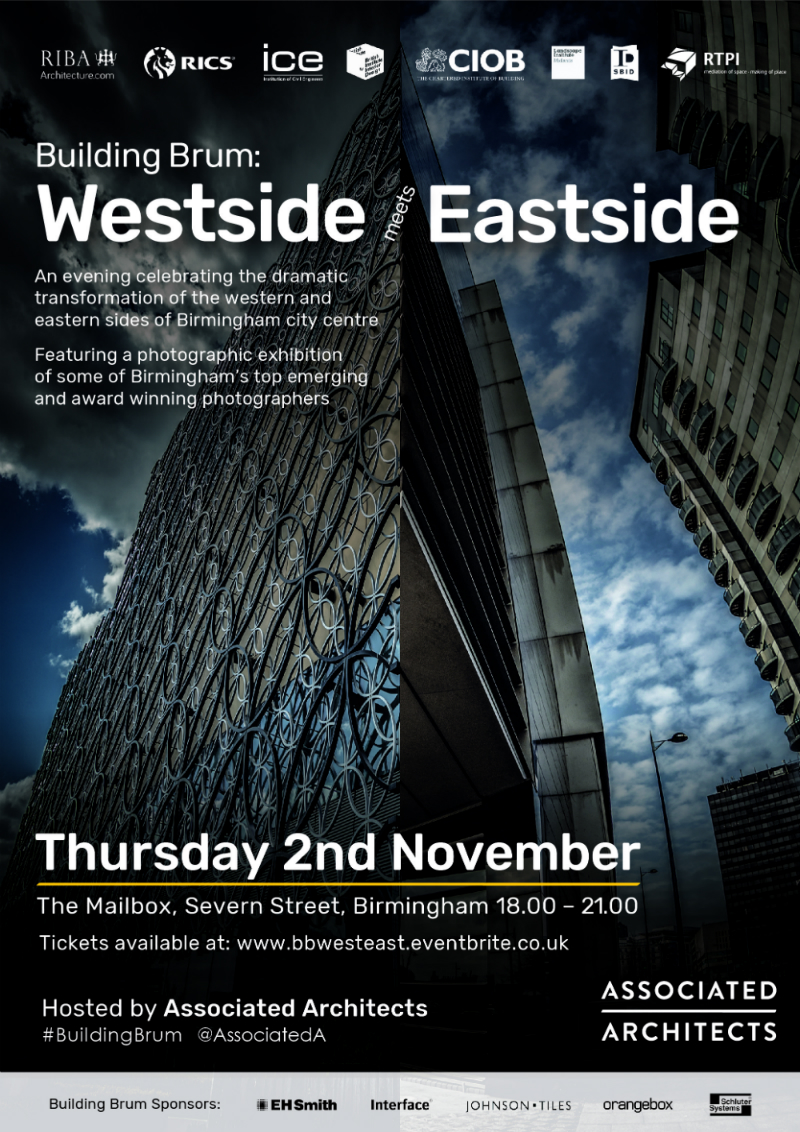 The Building Brum event series is proudly sponsored by Interface, EH Smith, Orangebox, Johnson Tiles and Schluter Systems.
Building Brum is a cross institute built environment networking series for members of RIBA, RICS, ICE, RTPI, BIID, SBID, Landscape Institute and CIOB.
Due to sponsorship agreements, BDM's and product specifiers will not be admitted into Building Brum events.
Contact Conor Nolan to find out more about the Building Brum series: conor.nolan@riba.org