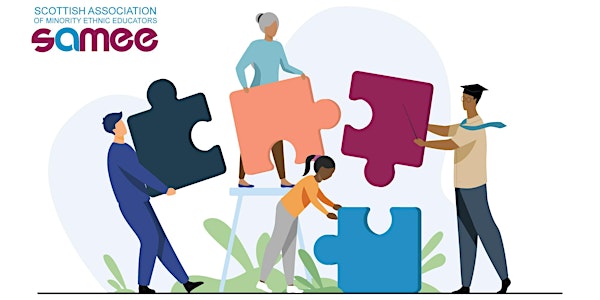 Building Capacity in Education and the Workplace Conference
Bringing educators, learners, parents, carers and allies together to build racial awareness across learning and professional communities
About this event
About SAMEE
Welcome to the 'Building Capacity in Education and the Workplace' Conference hosted by the Scottish Association of Minority Ethnic Educators (SAMEE). We are a nation-wide organisation led by Black and Minority Ethnic (BME) education professionals. We have a presence across West, East and Central Scotland, with heightened visibility in areas with the highest concentration of Scotland's BME practitioners and learners in nursery, primary and secondary schools, colleges and universities.
Our education professionals provide support to BME educators, learners, parents and carers through workshops, seminars, conferences, one-to-one consultations, continued professional learning and bespoke coaching and mentoring activities.
About this event
This conference aims to bring educators, learners, parents, carers and allies together to build racial awareness across learning and professional communities. Through our members, partners, guests, contributors and key stakeholders in education sharing their skills, knowledge and lived experiences, you will come to know of well-established research, engage in critical dialogue supporting race equality and anti-racist education, have the opportunity to share good practice and consider the successes and the challenges.
Who should attend?
Primary and secondary school, college and university learners, parents, carers, early childhood educators, teachers, lecturers, counsellors, curriculum developers, educational psychologists, student support professionals, health and wellbeing practitioners, education leaders, strategic partners and stakeholders.
Conference overview
The purpose of the Conference is to support the social, educational and psychological empowerment of BME learners, educators, parents and carers. We aim to champion them to better support the needs of learners; improve their understanding of the benefits of diversity in the educator workforce in particular increasing cultural competence; create valuable content for curriculum; celebrate the strong sense of professionalism and commitment demonstrated by educators amidst the pandemic; and create a social, educational and psychological health and wellbeing culture for practitioners, parents, carers and learners.
Key themes covered by guest speakers and facilitators will be explored further in round table discussions and workshops:
Racial socialisation; understanding the intellectual, emotional and social development processes and practices by which young people and adults develop the behaviours, perceptions and values associated with being part of a racial group, how they see themselves and others with shared characteristics.
Cultural competency; developing the capacity to recognise, value and work together with people from cultures or belief systems diverse from your own.
Anti-racist curriculum; better enabling learners to gain knowledge of racial inequality from the historical roots of racial discrimination to racial inequality in Scotland today. Recognising the need to promote racial equality by challenging racism.
Intergenerational sponsorship; developing intergenerational learning opportunities and learning relationships between generations. Enabling BME pupils to learn about other generations across their community to improve their cultural awareness and foster a stronger sense of identity through developing stronger intergenerational bonds.
Health and wellbeing; ensuring our BME children, young people, parents, carers and educators learn about the importance of caring for ourselves and develop the skills to support their mental, emotional, social and physical wellbeing
Attendees will have the opportunity to attend all sessions.
Programme
09:00-09:10-Welcome
09:10-09:30-Keynote Address
09:30-10:30-Racial Socialisation
10:30-11:30-Cultural Competency
11:30-12:30-Anti-racist Curriculum
12.30-13:00-Lunch
13:00-14:00-Intergenerational Sponsorship
14:00-15:00-Health and Wellbeing
Finish