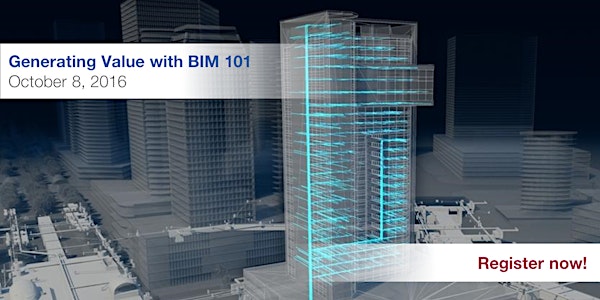 Building Information Management Course: Generating Value with BIM 101
Location
Centro Capital Doha (Rotana Hotel)
Al Jazeera Street
Doha
Qatar
Sales Have Ended
Ticket sales have ended
Sorry, but this course is sold out. Good news is, that we will conduct another session by beginning of December. If you liked to pre-register, please contact elisa.dwyer@hochtief.de.
Description
OVERVIEW
"Generating Value with BIM 101" is a one day course designed to introduce participants into Building Information Modeling concepts and methods, and encourage them to approach BIM with a value-oriented mindset.
Building Information Modeling, or "BIM", is everywhere these days. The term refers to a host of methods surrounding 3D CAD and databases that are intended to make life easier for owners, operators, developers, designers and contractors alike. Instead of being overwhelmed by the entire basket of methods, you should get an idea on what to focus on for your own benefit.
For half a day, ViCon will give you access to some of Qatar's best BIM Managers and practitioners, to help you better understand what BIM is, what methods exist, and how you can start to use them for your business – whether you are an Owner, Developer, Designer, Contractor or Operator.
YOU WILL LEARN
What is BIM and what are the uses during a project lifecycle

Main methods for value generation

How to start with a BIM Implementation

How to identify those uses that bring the most benefit for you

How to achieve a quality 3D model and verify with clash detection

How 4D and 5D applications can be used in projeccts

Where to find industry standards and further information

How to generate value for Facility Management
AGENDA/SESSIONS
BIM Introduction

BIM Implementation

3D Visualization & Marketing

3D Modeling

3D Design Coordination (Clash Detection)

4D Scheduling

Model-based Quantity Take-off

Asset Management

Contract Conditions
WHO SHOULD ATTEND?
This course is suitable for a variety of professions with diverse levels of BIM scope and knowledge. It is designed for participants with the responsibility and drive to develop and implement an organization's BIM culture, such as:
•

Project and Construction Managers
•

Developers, Owners and Operators
Please feel free to share this information with like-minded professionals on the social media accounts.
We look forward to share our knowledge with you!
HOCHTIEF ViCon

Email us on: vicon@hochtief.de