* How to lead yourself before you lead others. * How to get people to do what you want them to do. * How to identify the real opportunities.
About this Event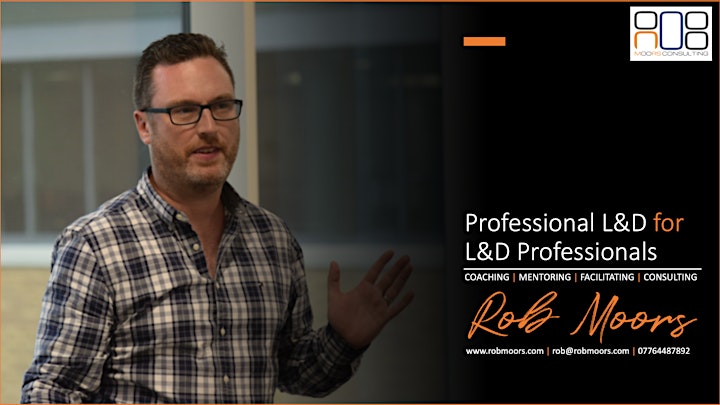 Due to the current Covid-19 situation, we will deliver this event as a webinar. Thank you for your support and understanding at this time.
Building L&D Value: From Order-Takers to Wave-Makers
Event details:
Rob Moors has over 20 years' Learning & Development experience within People, L&D and Leadership Development teams, spanning organisations such as TalkTalk and Sky, where he was part of the L&D Senior Leadership Teams.
His roles have encompassed L&D consultancy, coaching, delivery, design, leadership and business partnering; but, despite all that, he believes all that experience can be boiled-down into 3 key areas:
Communication
Coaching
Leadership
From these, Rob has codified all his learns, wins, mistakes and experience into his 'MEDALS L&D Value Playbook', to fuel his passion of helping others achieve personal and professional impact and fulfilment in their careers and their teams; shifting L&D from being the first name on the chopping-block, to become the first name on the team-sheet.
Rob is a Fellow of the Learning and Performance Institute – FLPI, and is due to complete his CIPD Level 7 Diploma in HRD in January 2021
Learning Points:
How to lead yourself before you lead others
How to get people to do what you want them to do
How to identify the real problems and opportunities
Timings / Agenda:
1155 - login to the Zoom meeting
1200 - Start of the session
Intro / Overview: L&D Value and Impact - 5-10 mins
It starts with you: Where is your energy going? - 15 mins
From Vision to Trust: Re-decorate the walls - 15 mins
The L&D Surgery: Symptoms of success - 15 mins
Q&A / Close: 10 -15mins
1300 / 1315 - Finish
Additional Information:
Please note this event may be recorded for future viewing. By registering for and attending this event, you are voluntarily acknowledging and accepting this may be a recorded event.
Coronavirus:
The CIPD is providing Coronavirus advice to Employers both online and in the media. You can find up to date information on the CIPD's website "here".