Join us for this hybrid morning event during London Climate Action Week to discuss building net zero cities.
About this event
Building net zero cities is a key part of the UK's carbon neutrality commitments. Therefore, we are running this event in support of London Climate Action Week (LCAW) as one of their four event themes "building a Sustainable, Net Zero London" in support of all cities across the UK.
Bristol committed to reaching carbon neutrality by 2030, which included setting a carbon footprint baseline. Carbon target setting on a city-wide scale is complex, and Bristol has been a wonderful case study. How did this work and what can other cities learn?
What is the Sixth Carbon Budget and how can cities engage in this?
Additionally, on the ground level, how can businesses and organisations collaborate with each other and with local authorities to support a net zero goal?
While promising signs are emerging, cities are still being hard hit by Covid-19. Cities are transforming, whether for better or worse. One thing is certain though, there will be no going back to how things were. LCAW aims to explore how London can build back after so much change, a theme that can be explored across all cities.
We are welcoming CSE, Vattenfall and Anthesis Group to speak at this event.
Expect informative talks, valuable networking opportunities and inspiring discussions to further support your ability to discover, collaborate and innovate.
More information to be announced.
Government guideline and pandemic dependent, this event will take place physically and virtually. Both options offer the full event experience, including networking, Q&A and our famous 60 second pitches. Virtual attendees will need to B-Y-O-Breakfast!
If you purchase a physical ticket but the event is moved fully online, you can choose to have your ticket fully refunded or attend virtually with a partial-refund.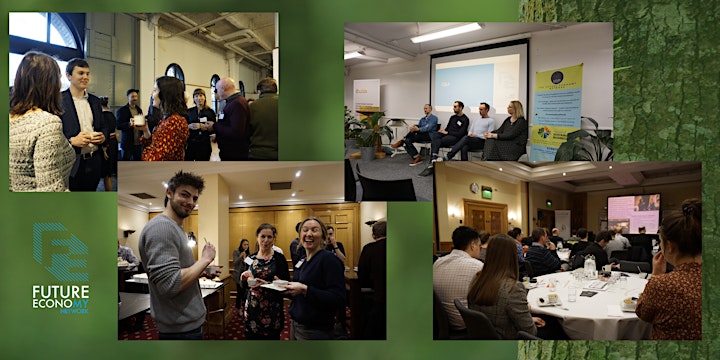 Simon Roberts OBE, Chief Executive, Centre for Sustainable Energy
Setting a carbon target for a city has shifted from 'what could we do?' to 'what should we do?' This shift has been driven by public demand for strong political statements of intent for more urgent change. But ask most 'expert' consultants, BEIS or Ofgem officials and they generally dismiss these local ambitions as unrealistic and unachievable (however well-meaning). Simon will propose that this is because they (and often local authorities themselves) have too narrow a perspective of what drives change and too limited a sense of a city's potential agency.
Rufus Ford, Account Director, Vattenfall
Heat networks are one important tool for decarbonising cities. We have top down carbon targets (carbon budgets) and emerging heat networks policy and regulation. We also have local carbon targets, local policy and local delivery. My talk will explore how these should align to drive investment in, and development of, low carbon heat networks at the pace we need to build net zero cities.
Sara Telahoun, Anthesis Group
Currently, over 70% of local authorities in the UK have declared a climate emergency and many have now taken the next step by developing climate action plans. I will explore what steps councils need to take to ensure their action plans are consultative, robust and engage key stakeholders such as the public and businesses on their role in climate action. I will provide examples of where councils have worked collaboratively with the private sector to activate climate action locally and drive implementation forwards.
Agenda
07:45 – 08:10 - Registration, Refreshments and Networking [Plus Virtual Attendees Networking Session]
08:10 - 08:20 - Introduction
08:20 - 08:35 – Rufus Ford, Vattenfall
08:35 - 08:45 - Q&A
08:45 – 09:00 – Simon Roberts, CSE
09:00 - 09:10 - Q&A
09:10 - 09:25 - Sara Telahoun, Anthesis Group
09:25 - 09:35 - Q&A
09:35 - 09:40 - 60 Second Pitches
09:40 - 09:45 - Close
09:45 - 10:15 -Networking & Nibbles [Plus Virtual Attendees Networking Session]
Meet The Speakers!
Simon Roberts OBE, Chief Executive, Centre for Sustainable Energy
Simon has spent the last 35 years' experience helping people, organisations and policy-makers develop effective responses to the climate emergency and to the misery of cold homes. He has been Chief Executive of the Bristol-based national charity the Centre for Sustainable Energy since 2002, after senior roles for Triodos Bank and Friends of the Earth. He has recently led the team analysing what needs to happen in Bristol to meet the city's target of reaching net zero carbon emissions by 2030 and was lead author of Local Area Energy Planning: The Method for Ofgem.
Rufus Ford, Account Director, Vattenfall
Vattenfall Heat UK was established in 2018 to work with cities, developers, and supply chain partners to assess the long-term opportunities for low-carbon district heating and transform them into reality. We are part of the Vattenfall group, a Swedish state-owned utility with 1.8m heat customers across Europe and a commitment to enable fossil free living within one generation.
Rufus has worked in the low carbon energy sector for over 15 years. At Vattenfall he identifies and develops new heat network opportunities with partners including Local Authorities, private developers and organisations with sources of waste heat.
Sara Telahoun, Principal Consultant, Anthesis Group
Sara is a Climate Change Consultant who supports local governments with climate action planning and strategies for decarbonisation. Her background is in climate change reporting and greenhouse gas emissions accounting, having previously worked for a global NGO leading workshops and environmental reporting for international city officials on climate mitigation and adaptation. Sara is certified by the World Bank and World Resources Institute as a City Climate Planner and Urban GHG Inventory Specialist. She is also a member of Bristol City Council's Environmental Board, where she supports the development of the One City Climate Strategy and advises on methods to accelerate action towards the city's goals including net zero emissions by 2030.
----------------------------
Want to Know More?
If you would like to join our sustainable business community please get in touch via info@futureleap.co.uk or sign up easily here.
Follow the Future Economy Network on Facebook, Twitter, Instagram & Linkedin
Never miss what's next in sustainability by signing up to our monthly newsletter HERE
Opportunities, Suggestions and Conditions
Physical attendees must adhere to all safety guidelines sent in advance of the event.
You can get 20% off your next online event with us by choosing the add on option during booking.
Most of our events are available on demand here, however this does not include opportunities to network, take part in the discussions or do a 60 second pitch!
We will share your name, job title & company with the other event attendees for this event only. If you don't want this information to be shared please let us know when you have purchased your ticket.
We take photos at our events for marketing purposes, if you don't want your picture taken please let us know in advance.
We record some of our events for marketing purposes, if you don't want to be in the recording please let us know in advance.
We have included a £1 carbon offsetting fee to all event tickets in our commitment to being carbon neutral in our operations. You can find out about our chosen charity here.
Please let us know at least one week in advance if you require closed captions or have any other accessibility needs.
If you require a complimentary carers/assistant ticket, please email events@futureleap.co.uk at least one week in advance and we will be happy to support you!
#wegrowthhub #business #seminar #sustainable #sme #bristol #businesswithpurpose #sciencebasedtargets #climateaction #climateleader #sustainablebusiness #science #sbt #sbtis #lcaw #climateaction #cities #netzero #netzerocities #carbonneutral
Organiser of Building Net Zero Cities