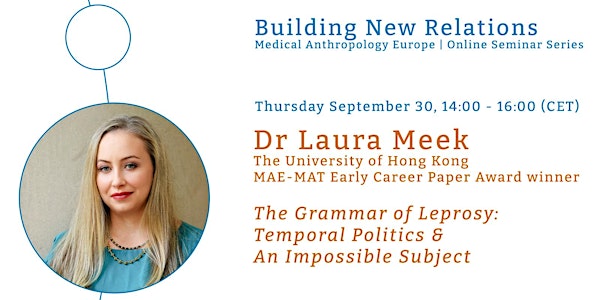 Building New Relations: Medical Anthropology Europe Online Seminar Series
Presentation by Dr Laura Meek (The University of Hong Kong) MAE-MAT Early Career Paper Award winner
About this event
Medical Anthropology Europe I Building New Relations
The Medical Anthropology Europe network (MAE - EASA) has launched an online seminar series, Building New Relations, aimed at bringing together medical anthropologists across generations, research sites, and different themes. The title, Building New Relations, also reflects ambitions to foster insights into human-environment relations and more-than-human relationships, from a medical anthropological perspective.
We invite speakers and audiences to engage in discussions on subject matters on the embodiment and philosophy of eating, precarity, chronicity, biosocial entanglements, and end of life care. Subjects, which we believe provide new grounds for the exploration of human life conditions, medicine and care in the contemporary world.
Our first speaker will be Dr Laura Meek (The University of Hong Kong) she is the MAE-MAT Early Career Paper Award winner. Her presentation is titled: The Grammar of Leprosy: Temporal Politics & An Impossible Subject. Her talk will take place on the 30th of September from 14:00 - 16:00 (CET).