Ideas and innovations for levelling up in rural places
About this event
Cirican, the rural research by rural communities company and the Open University are please to present our ideas and innovation for levelling up in rural places webinar series.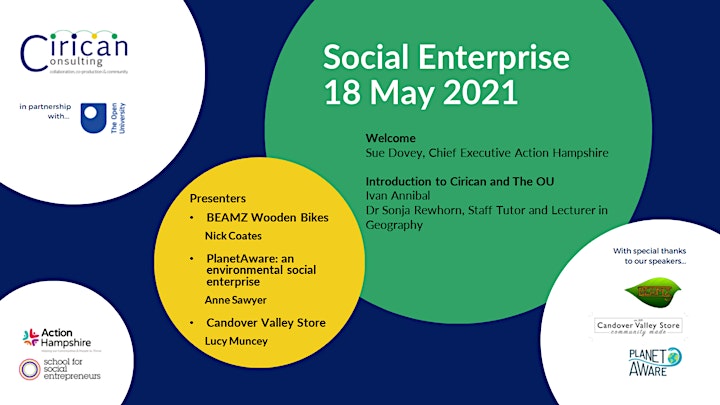 The Candover Valley Community Store
"Made By The Community For The Community "
With the prospect of losing our small village shop and post office in a rural community a team of residents set about testing the viability of building a new store, to include a communal coffee area as well as post office services. There began a 5-year roller coaster of a journey. We now have a wonderful new facility which has not only retained vital services but rejuvenated social interaction in the valley.
We are very proud of what our rural community has achieved and hope we can inspire others.
Lucy Muncey- Management Committee
Most of my career was in London, within finance and then recruitment but we moved to Hampshire 15 years ago. I became involved in the project 6 years ago and have seen it through from a seed of an idea to the grand opening in June 2019.
I am one of the Management Committee Members, having had specific responsibility for fund raising but now assist with the running of a growing community run enterprise, with all that it entails.
Biography: Anne Sayer
Planet Aware: an environmental social enterprise
Anne Sayer, co-launched Planet Aware in 2018 on the Isle of Wight with a mission to get people to take better care of our coasts, by cutting the amount of stuff they consumed.
Anne worked previously as an environment and transport policy journalist before spending eight years working in social care. During that time Anne studied for a degree in Environmental Studies at the Open University and gained a BSc (first class honours). Anne is a 2019 graduate of the School for Social Entrepreneurs hosted by Action Hampshire
Biography: Nick Coates
Presentation Title: BEAMS Bikes - From the Local Woodland to a Sustainable Future.
Nick Coates, an engineer with a huge passion for materials, became interested in the difference between nature's approach to generating high-strength structural materials, which has proved sustainable over millions of years and humanities current unsustainable approach which is leading to an existential crisis. Here Nick explores the practicality of a Social Enterprise which demonstrates full sustainability.