Description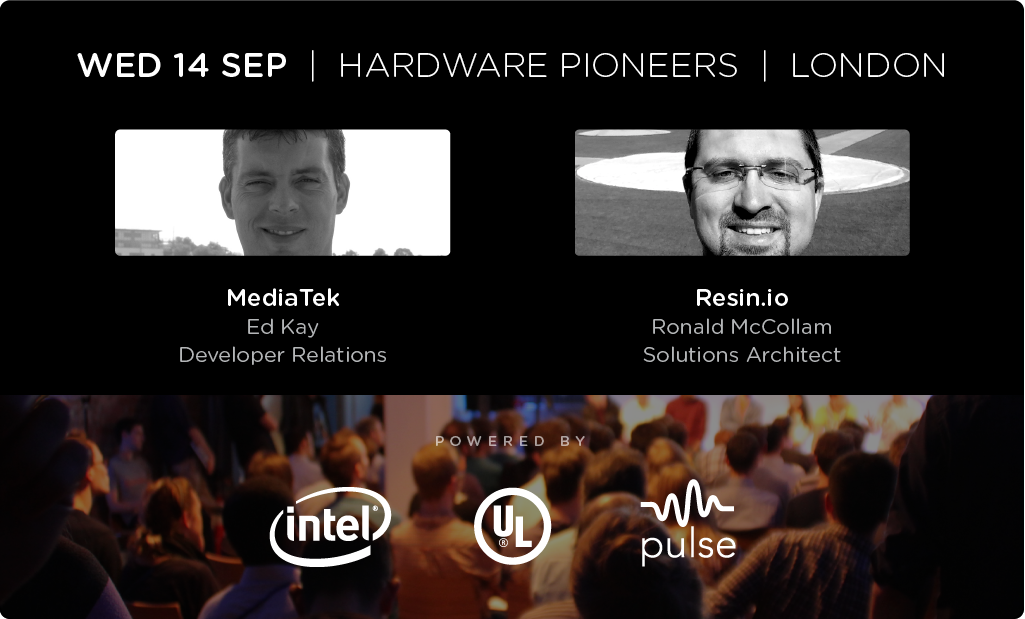 Click here if you like to discover more about the Hardware Pioneers community.
We hope you have fully recharged your batteries after a well deserved summer break. And are now ready for another exciting Hardware Pioneers event! Back in March we explored the different possibilities of prototyping IoT devices inviting on stage Intel, Nordic and Particle.
This September two other great companies will discuss how successfully build scalable IoT products and how to adapt web deployment technologies to the IoT space.
Like always, this night is complemented with lots of free beer and pizza!
This event is kindly sponsored by Intel, UL and Pulse.
---
Agenda
18:30 - Check in + beers and pizza
18:50 - Event opening
19:00 - First talk and Q&A: Ed Kay, Developer Resources, MediaTek Labs
19:30 - Second talk and Q&A: Ronald McCollam, Solutions Architect, Resin.io
20:00 - Demos + community announcements
This is your time if you would like to share what you are working on with the community or make any sort of announcement. You have 2 minutes max for a short shoutout.
20:20 - Drinks and networking
21:30 - Event ends
---
About the speakers
Ed Kay, Developer Resources - MediaTek Labs
Talk title: Creating a successful IoT product
About the speaker: Ed has a talent & passion for partner relationships & technology nurtured through working with international developers for two decades. He worked as Head of Developer Programs at Symbian, building the first app store, running developer activities globally & spearheading programmes such as Symbian Signed. Since then Ed has had a number of consulting & product roles with companies such as Shell, Nationwide Bank, IBM, Audi & The Rank Group.
About the company: MediaTek Labs is an IoT developer program where you can turn your IoT ideas into a commercial reality. We guide you through the exciting opportunities offered by Wearables and IoT chipsets from MediaTek, a pioneering fabless semiconductor company.
Video: MediaTek Company Overview
Ronald McCollam, Solutions Architect - Resin.io
Talk title: DevOps for Devices - IoT Development at Internet Speed
About the speaker: Ronald is a "geek of all trades" with experience ranging from full stack
development to IT operations to management and sales. He has been involved in technology and open source software since a stack of 3.5" Slackware floppies was the *easy* way to install Linux and gained a healthy respect for security during his years in IT operations management. Ronald currently works at Resin.io helping to bring the speed and process of web DevOps to hardware management.
About the company: Resin.io brings the benefits of Linux containers to the IoT. Develop iteratively, deploy safely, and manage at scale. Their goal is to empower you to write great applications for devices, without having to worry about the friction involved in getting your hardware working and keeping your application up to date.

---
UK partners
ihorizon - London based accountants specialising in outsourced accounting and finance solutions to entrepreneurs and tech startups in the UK and US.
---
About Hardware Pioneers
Discover more about Hardware Pioneers on our website.
Get notified about future events by subscribing here.
Check out what people say about @HdwPioneers on Twitter!