Description
Discover more about the Hardware Pioneers community on our website.
This event is supported by Mouser Electronics.
Special thanks to New Lab for hosting us at their fantastic venue.
---
AI is moving towards edge devices and making things become more intelligent. Curious about how improved AI algorithms are driving the trend towards machine learning being run on the end device rather than in the cloud?
Join us on the 16th of April to learn more from: ‍
- The world's largest semiconductor chip maker (Intel).
- America's #1 internet connected camera brand (Arlo Technologies).
- Industry's first emotion chip maker (EmoShape).
See agenda below for full details about the speakers.
Drinks and pizza will be served throughout the night.
---
About the speakers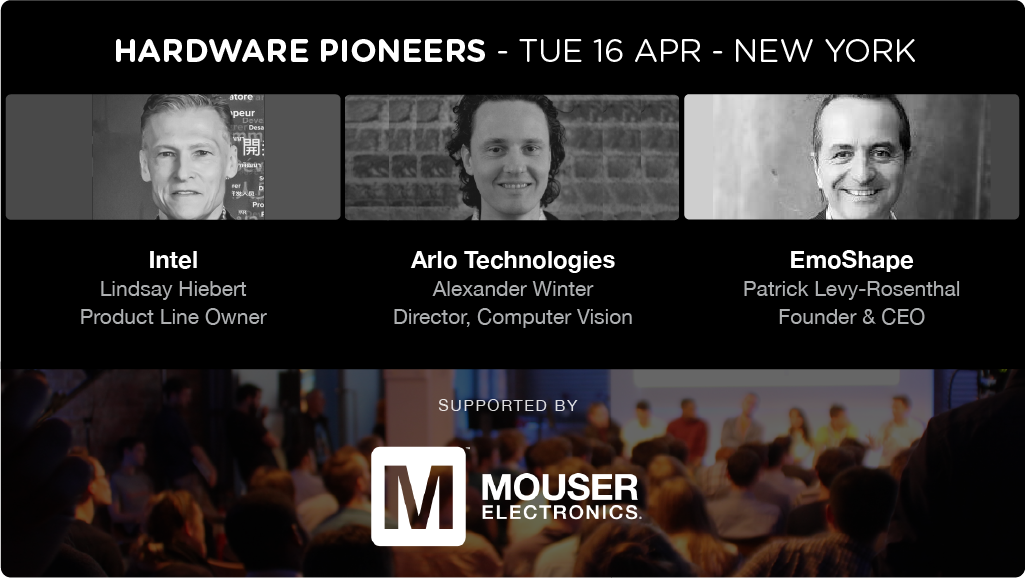 Lindsay Hiebert, Neural Compute StickProduct Line Owner at Intel
Talk title: Building Smarter IoT Products with Intel's Edge AI Products and Technologies

About the speaker: Lindsay Hiebert, is the product line owner for Intel's Neural Compute Stick portfolio of products powered by the Movidius, and Myriad X, Vision Processing Unit (VPU) technologies. He is part of Intel's IOTG Vision Markets and Channels, Vision Ecosystem Offer team. Together with Intel's AI hardware, software teams and Intel's AI Deep Learning and Vision focused ecosystem partners, Lindsay's responsibilities include accelerating the prototype to production journey with Intel AI and IoT products, solutions and components that use Intel's comprehensive range of Vision Products across CPU, GPU, FPGA, and VPU architectures.
About the company: Intel's products and services create the foundation for a limitless invention. Whether your challenge is security, manageability, connectivity, or hitting the right cost point, Intel technologies can help you get the job done right. Intel is a dedicated partner to the industrial industry, providing hardware and software components widely used by OEMs, ODMs, and SIs to develop solutions for a variety of factory automation applications.
Develop AI at the Network Edge with Intel® Neural Compute Stick 2 | Intel Software
What is the Intel® Movidius™ Neural Compute Stick?
Alexander Winter - Director, Computer Vision at Arlo Technologies
Talk title: Computer Vision eats AI (or will soon)
About the speaker: Alexander is currently leading the Computer Vision and Machine Learning team for Arlo at Netgear, the undisputed leader in home and security cameras. He also dedicates a portion of his time to mentoring startups at Techstars NYC and IoT, Zeroth.ai, and with several venture capita funds.
About the company: Arlo is an award-winning, market leader in the smart home IoT category that is focused on bringing together deep expertise in product design, wireless connectivity and RF engineering, cloud infrastructure and leading-edge AI capabilities to create a seamless smart home experience for Arlo users that's easy to setup and a joy to interact with every day.
Introducing Arlo Ultra
Meet Arlo Smart

Patrick Levy-Rosenthal - Founder & CEO at EmoShape
Talk title: Emotion Understanding and Reasoning for IoT, AI and Robotics
About the speaker: Entrepreneur Patrick Levy-Rosenthal, who currently lives in New York. He is presented to the Artificial Intelligence Council of the United Nations, he is won an engineering award from the European Union and is been written about in Forbes magazine. EmoShape is ready to have a massive impact changing not only the devices that we interact now but for many more, we will interact in the future. Patrick has developed a new generation of microchip named EPU (Emotion Processing Unit) for Ai and Robots and the world's first Al that can feel 64 trillion possible states every 1/10 of a second.
About the company: EmoShape Inc. Inc. is dedicated to providing an edge computing solution (cloud + chip) that teaches intelligent objects how to interact with humans to yield a favourable, positive result. EmoShape emotion synthesis chip (EPU) technology represents a massive leap for Artificial Intelligence, especially in the realm of self-driving cars, personal robotics, sentient virtual reality, effective toys, IoT, pervasive computing, and other major consumer electronic devices. The growing presence of AI, robotics and virtual reality in society as a whole dictates that meaningful emotional interaction is core to removing the barrier to widespread adoption.
Emotion Chip EPU for Real-time Emotion Synthesis and Reasoning
EMOTION CHIP 3.0 - EMOSHAPE INC
---
Community partners
IET - The Institution of Engineering and Technology
E&T - The IET's award-winning monthly magazine

Electronic Specifier - Europe's premier publisher of information resources to the Global Electronics Industry.
Hackaday - Providing education with those just learning the art of Hack, and provide inspiration for the seasoned veterans

---
Agenda
6:15 pm - Attendee check-in, drinks and networking.
6:50 pm - Event opening.
7:00 pm - Lindsay Hiebert, Neural Compute StickProduct Line Owner at Intel
7:20 pm - Alexander Winter - Director, Computer Vision at Arlo Technologies
7:40 pm - Patrick Levy-Rosenthal - Founder & CEO at EmoShape
8:00 pm - Community announcements: This is the time for you to share with the rest of the room what you are working on, or make any sort of announcement you like. You have 2 minutes max. for a short shout out.
8:20 pm - Drinks and networking.
9:30 pm - Event ends.
---
About Hardware Pioneers
Discover more about Hardware Pioneers on our website.
Get notified about future events here.
Follow us on Twitter!