Description
Discover more about the Hardware Pioneers community on our website.
This event is supported by Mouser Electronics.
Special thanks to Thinkspace for hosting us at their fantastic venue.
---
AI is moving towards edge devices and making things become more intelligent. Curious about how improved AI algorithms are driving the trend towards machine learning being run on the end device rather than in the cloud? Join us on the 23rd of April to learn more from:
‍
- A leading provider of micro-controller and analog semiconductors, providing low-risk product development, lower total system cost and faster time to market for thousands of diverse customer applications worldwide (Microchip).
- World-Class expertise who know-how to help you maximise your application's performance, resiliency, and management (Swim.ai).
- An AI company that develops binarized deep learning models for the next generation of smart edge devices (Xnor.ai).

See agenda below for full details about the speakers.
Drinks will be served throughout the night.
---
About the speakers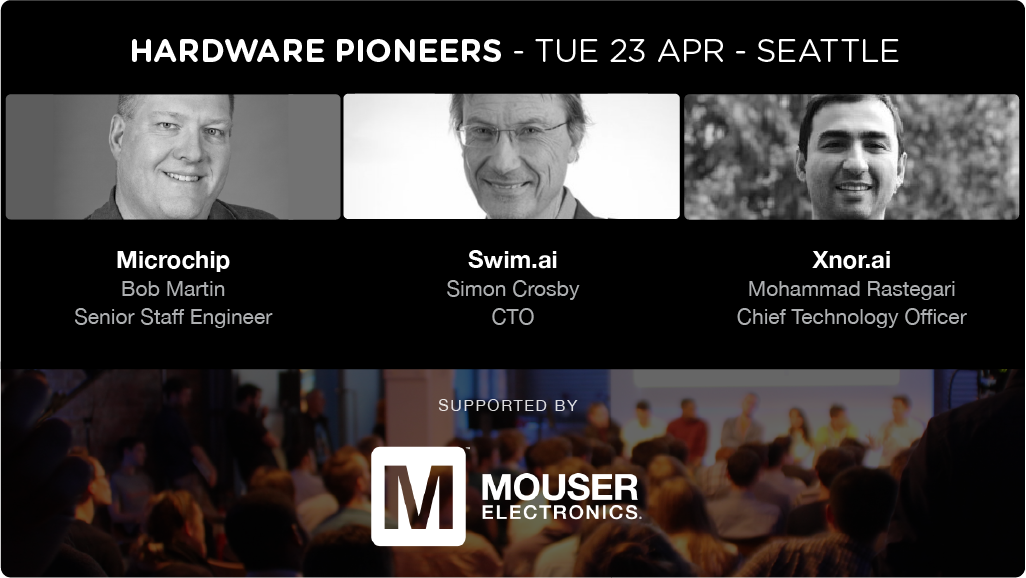 Bob Martin, Wizard of Make /Senior Staff Engineer at Microchip
Talk title: Design considerations for bringing AI closer to the edge
About the speaker: An avid Maker before it was a widespread term, Bob Martin has been tearing apart things to see how they work for his entire life. After obtaining a B.S.E.E. from the University of Saskatchewan, his early career spanned everything from installing specialized instruments into Arctic weather stations, designing industrial control systems and supporting upper atmospheric research campaigns. With 30 years of embedded system experience, he now serves as the "Wizard of Make" for Microchip in which he keeps the Maker spirit alive within Microchip, educates aspiring Makers and continues to create, experiment and explore.
About the company: Microchip Technology Inc. The Embedded Control Solutions Company®
Microchip Technology Inc. is a leading provider of microcontroller, analog, FPGA, connectivity and power management semiconductors. Its easy-to-use development tools and comprehensive product portfolio enable customers to create optimal designs which reduce risk while lowering total system cost and time to market. The company's solutions serve more than 130,000 customers across the industrial, automotive, consumer, aerospace and defense, communications and computing markets. Headquartered inChandler, Arizona, Microchip offers outstanding technical support along with dependable delivery and quality.
Introduction to the CIP Hybrid Power Starter Kit
PIC-IoT WG Development Board
Simon Crosby, CTO at Swim.ai
Talk title: Edge Intelligence at the Speed of "Now!"
About the speaker: Simon Crosby brings an established record of technology industry success, most recently as co-founder and CTO of Bromium, a security technology company. At Bromium, Simon built a highly secure virtualized system to protect applications. Prior to Bromium, Crosby was the co-founder and CTO of XenSource before its acquisition by Citrix, and later served as the CTO of the Virtualization and Management Division at Citrix. Previously, Crosby was a principal engineer at Intel. Crosby was also the founder of CPlane, a network-optimization software vendor. Simon has been a tenured faculty member at the University of Cambridge. Simon Crosby was named one of Info World's Top 25 CTOs in 2007.
About the company: Swim.ai is on a mission to reinvent the application stack. The company is led by developers that design software from first principles to solve the fundamental challenges organizations face when building real-time applications. Swim.ai offers the open source Swim platform for developers, and an enterprise-grade version of Swim, which has been widely adopted across a number of industries including IoT, smart cities, transportation, manufacturing and government to help transform their organizations. Swim.ai is venture-backed by Arm, Cambridge Innovation Capital, and Silver Creek Ventures, and is headquartered in San Jose, Calif. and also has offices in Cambridge, UK.
Introducing the Swim Platform
"The Edge" is Not a Place
Mohammad Rastegari, Chief Technology Officer at Xnor.ai
Talk title: Ultra-efficient AI on resource-constrained compute platforms
About the speaker: Mohammad Rastegari is the Chief Technology Officer and co-founder of Xnor.ai. His main area of research and expertise relies on efficient methods for machine learning and computer vision. He is known for his work XNOR-NET training neural networks with binary operations. In addition, he has been working as a Research Scientist at the Allen Institute for Artificial Intelligent. Prior to AI2, Mohammad was a Facebook fellow in the artificial intelligent team (FAIR) and a research scholar at UC Berkeley. He received his PhD from the University of Maryland. Mohammad's background of work ranges from several research industries including Facebook AI Research, Microsoft Research, Adobe Research and Disney Research.
About the company: Xnor.ai is dedicated to accelerating AI and deep learning in consumer and business devices. Its enterprise AI models and Ai2GO self-serve developer platform deliver AI everywhere, for everyone. Unlike traditional AI that either runs in the cloud on massive data centers or requires expensive hardware such as GPUs or neural accelerators, Xnor enables AI to run at the edge on inexpensive devices with no internet connectivity. This new, highly scalable approach ensures complete privacy of data, eliminates the need for connectivity, and significantly reduces memory load, latency and power consumption without compromising accuracy. Xnor was built using award-winning research conducted at the Allen Institute for Artificial Intelligence. It is used by global corporations in aerospace, automotive, industrial hardware, retail, photography, and consumer electronics. Founded in 2017, Xnor is headquartered in Seattle, Washington.
AI At the Edge On a Raspberry Pi Zero
Xnor's Solar Powered AI - AI models that can be powered, battery-free, by a simple solar cell

---
Community partners
IET - The Institution of Engineering and Technology
E&T - the IET's award-winning monthly magazine
IoT Hub - A community of technologists, influencers, talent, and IoT related businesses
New Tech Northwest - The Gateway to Your Tech Community and the Hub for Northwest Startups and Tech!
Electronic Specifier - Europe's premier publisher of information resources to the Global Electronics Industry.
---
Agenda
6:15 pm - Attendee check-in, drinks and networking.
6:50 pm - Event opening.
7:00 pm - Bob Martin - Wizard of Make /Senior Staff Engineer at Microchip
7:20 pm - Simon Crosby, CTO at Swim.ai
7:40 pm - Mohammad Rastegari, Chief Technology Officer at Xnor.ai
8:00 pm - Community announcements: This is the time for you to share with the rest of the room what you are working on, or make any sort of announcement you like. You have 2 minutes max. for a short shout out.
8:20 pm - Drinks and networking.
9:30 pm - Event ends.
---
About Hardware Pioneers
Discover more about Hardware Pioneers on our website.
Get notified about future events here.
Follow us on Twitter!