Join Excellerate Black Futures for an educational session with Winnie Annan-Forson and Hardeep Bhogal
About this event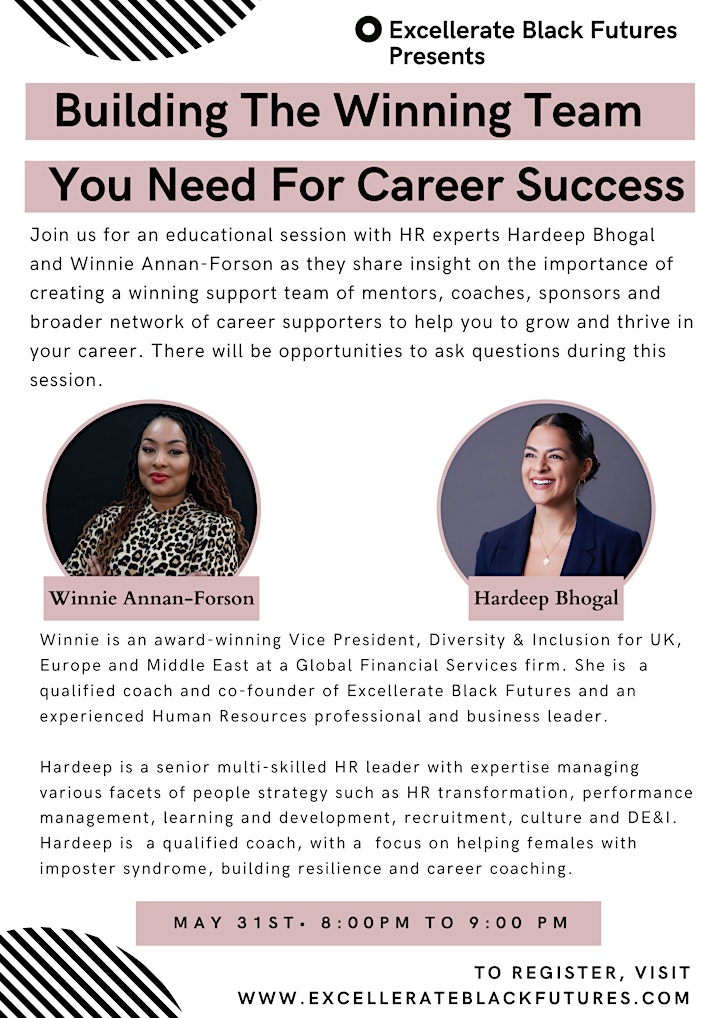 Excellerate Black Futures is pleased to invite you to our Educational session with Winnie Annan-Forson and Hardeep Bhogal on How To Build The Winning Team You Need For Your Career Success. Within the session, Hardeep and Winnie will discuss the importance of creating a winning team of mentors, sponsors, coaches, peer mentors, and a broader network of career supporters to help you excel in your career.
This educational session is designed to be informative, leaving you feeling inspired to take bold steps in your aspirations. There will be opportunities for Q&A, and joining details will be emailed upon registration.
About Winnie Annan-Forson and Hardeep Bhogal
Winnie is an award-winning Vice President, Diversity & Inclusion for UK, Europe and Middle East at a Global Financial Services firm. She is a qualified coach and co-founder of Excellerate Black Futures and an experienced Human Resources professional and business leader.
Hardeep is a senior multi-skilled HR leader with expertise managing various facets of people strategy such as HR transformation, performance management, learning and development, recruitment, culture and DE&I. Hardeep is a qualified coach, with a focus on helping females with imposter syndrome, building resilience and career coaching.
About Excellerate Black Futures
At Excellerate Black Futures, we are passionate about helping black talent to succeed. With several years of joint experience in HR and professional backgrounds including Talent Acquisition, Learning, Leadership and Talent, we educate young professionals, entrepreneurs, students and graduates, helping them to excel and accelerate their careers through our six week talent programme and our monthly events. Click here for more information and to join our online family where you'll be the first to hear about upcoming events and opportunities.