In just 30 minutes learn which 3 core muscles you need to build your Mental Fitness for better relationships, work effectiveness & happiness
About this event
This 30 minute webinar will introduce to the 3 core muscles you need for Mental Fitness and how you can move from a negative to a positive mindset.
Did you know that 80% of people score below the minimum level of Mental Fitness needed to deal with the stresses an strains of life. And that research shows us that doing mindfulness / meditation activities increases our feel good factor via dopamine release by 65%.
Come along and learn about how you can build your Mental Muscles and not only feel good, but also work more effectively and improve your relationships both at home and work. I'll teach you some simple mindfulness exercises (PQ reps) in just 1 minute!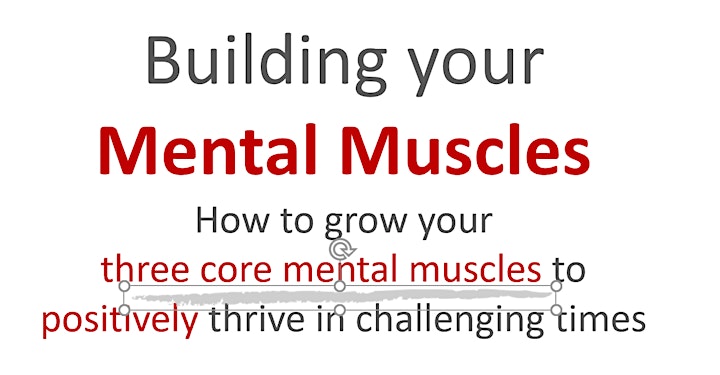 Organiser of Building your Mental Muscles - 3 simple steps
Kate is an experienced Inner Leader Coach and NLP Practitioner, she trains managers to have Curious Conversations and helps organisations to develop a culture that supports the Being and Doing of Leadership.  
My coaching career started in 2002 when I trained to be a profressional Co-Active Coach.  Coaching and the skills of effective communication is something I am passionate about and believe that everyone should learn the secrets of how to coach whether in the home or the workplace. 
Having worked with businesses for may years supporting them on how to develop and grow their leadership talent, it struck me that there is still an assumption that 'leaders have to be made' rather than 'leader are everywhere'; so in 2018, I launched the Being and Doing of Leadership which considers the 5 leadership positions of Inner, Sensing, Leader in Front, Beside and Behind.
In 2019 along wth a fellow Co-Active Coach we created Curious Conversations for managers to not become coaches at work, but instead to learn the skills of coaching to have Curious, Challenging, Courageous and Championing conversations at work.
For me coaching is the key to Awarness, Choices and Action - something I believe everyone can discover and become the best version of themselves.
Kate is an experienced Inner Leader Coach and NLP Practitioner specialising in inspirational head-and-heart coaching and creating powerful, experientially based coaching training programmes.   She is an Investors in People consultant and IBL Pioneer working with a wide client base across Scotland.