This workshop will help you increase your online presence, expand your network or know how to build meaningful professional relationships.
About this event
Your success is not just determined by what you know and who you know but also who knows and trusts you! Your network is after all your net worth. Effective networking is vital to your success - as a student, professional or an entrepreneur. When the world changed in 2020, the traditional networking avenues increasingly disappeared, moving things online. If you find networking and building meaningful relationships online difficult, this event is for you. With everything virtual, you now have access to a whole new world of opportunities, regardless of where you are located. Especially as a young person, there has never been a better time to socialize, epand your network and develop quality business relationships. This masterclass will help you identify your voice online, help you carve your personal brand and use your platforms to effectively network and leverage your career. Most high achievers are just ordinary people who happen to have extraordinary networking skills.
What will you get from the workshop?
*The brand and the elements of a personal brand
* Defining your personal brand and finding your niche
*Building your personal branding toolkit
*Finding a platform that works for you - LinkedIn, Instagram, Twitter and more
* How to meet people online, and stay connected
*How to network at scale
*Leveraging your personal network to enhance your job search or take your business to the next level
About the speaker...
Rituja Rao is an award-winning IT Consultant, Industry Speaker, and emerging thought leader with a background in Financial services and Cloud Transformation. She is currently a Management Consultant at Capco - working with UK Tier-1 Financial Services clients. Rituja is the Winner of the Future Stars of Tech: IT Manager award 2020 and TechWomen100 Awards by We Are The City. She was also named 'Rising Star' on the Women in FinTech Powerlist 2020 by Innovate Finance. Rituja has worked with clients such as Amazon, QA, BBC Asian Network, and more, delivering talks and workshops on topics such as alternative routes into Technology, Tech trends, personal branding and D&I. Rituja is currently on the FutureVC programme exploring a career in Venture Capital. She is also a recipient of the Women on Boards Bursary 2020 and Ex-Trustee for a Women's charity - she continues to explore her Board Career. She also volunteers on Career Panels across Schools in England and Wales. She is mentoring 20+ young people - Mentoring on the Cajigo App and other platforms. Rituja is a strong advocate of skills diversity in Tech and is currently working on her latest venture launching a YouTube channel and community dedicated to the 'Future of Work.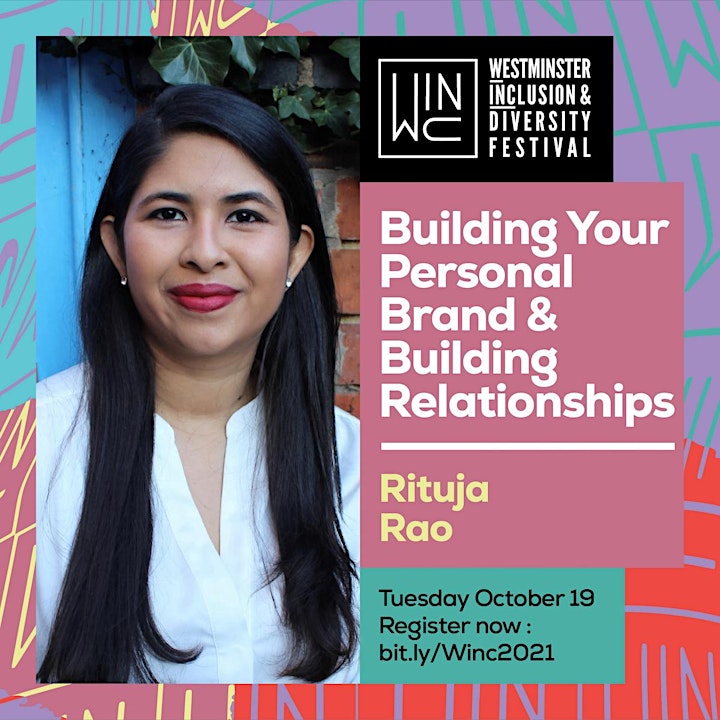 Organiser of Building Your Personal Brand & Building Relationships
Westminster Enterprise Network is a student and graduate enterprise and innovation hub at the University of Westminster. The University is an exempt charity and company limited by guarantee. Registered in England 977818. Registered address: 309 Regent Street, London, W1B 2UW.
Our mailing address is: cec-info@westminster.ac.uk