Springboard Consultancy is holding free remote sessions to explore communication in the virtual world and how to build your resilience.
About this event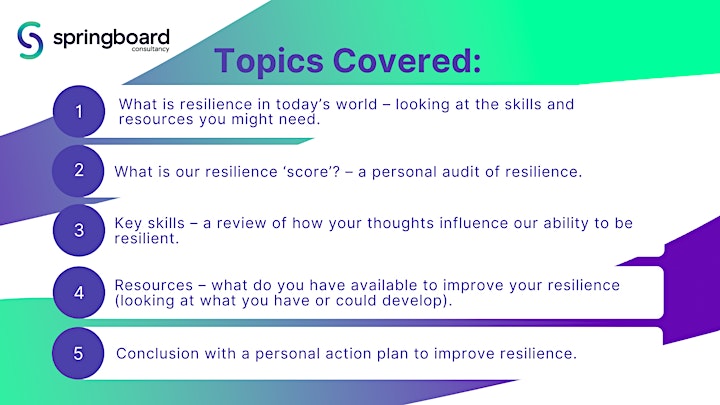 Resilience is something that often gets overlooked, but having the skills and resources to be able to improve your resilience will help you to become your best self and improve your confidence.
Having low resilience can impact your life on a daily basis, especially with all the knock backs we take in life, but resilience allows you to gain strength from these experiences to your advantage, rather than letting the negatives overcome you.
Whether you've had enough of being knocked down, or want to learn how to better use your resilience to your advantage, our free session on how to build your resilience will help you to see things in a new light.
In just 60 minutes we will help you to:
- Identify the skills and resources you need for resilience
- Find out how resillient you are
- A look into how your thoughts impact your ability to be resilient
- Create a personal action plan of how you can boost your own resilience
As an interactive session, you will have the opportunity to ask questions and be able to use these new skills in a way that works for you.
And best of all, as an introduction to Springboard this event is completely free.
Places are limited so book your ticket now!
"I can honestly say that the Springboard Programme changed my life."
Denise Keating, Chief Executive, Employers Network for Equality & Inclusion
Springboard Consultancy is a global training organisation that has helped to drive organisational equality, diversity and inclusion agendas for over 30 years.
We specialise in developing people at all stages of their lives, with a series of courses that are suited to all aspects of work and personal life.
We give people the time to reflect, share and most importantly, set achievable goals for both now and the future.
https://springboardconsultancy.com/