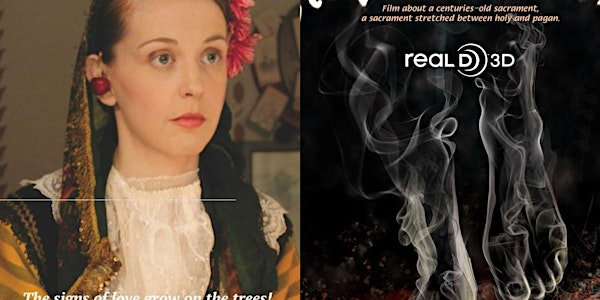 Bulgarian documentary and feature film festival 19-23 October
Event Information
Location
Bulgarian Cultural Institute
188 Queen's Gate, South Kensington
London
SW7 5HL
United Kingdom
Description
Прожекция на селектирания за филмовия фестивал в Кан късометражен филм на Ваня Донева "Рандеву" и на документалния филм на Андрей Хадживасилев "Стъпки в огъня".
Двата филма са с английски субтитри.
21.10.2017; 19:00; Зали на Българското посолство
Специални гости: Ваня Донева, Десислава Пашова и Андрей Хадживасилев
"Рандеву"
България, 2015, 10 минути
Режисьор: Ваня Донева
Сценарист: Ваня Донева
В ролите: Полин Лалова, Димитър Живков, Десислава Пашова, Русалина Чапликова, Гергана Гълъбова
Сюжет: На прага на XX век, бедно, селско момиче е прислужница в заможна къща. Затрупвана с работа от взискателната си господарка, тя трудно намира време за своя любим, за когото желае да се омъжи и да се отърве от слугуването. Но дали препятствията ще засилят още повече чувствата на двамата влюбени или ще е причина за тяхната раздяла?
"Стъпки в огъня"
България, 2015, 50 минути
Жанр: Документален
Режисьори: Андрей Хадживасилев, Мелоди Гилбърт
Продуценти: Димана Донева
Музика: Георги Стрезов
Оператор: Божидар Симеонов
Филмово студио: Riveve Vision
Сюжет: "Стъпки в огъня" ще ви направи свидетели на един от най-българските обичаи – нестинарството, идващо от малкото село Българи, разположено в Странджа планина. Филм за тайнство, разпънато между свещено и езическо, запазено през вековете. Автентичните нестинари играят своя танц в жаравата само един път в годината, вечерта на 3-ти юни (Св. Константин и Елена по стар стил). Важно е да се знае, че нестинарството е много повече от "танц" в огъня. Това е двудневен ритуал, изпълнен с множество обреди от сутрин до вечер, за които повечето хора не знаят. От лентата на режисьорите Андрей Хадживасилев и Мелъди Гилбърт ще може да научите още за най-видната нестинарка – баба Злата, за хората и нравите в малкото село Българи, сгушено в полите на Странджа планина.
--------------------------------------------------------------------------------------------------
Screening of the selected for the festival in Cannes Bulgarian short film by Vanya Doneva "Randezvous" and screening of the documentary film by Andrey Hadjivasilev "Steps in the fire".
Both films are with English subtitles.
21.10.2017; 19:00; Halls of the Bulgarian Embassy
Special guests: Vanya Doneva, Desislava Pashova, Andrey Hadjivasilev
"Randezvous"
Bulgaria, 2015, 10 min
Directed by: Vanya Doneva
Screenplay by: Vanya Doneva
Cast: Pauline Lalova, Dimitar Zhivkov, Desislava Pashova, Rusalina Chaplikova, Gergana Galabova
Plot: On the verge of the XX century, a poor peasant girl is a maid in a wealthy house. Overworked by her demanding mistress, she can hardly find time for her lover, to whom she wants to get married and by doing so to get rid of serving. But will the obstacles between the two lovers deepen their feelings for each other or will that be the reason for their separation?
"Steps in the fire"
Bulgaria, 2015, 50 min.
Script-writer, Director and Producer: Andrey Hadjivasilev
Co-director: Melody Gilbert
Cinematographer: Bojidar Simeonov
Composer: George Strezov
Production Company: Film Studio REVIVE VISION
Plot: In the film "Steps in the Fire" you will witness one of the most Bulgarian traditions – Nestinarstvo (Fire Dancing). The old custom is still preserved in the small village of Bulgari, which is situated in the foot of Strandzha Mountain. "Steps in the Fire" is a movie about a centuries-old sacrament, a sacrament stretched between holy and pagan. The authentic nestinars (fire dancers) dance in the fire only once a year – in the evening of June 3 (this day celebrated the saints Konstantin and Elena according to the old calendar). You will have the opportunity to learn more about the most prominent nestinar, Grandma Zlata, and about the magic of fire dancing.
Date and time
Location
Bulgarian Cultural Institute
188 Queen's Gate, South Kensington
London
SW7 5HL
United Kingdom